Dec 28, 2022
Back from Decatur
last update: 12/28 @ 16:26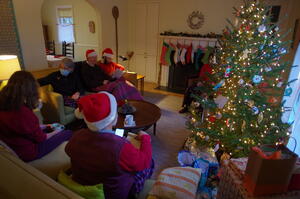 We drove down to Decatur for Christmas with the Williams clan this year. There are more photos in the vacations section.
(0) Comments -- permanent link
Edit this (owner only)
Dec 20, 2022
Tree is up
last update: 12/20 @ 11:21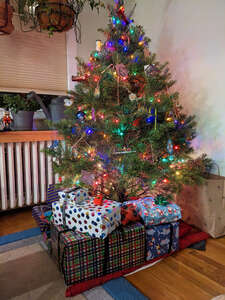 Sarah and I picked out our tree (and walked it home, which is always fun). But we waited for Robert to help decorate it.
I think we did a very nice job.
It's beginning to look a lot like Christmas :)
(0) Comments -- permanent link
Edit this (owner only)
Dec 17, 2022
And Sarah gave me…
last update: 12/17 @ 23:08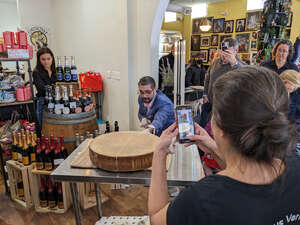 Not this huge wheel of cheese. Yes, I've been known to bring back a wheel of Gouda from Bonaire, but this is clearly too much cheese for one household.
Sarah gave me a cheese tasting at Cheesetique which was great fun.
And Jill, the owner and cheesemaster, noted they would be "cutting the cheese" today. It was a 55 pound wheel of Gruyere lovingly hand crafted.
So, of course, we went by to watch, taste and buy some. And I also picked up a bit more of a couple cheeses from the tasting.
More great tastes for my birthday!!!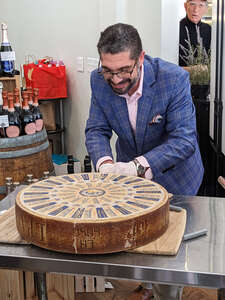 That's Jill taking the picture of the cutting. I imagine it will show up on the web site or in advertising for the next cheese cutting session.
The trick is to first score the rind then use the wire garrote to slice it half. Then you can use the open face to further slice it with the wire.
(0) Comments -- permanent link
Edit this (owner only)
Birthday pressie
last update: 12/17 @ 11:51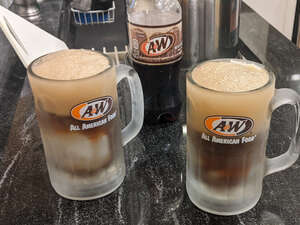 Robert gave me a perfect present this year: A&W Root Beer mugs.
He even picked up some ice cream so we chould have root beer floats in them.
Absolutely perfect! Great flavor treat from the past.
And photo by Robert, I was too focused on tasting it to think about taking a picture.
(0) Comments -- permanent link
Edit this (owner only)
Dec 13, 2022
Staff Infection!!!
last update: 12/13 @ 18:48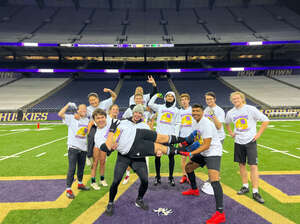 One of the many cool things Robert has done at UW is sign up as an intramural referee.
That got him trained up on the rules and reffing duties for volleyball and flag football.
It also got him paid (thank you Seattle for a more realistic minimum wage).
And it got him on the referee's team: Staff Infection.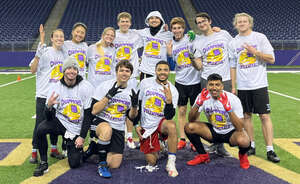 And they got to play in the intramural final in Husky Stadium (AKA Alaska Air Arena).
And They Won!!!
Photos by Katie Carroll.
(0) Comments -- permanent link
Edit this (owner only)
Nov 26, 2022
Baseball
last update: 11/26 @ 10:27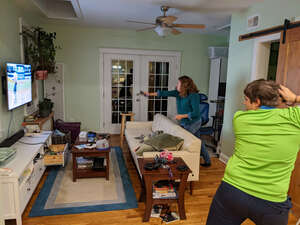 While the Xbox went to Seattle (in case there is time between studying to play), the Wii stayed here.
That gave Robert and friends something to do when they came by last night after watching the World Cup, playing pool and seeing Black Panther.
Robert was still jazzed after they left and challenged Sarah to a game. You'll have to ask him how it turned out…
(0) Comments -- permanent link
Edit this (owner only)
Nov 23, 2022
He's Back!!!
last update: 11/23 @ 22:27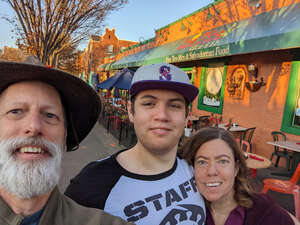 We picked up Robert at the airport (Dulles) last night!
He's back with us and really wanted Mexican, so we had a late breakfast / early dinner (depends on time zone and age) at Los Tios to celebrate.
Now we're really looking forward to Thanksgiving with the Hubbard clan.
But before that, we lit the first fire of the season.
It's great having Robert home for that.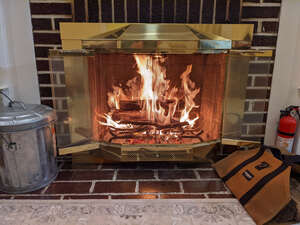 Now for a good night's sleep before the big day…
(0) Comments -- permanent link
Edit this (owner only)
Nov 13, 2022
Planet Word
last update: 11/13 @ 18:29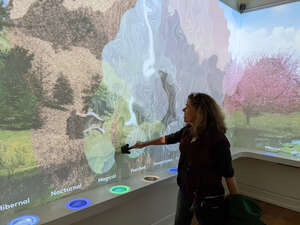 Sarah heard about this a new to us museum: Planet Word. It's very cool and in an interesting space. This room (happens to also be on the museum's website) has projected mural and you can "paint" the mural with new styles, like nocturnal, magical or autumnal. It's a very fun interactive space.
They also have an interactive way to elucidate the etymology of English.
Another exhibit introduces you to several langauges from around the world. We learned (and at least I promptly forgot) a bit of Icelandic, Zulu and Hawaiian.
(0) Comments -- permanent link
Edit this (owner only)
Nov 05, 2022
Stare down contest
last update: 11/05 @ 22:19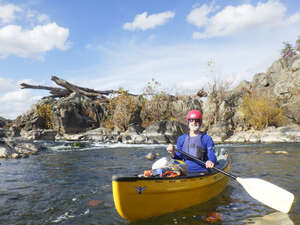 You'll have to trust me on this.
With reduced pixels of this photo you can't see the heron.
But he (or she) was there.
We had a staring contest as he (or she) looked for fish to snack on just above the waves and I surfed across them.
If I posted the full size photo and you zoomed in above the nose of my canoe, you'd see this heron. Just hanging out.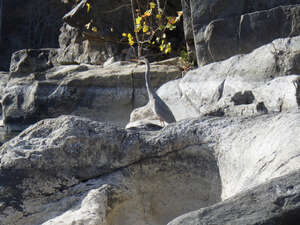 Well… not just hanging out. Looking for lunch or dinner.
Eventually I felt bad for getting in the way and decided to head for home.
But I don't think I've gotten that close without the heron flying away.
And I should note the river was low and he weather crazy warm, we tied the November 5 record of 81 degrees.
(0) Comments -- permanent link
Edit this (owner only)
Oct 30, 2022
Color may have peaked
last update: 10/30 @ 18:39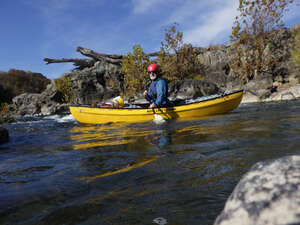 Beautiful day outside today but it is cooling off.
It's looking like the trees may be just past peak on the river; I saw a lot of yellows but also starting to see browns as well.
The Potomac is really low so that may have something to do with it.
Or it may just be that time of year.
The paddle jacket was a little too warm until I got a lap full of cold water surfing across the Maryland chute. That made me glad for both the jacket and the wet suit booties.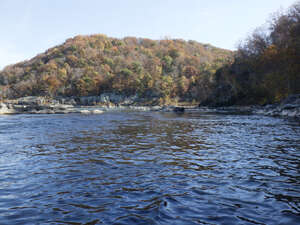 I expect I'll be bundled up for the next several months now — as long as it seems nice enough to be out.
(0) Comments -- permanent link
Edit this (owner only)
Oct 16, 2022
On the river this time
last update: 10/16 @ 11:23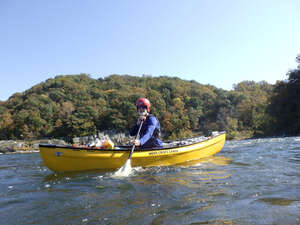 Sarah was off Saturday morning helping to raise money for Children's Hospital.
I was a slacker and headed out to the Potomac.
It was very pretty fall day to be out. Cool but not cold.
And the leaves are starting to show some color.
I'm not sure how colorful they will be around here. But I expect to get on the river a few more times this fall to see.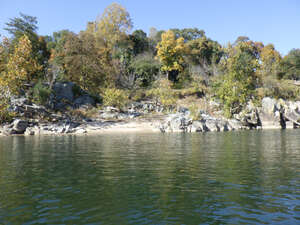 (0) Comments -- permanent link
Edit this (owner only)
Oct 10, 2022
Heron
last update: 10/10 @ 18:42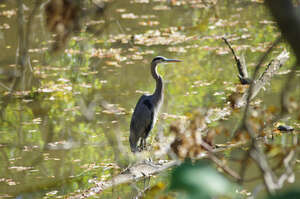 Not our normal Potomac River Heron, this one was in the Shenandoah Canal just upstream of Harpers Ferry.
He or she does a great job looking like an animal that has been around for millennia.
(0) Comments -- permanent link
Edit this (owner only)
Harpers Ferry
last update: 10/10 @ 18:38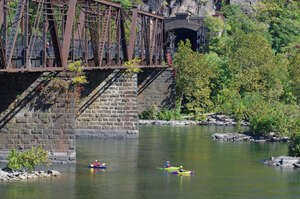 It was such a pretty day.
Really a pretty weekend.
And a three day weekend…
So we decided to head out to Harpers Ferry.
It was great to get out of the house, out of the DC area and enjoy the weather.
Also nice to learn something.
I never would have thought Lewis and Clark were there. But they did gather supplies.
And they commissioned a custom, iron framed canoe.
That may be been an inspired idea, but in the end, it did not last after the first real test; the leaks started too soon and they left i behind.
We left our boats at home but did enjoy seeing a trio of kayakers on the river.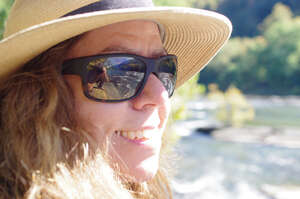 (0) Comments -- permanent link
Edit this (owner only)
Oct 01, 2022
Alexandria Raceway's Road Course
last update: 10/01 @ 14:41

Robert ordered the 2022 Brad Keselowski car months ago, but it was just delivered this week. He asked for a photo or two so I tried my hand at an afternoon road course race with Robert's track.
I probably could have gone a bit more golden on the light, but I was hoping it would be a little subtle.
Many (too many) more photos in the vacations section (where else?).
(2) Comments -- permanent link
Edit this (owner only)
Sep 28, 2022
Tradition!
last update: 09/28 @ 17:54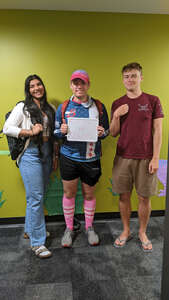 Robert is keeping alive the first day of school photo tradition!
While he's been at UW for a bit over a month now, most of that was the early fall start program designed to help ease freshman into campus life (especially though moving to Seattle for school).
That program is over and today was the first day of regular classes!
We're holding our breath to hear how it went. And curious to see if Robert will stop by in the comments to tell us who's who in this photo (roommate Ben is taller than anyone in this photo).
Here's the traditional look back:
(4) Comments -- permanent link
Edit this (owner only)
Sep 25, 2022
Another pretty day
last update: 09/25 @ 11:32

We paid attention to the weather forecast and headed to the river yesterday to avoid the possible rain and thunderstorms today.
With the quick shift to fall weather over the last day or two, it was much cooler than it has been but still a very nice day.
We opted to paddle up the gorge rather than just stay around Angler's Inn this time.
Always good to see how pretty a spot that is.
Also clear from these photos: the low, fall water level.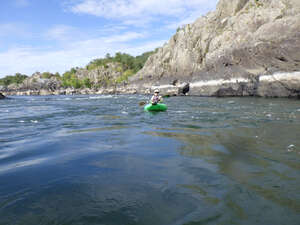 2.85 is not unusually low for this time of year.
But clearly (looking at the bathtub rings) lower than the year round average.
We took the easy way out and carried the boats over some of the rocks to get up to what was left of Rocky Island before turning back around to go with the flow.
It was a really nice way to spend the first fall weekend day of the year.
We're looking forward to more (before it gets too cold).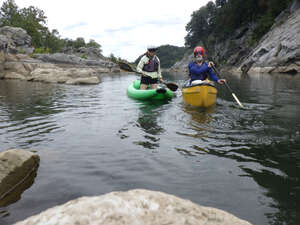 (0) Comments -- permanent link
Edit this (owner only)
Sep 18, 2022
Another pretty day on the river
last update: 09/18 @ 23:16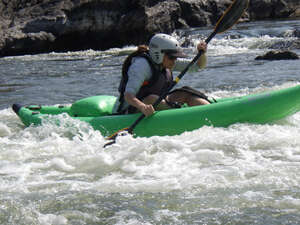 It was another beautiful afternoon.
Sarah and I headed to Angler's Inn
Just to play around.
We were not the only ones out there.
But there was plenty of fun to be had by all.
We played abound a bit in the Maryland chute.
(I said it was hard but not impossible to flip the inflatable.)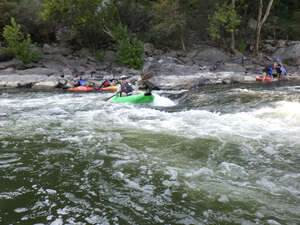 And headed across the river to play around a bit in the Virginia chute.
We even got to see someone's first descent.
He was on a paddleboard and did OK.
Well, it's a forgiving spot.
He fell off the paddleboard above the drop.
And he fell off the paddleboard below the drop.
But he was having a good time and carried back up to run it again.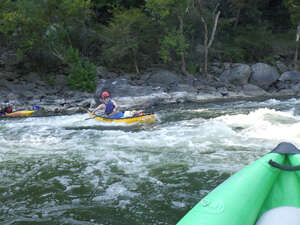 We enjoyed watching him learn to respect the current.
And we enjoyed playing around in the current ourselves.
It really was a lovely afternoon.
I'm looking forward to many more.
(0) Comments -- permanent link
Edit this (owner only)
Fame continues
last update: 09/18 @ 10:54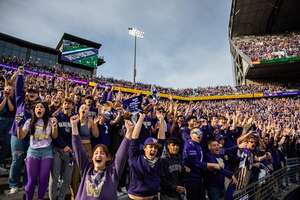 Robert and crew made it to the UW Facebook page celebrating the unexpected UW win over Michigan State last night.
We'll see if that photo stays around as long as one of Robert running across a bridge at his elementary school — that was in their ads for years.
(If you need help, he's front role, second from left.)
(0) Comments -- permanent link
Edit this (owner only)
Sep 13, 2022
Fun Weekend!
last update: 09/13 @ 19:45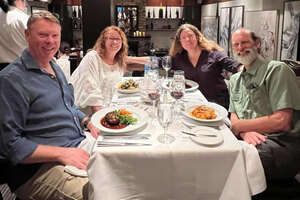 While Robert is settling into Seattle, Sarah and I took a quick trip up to New York to meet up with Nanette and Adam. They just dropped off their daughter at school upstate.
Sarah met Nanette in the mom's group back in the day.
We were very sad when they moved back to Australia so it was fantastic to see them again.
We talked about our kids and how it feels send them off into the world. And we saw Hamilton.
It's very much a great musical.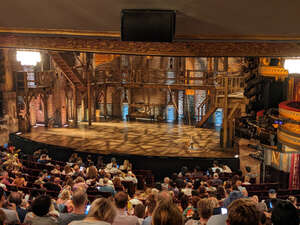 We need to take advantage of their offer and go visit them.
It really was a very fun, special day and evening to hang out can catch up with them and all they have been up to.
(0) Comments -- permanent link
Edit this (owner only)
Sep 04, 2022
Back on the Potomac
last update: 09/04 @ 21:53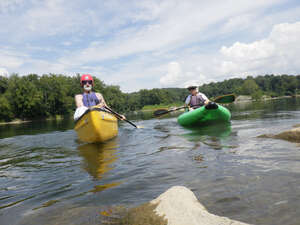 With Robert settling in to his new routine, Sarah and I headed to the Potomac this afternoon.
It's been a while since we've run Anglers to Lock 10.
This time, with two cars, no need to wave down a taxi or Lyft for the shuttle.
That helped to make sure I had my paddle this time.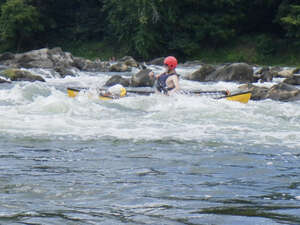 The water level was a bit low.
But we still had a fun time on the river out on a pretty day.
It was fun to see what we could see at low water.
And I have to confess to missing a brace at the end of Yellow Falls.
But I went back out play there. Thank you SZap for the excelleng photo.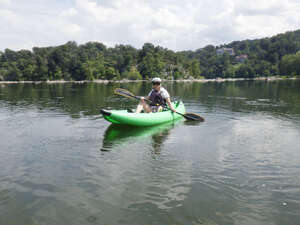 I expect we'll do more of this with Covid fading and Rober doing his own thing on the other coast.
(0) Comments -- permanent link
Edit this (owner only)
Aug 30, 2022
Move in Complete!
last update: 08/30 @ 22:28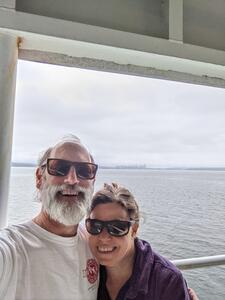 We met Robert in Seattle, helped him get settled in to his dorm and then did a lap around the Olympic Peninsula before heading back (just the two of us) to Alexandria. Many more photos in the vacations section.
(0) Comments -- permanent link
Edit this (owner only)
Aug 14, 2022
Nice day
last update: 08/14 @ 17:12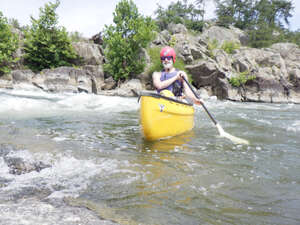 The weather was so nice this weekend I had to get out on the river.
That helped a little bit with my sadness at Robert moving out to Seattle.
And it's always nice to spend some time at Angler's Inn on the Potomac. There were other folks out but not too many; I got to play in the Maryland chute as much as wanted to without having to take a break other than to bail out the water.
(0) Comments -- permanent link
Edit this (owner only)
Aug 13, 2022
Flown the coop!!!
last update: 08/13 @ 18:35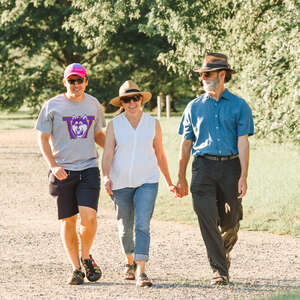 Sarah and Robert drove down to Huntsville yesterday. Unfortunately they missed seeing Jess and Brown because Brown has Covid.
(I would be remiss to not point out that Robert found Audible has The Incredible Adventures of Jack Flanders available; now he and Sarah have heard more about Jack Flanders than I have. Something I will clearly have to correct!)
But they did get to meet up with Aaron in Huntsville for what looks like a cool cave hike.
And they are getting to have dinner with him tonight.
Robert checks into Space Camp Elite tomorrow and then Sarah will wind her relaxed way back to Alexandria.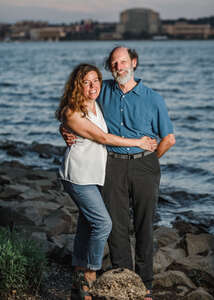 As Space Camp ends, we're flying out to Seattle to meet Robert.
We'll be bringing his college stuff; he'll be bringing dirty clothes :)
He's starting his early fall start program at UW!
He is incredibly psyched to have gotten into the Engineering program there and is really looking forward to it.
It should be an excellent fit for his interests both academic and environmental: no more swampy, humid summer weather. Having family in Seattle makes the move less scary and more fun, I'm sure.
Before all the traveling, Sarah arranged for another round of "Porch Portraits" from Joseph. Not our porch this time, Jones Point and the old light house there.
Joseph does a Great job!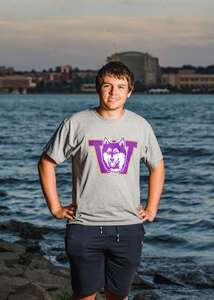 Sarah has been getting ready for this for some time. I think all the help she has offered getting Robert thinking about and actually packing has helped set her mind on the fact that we are launching him on his next great adventure.
I just came back from the grocery store and realized I was very blue: for the last 18 years there has always been something to get at the store for Robert, but not today.
For me, his next great move is just now becoming real. And I'm looking forward to hearing about all his new adventures!
(0) Comments -- permanent link
Edit this (owner only)
Jul 31, 2022
Birthday festivities winding down
last update: 07/31 @ 20:15

Robert had the excellent idea to celebrate his birthday at The Sandy Springs Adventure Park.
It had been years since we were here last.
It's still here and still lots of fun.
Sarah Z. was under the weather and not able to join us.
We thought Pocket (Sarah P. from the Alexandria Medical Reserve Corps) might be able to join us, but she also had to drop out.
But Robert, Will, Abdel and I had blast.
Robert and I, obviously, had been there before.
Will had as well (though not with us).
Abdel was new to this kind of craziness.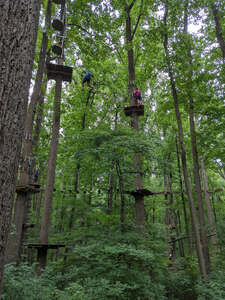 Abdel's timing was perfect. Coming home from an early start program at college just in time to take Pocket's spot on the trip.
We started with a green to get used to the park — actually Robert and I on one and Will and Abdel on another.
Then we joined up for blue (which was slowed down by someone ahead of us who couldn't calm down enough to get across one of the "features").
Clearly not having fun, one of the staff came up and helped her bail out mid-course.
Watching how that staffer made that feature look really easy was deceiving. There is clearly an advantage to familiarity.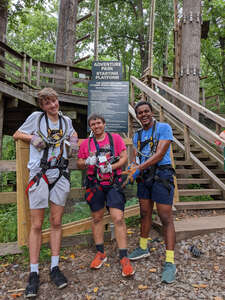 After that, we split up again. I went back to a fun green (with thoughts of a blue afterwards). The boys, who heard that the double black really should be first or you'd be too tired, opted for the single black.
I choose to watch a bit from the ground rather than pushing for that last blue.
The black seemed to have lived up to it's reputation looking at the boys as they came back; smiling, but gassed/
We finished the day with the excellent cake Sarah made and watching the Hungarian F1 race.
A very nice way to celebrate Robert's 18th.
(0) Comments -- permanent link
Edit this (owner only)
Jul 25, 2022
If Binder clips were bitcoins
last update: 07/25 @ 22:26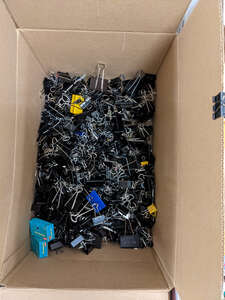 As PTO embraces a post-covid teleworking policy, most folks are coming in to clean out their offices. This is today's pile of binder clips returned from soon to be clean offices.
It's pretty amazing what people had saved in their offices.
And more amazing how much physical paper we're learning to live without.
Well, most people. I continue to go into the office with no plans to be a full time teleworker. And I still print out more documents to read and mark up than I really need to.
But I do find it sometimes easier and allows me to avoid the distraction of IM or email while I'm looking at something other than my screen.
And, yes, I have plenty of binder clips, thank you very much.
(0) Comments -- permanent link
Edit this (owner only)
Jul 23, 2022
Continuingthe tradition…
last update: 07/23 @ 23:42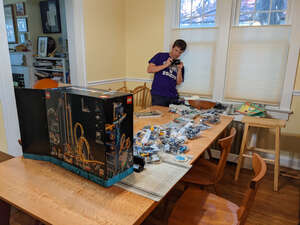 We went out to Tysons Corner Mall to the Lego store today.
I think this is the first time Robert added his own, hard earned cash from being a summer camp counselor to the pot to get a more expensive, more engrossing set.
After his trips to Kings Dominion and Six Flags recently, this seemed perfect.
Robert has discovered his inner roller coaster fan (thanks Will).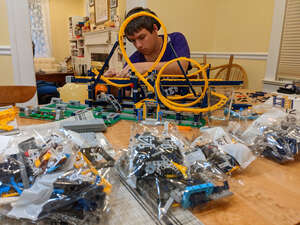 And this is a perfect companion to this summer of coaster.
After a lot of research, he decided this is what he wanted for his brithday.
And it's really cool. Check out Robert's Twitter feed for vidoes of it working.
He decided it was worth extra cost for the motor, and I agree.
It's a quick ride, but apparently, pretty accurate.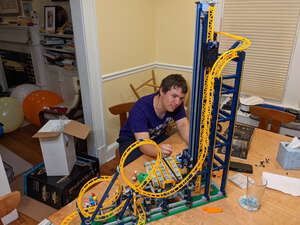 Of course we had to stop by the sushi-go-round for lunch afterwards.
It was a great way to spend a very hot day indoors.
(Maybe not obvious in these photos: he started in the early afternoon; it was dark when he finished — a fun set to build and more fun to play with.)
(0) Comments -- permanent link
Edit this (owner only)
Toasty warm
last update: 07/23 @ 18:23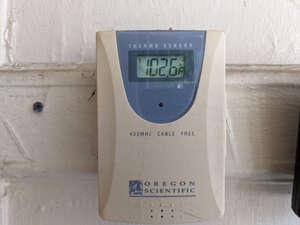 Starting to feel a lot like summer.
Admittedly, the other side of this porch wall is in the sun, but it's really hot out.
I'm very glad our AC is working this weekend.
It's a good day to stay inside and build with Legos. More on that later.
(0) Comments -- permanent link
Edit this (owner only)
Jul 22, 2022
Happy Birthday!!!
last update: 07/22 @ 23:32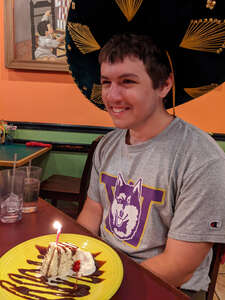 The traditional Los Tios birthday dinner capped off with a round of Happy Birthday while wearing a sombrero.
What could be a better way to celebrate?
Kind of amazing that we've been doing this for half of Robert's life.
With Robert turning 18 and looking west for college, we'll have to see if he gets this treatment again.
Sarah and I will uphold the tradition though :)
Speaking of tradition: we have plans tomorrow (after F1 qualifying) to head back out to Tysons, peruse the Lego Store and go by the sushi-go-round.
Should be a nice day.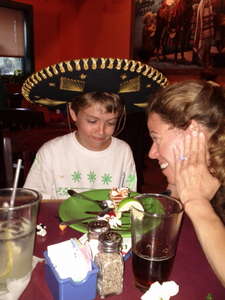 Looks like that's even the same sombrero from 2013.
It's good to know we're not the only ones who are consistent.
(0) Comments -- permanent link
Edit this (owner only)
Jul 10, 2022
Birthday!!!
last update: 07/10 @ 22:32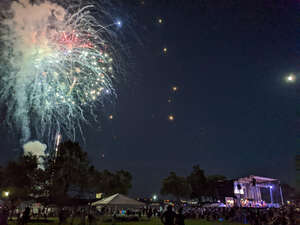 Not a family birthday.
Alexandria chooses not to compete with the DC fireworks. We celebrate the city's birthday the following weekend.
This is the 273rd birthday for the city of Alexandria (246 for the country).
Alexandria really puts on a good show.
And it's much more approachable than The Mall for DC's fireworks.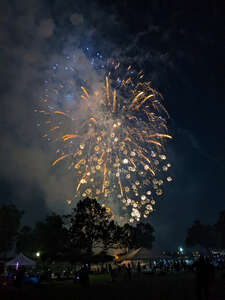 Pocket, from the vaccine PODs is back in town. We got host the POD crew last night to celebrate her return (temporary return) from studying abroad.
And we happened to run into her and Nathan at the fireworks.
Maybe not small world, but small town, anyway.
A perfect topper off to a lovely weekend.
(0) Comments -- permanent link
Edit this (owner only)
Potomac Fun
last update: 07/10 @ 22:25

Yesterday was pretty rainy but today was another perfect day to be on the river. There were more people out and about than last weekend, but still plenty of fun to be had.
(0) Comments -- permanent link
Edit this (owner only)
Jul 02, 2022
Back on the river…
last update: 07/02 @ 18:05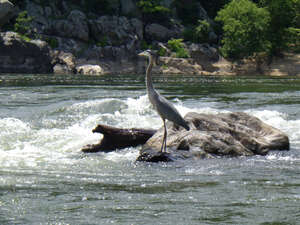 … and I saw this guy. I'm going to believe it's the same Heron we've seen before just upstream of Angler's Inn. This time, he was hanging out at the Maryland Chute, which has a new to me log stuck on that rock. They are saying there may be heavy thunderstorms this afternoon so that log may move along later today.
(0) Comments -- permanent link
Edit this (owner only)
Jun 27, 2022
Second wedding success of the summer
last update: 06/27 @ 15:27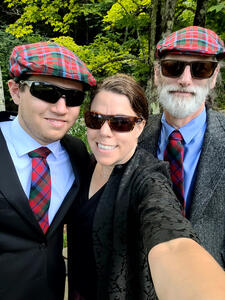 We had a really fun trip up to New York to join in the celebration of Ian and Sophie's wedding. On the way, we stopped off in the big city to see a show and enjoy the Cloisters. More photos in the vacations section.
(0) Comments -- permanent link
Edit this (owner only)
Jun 21, 2022
Voters!!!
last update: 06/21 @ 10:18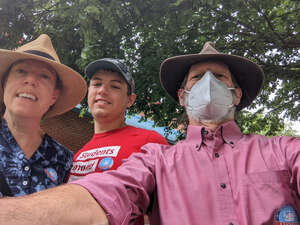 Now we're a family of three voters!!!
Since Robert will be of age when the general election comes around in November, he was eligible to vote in the primary today.
Just one race this time, a challenger we'd not heard of or the incumbent who answered Robert's (and others') questions in the AP Goverment class earlier this year.
(0) Comments -- permanent link
Edit this (owner only)
Jun 20, 2022
Back from Flagstaff
last update: 06/20 @ 15:20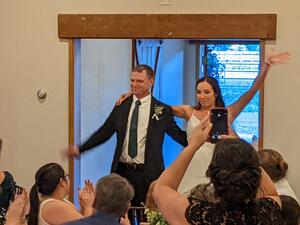 We're back from a quick, delayed trip to Flagstaff. Sam and Rachel's wedding re-celebration was fantastic! While a bit more exciting than I believe they expected, we loved getting to meet Gwen and to have such a great reason to visit with family in-person!

Many more photos of the fun weekend we had in the vacation section.
(0) Comments -- permanent link
Edit this (owner only)
Jun 04, 2022
College Bound!!!
last update: 06/04 @ 18:21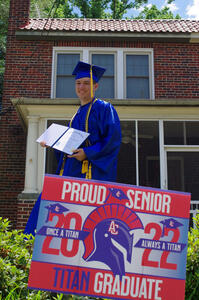 Robert is on his way now!
The graduation was an excellent conclusion to a difficult high school tenure. The graduates really deserved this chance to celebrate.
More photos in the vacation section.
(0) Comments -- permanent link
Edit this (owner only)
May 22, 2022
Final Ultimate Games
last update: 05/22 @ 21:45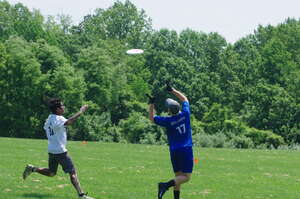 The Small Titans finished out their season today.
That's Robert's final Ultimate games with the ACHS team.
But, we expect more Ulimate in Seattle over the next few years.
They won two and lost one hard fought game against Madhouse.
Robert scored one and played serious defense in the games.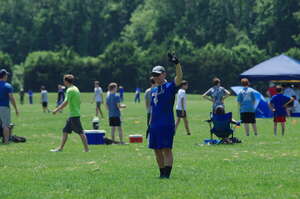 It's clear that ACHS will be a force to be reckoned with over the coming years as so many of the players have several more years of high school Ultimate in them.
(0) Comments -- permanent link
Edit this (owner only)
Dirt Track!
last update: 05/22 @ 00:33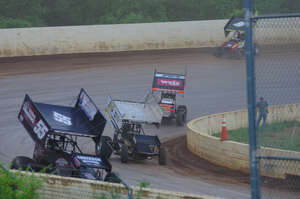 Robert took Sarah to a dirt track race for her birthday.
Sarah agreed that would make a nice present.
We had planned to go back to Hagerstown (where Robert and Will and I went), but they have been hosting — or at least serving as basecamp — for the "Peoples Convoy."
That was a turn off. So Robert found that Winchester, pretty much the same hour plus from Alexandria, had races on Sarah's birthday. (You can ask him about the app the next time you see him.)
I think that Sarah will agree: sprint cars are weird.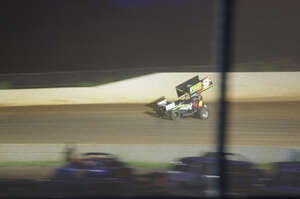 It turns out this was the first time sprint cars had been back to Winchester in eight years. Clearly, the planets were aligning for the birthday celebration.
And it wasn't just sprint cars, they had a full evening's entertainment lined up for the dirt track racing fans.
It was a most unusual birthday celebration (even announced over the PA system).
(0) Comments -- permanent link
Edit this (owner only)
May 15, 2022
State Championships!
last update: 05/15 @ 23:51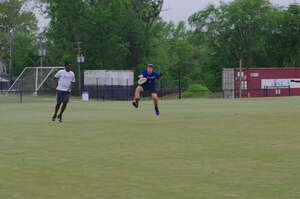 The Alexandria Small Titans had a good couple of days in Fredericksburg at the State Championships.
They played 6 games over the two days. It was also over two seasons: Saturday (2 wins, 1 loss) was cool and rainy. Sunday (2 losses 1 win) was hot and humid.
By the end of weekend, they came out with 6th place in the state.
Pretty astounding for such a young team (Robert is the only senior on this year's team).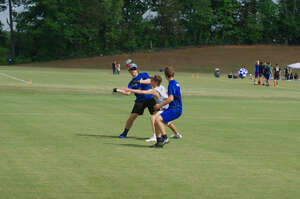 (0) Comments -- permanent link
Edit this (owner only)
May 07, 2022
Prom!
last update: 05/07 @ 22:47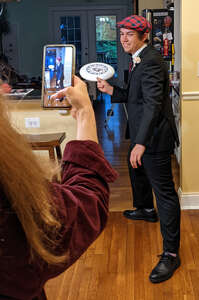 Pretty astounding all things considered that Robert is off to his high school prom.
It a was just a little while ago that he went off to school.
And now his off at the prom (word is that he's having a good time) and has plans to go to UW in a couple months.
I guess that's what they mean by time flies…
Of course he has consistently been rockin' the hat.
And no, the disc did not to with him to prom.
(0) Comments -- permanent link
Edit this (owner only)
May 01, 2022
Rainy day for ulimate
last update: 05/01 @ 22:17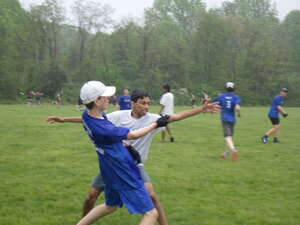 We went out the field early today to watch the Alexandria / Dynamo girls play their game.
It started out OK.
But then the rain started.
And kept for all of the boys first game.
But it started to let up by the time the boys played their second and final game.
And that is Robert's point scoring smile!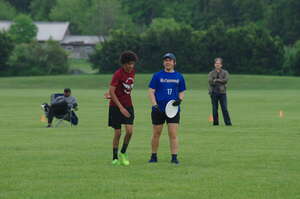 Alexandria went three for three today, winning all their games!
(0) Comments -- permanent link
Edit this (owner only)
Apr 28, 2022
Robert continues to do well…
last update: 04/28 @ 21:38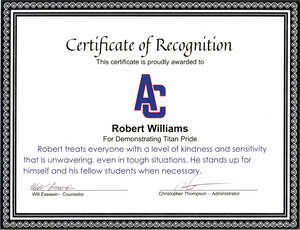 He was recognized today for standing up for himself and his peers as part of the Titan P.R.I.D.E (preparation, respect, integrity, determination, and excellence) awards.
(0) Comments -- permanent link
Edit this (owner only)
Apr 24, 2022
Ulitmate without the cold breeze
last update: 04/24 @ 22:00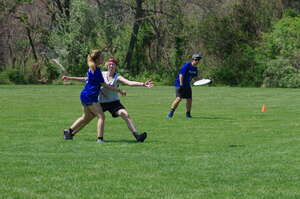 The Titans had two games this afternoon. They won against Marshall but lost against Episcopal.
It was much nicer to watch with the temps and wind chill well above freezing! Blue skies and low 80s today.
(0) Comments -- permanent link
Edit this (owner only)
Apr 17, 2022
Tax day was delayed this year
last update: 04/17 @ 22:23

Fortunately not by covid this time. It was Washington DC's emancipation day holiday that pushed tax day back to
Monday the 18th. But if you happen on this Sunday night, here is sneak peak at our annual tax day letter.
And a confession: the spring break Bonaire trip really happened in tax year 2021, but it will have to wait until next year's letter — that was just cutting it too close.
(0) Comments -- permanent link
Edit this (owner only)
Not Alexandria this week…
last update: 04/17 @ 22:17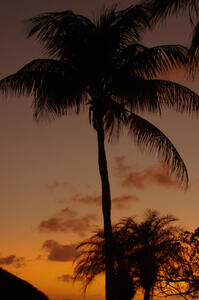 We're back from a spring break trip to Bonaire to get some sun and ocean and diving in.

It was a great trip, but too short. Sarah pulled all the strings to have everything line up for a perfect time to relax and recharge.

There are many more photos in the vacations section.
(0) Comments -- permanent link
Edit this (owner only)
Apr 01, 2022
Mixed emotions
last update: 04/01 @ 09:50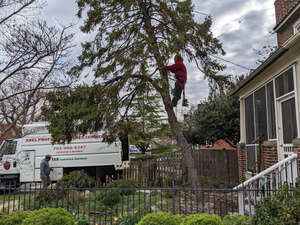 This tree has been with us for the decades we've had our house. But watching the ground heave as the wind blows and the tree sways, it was clearly time to remove it.
Fortunately the tornado (still waiting for official word that it was a tornado) last night was several miles away and it stayed up long enough for our tree guys to come take it down in a controlled way with (we hope) no ancillary damage.
It's going be sad to lose that shade a bit of privacy. I wonder how many times I miss the doorway or driveway because it won't look like our house anymore.
(0) Comments -- permanent link
Edit this (owner only)
Mar 31, 2022
Latest NHS member…
last update: 03/31 @ 22:23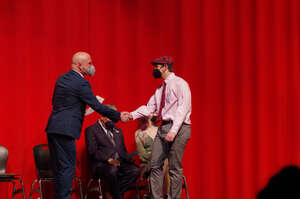 …Well, not quite.
There were two people behind Robert at the induction ceremony for the National Honor Society tonight. (Pesky alphabetical by last name)
We're very proud of Robert for this recognition.
And it looks like he's in good company.
Maybe the planet will be OK after all.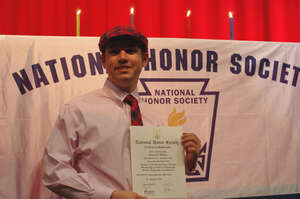 (Gotta love the stylin' MacNaughton wear!)
(0) Comments -- permanent link
Edit this (owner only)
Mar 27, 2022
Robert's new sport
last update: 03/27 @ 18:59

Robert has taken up Ultimate Frisbee for the spring. It was barely feeling like spring today (just a few flakes of snow) as the Titans won their third game to remain undefeated.
Robert scored this point for the team!
(0) Comments -- permanent link
Edit this (owner only)
Mar 19, 2022
First 2022 Potomac trip
last update: 03/19 @ 22:54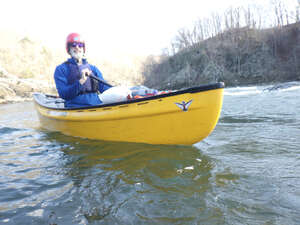 It was a perfect day to take advantage of Daylight Saving Time and get out on the river in the evening. The water was still cold, but the air was about 77 and a lovely blue sky (completely over exposed in this photo, sorry).
And an excellent way to welcome Spring!
(0) Comments -- permanent link
Edit this (owner only)
Mar 14, 2022
We have a Winner!!!
last update: 03/14 @ 23:08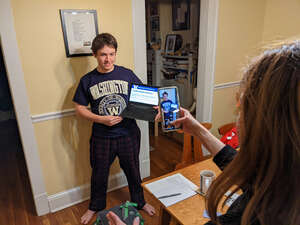 Robert accepted the admission offer for University of Washington!!!
Now we have a Huskey in the family!
CONGRATULATIONS ROBERT!
(0) Comments -- permanent link
Edit this (owner only)
Mar 06, 2022
Fun game
last update: 03/06 @ 11:38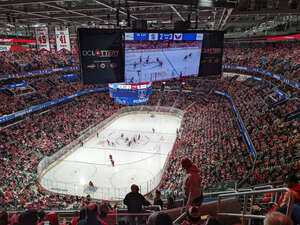 We went to go see the Caps vs. the Kraken last night. It was a fun game.
But, as Robert tweeted to his friends, especially cool to see the Seattle Kraken play on the same day he heard he was accepted into UW!!!
He's really happy about that and likely to be a Kraken fan (unless they are playing the Caps).
And, for the record, the Caps won 5 - 2 last night.
(0) Comments -- permanent link
Edit this (owner only)
Feb 27, 2022
Go fly a kite!!!
last update: 02/27 @ 15:12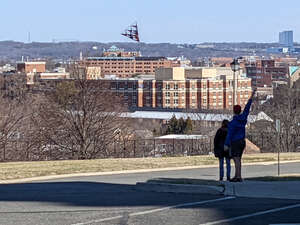 This was last year's aerospace kite project.
It's been gracing our dining room for most of a year.
But, finally, today proved it's airworthiness.
Even though Robert had to use twine instead of kite string (pesky roomba eating up the kite string), it did really well.
Robert thinks there will be another one to make this year; we'll be sure to go fly it sooner.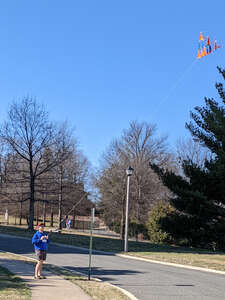 (0) Comments -- permanent link
Edit this (owner only)
Feb 26, 2022
Blast from the Past!
last update: 02/26 @ 16:17

We went to see Jesus Christ Superstar at the Kennedy Center. It was surprising to me how much I remembered the lyrics after however many decades.
And helpful to know the lyrics as the vocals were not as crisp, clear, and understandable as you might like.
Unfortunately, Robert did not have those years of playing the record in his past and was a bit lost for much of the play.
Still, it was very nice to get back to the Kennedy Center (where they check vaccination status and remind folks that masks are required).
(0) Comments -- permanent link
Edit this (owner only)
Feb 21, 2022
Presidents' Day
last update: 02/21 @ 16:21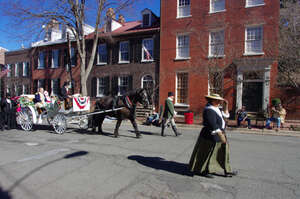 It seems like it's been a really long time since we've had a parade.
This was a very nice one.
The weather was perfect; the frigid temperatures of the last couple days have passed.
And the sky was a crystal clear blue.
A perfect day for George Washington to pass by to cheers.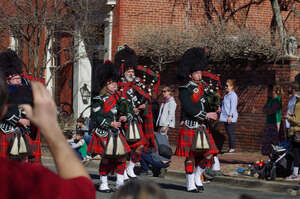 And a really perfect day for hearing some bagpipes.
And Alexandria's Pipes and Drums band did not disappoint.
There were, of course, politicians and police and military troops on parade.
But I do really enjoy the sound of a marching pipe band.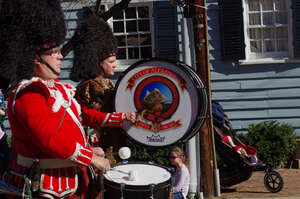 (0) Comments -- permanent link
Edit this (owner only)
Parade part 2
last update: 02/21 @ 16:21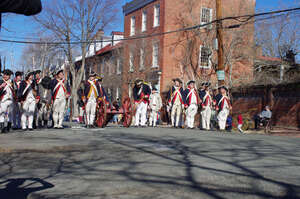 There were revolutionary soldiers.
These guys even had a canon.
But I noticed it was staged a few blocks from the finish (so they didn't need to roll it the whole way).
They did fire it off for the reviewing stand and it was as impressive as you would expect a canon to be.
I'm sorry I didn't get a shot of the smoke clearing over the street — that, too, was impressive.
And the Shriners were there. They had both these cars and equally small minibikes.
It's always impressive to watch their close order drill.
I was only a little worried for my toes and nose taking this photo.
I'm glad the full-sized exotic and antique cars did not try these sorts of tricks.
And I think it's clear by this this set up that Alexandria was ready for a good, old fashioned parade: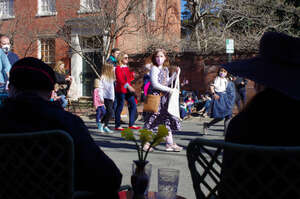 A parade.
Perfect weather.
Pipes and Drums.
Maybe we really are turning the Covid corner.
(0) Comments -- permanent link
Edit this (owner only)
Feb 06, 2022
Goodnight Moon
last update: 02/06 @ 18:14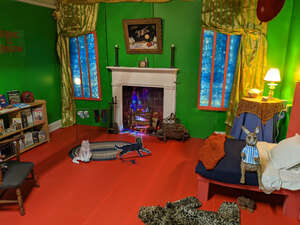 "Auntie Lisa," our neighbor from E. Nelson Ave. and from whom we got Max and Zip all those years ago is an artist at the Torpedo Factory.
She, with help from other Torpedo Factory artists, turned one of the rooms into the room from Goodnight Moon.
It was really cool to see it come to life.
Also cool, they used the bookshelf in the room to highlight many of books recently banned by school boards in conservative districts.
Unfortunately, the artists cooperative may be at risk. The City of Alexandria is trying to generate more tax revenue from that now prime real estate.
We're supporting the Save the Torpedo Factory movement, but I fear it's an uphill battle.
(0) Comments -- permanent link
Edit this (owner only)
Feb 02, 2022
Birchmere!
last update: 02/02 @ 22:45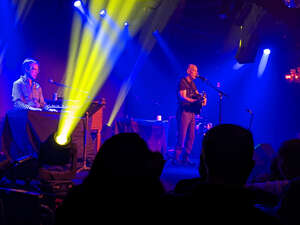 We got back to the Birchmere!
Maybe this whole Covid thing is getting better. Or maybe we're getting blasť. The Birchmere wanted to see vaccine or negative Covid test at the door. And generally folks were well masked when not eating.
And, it was Marc Cohn!
A great evening, lots of fun; great show and a feeling of getting back on our feet after yet another Covid variant.
Robert was busy with Ultimate Frisbee but maybe next time he'll be able to join us. The Birchmere really is a great venue, even when the smoke machine is turned up to 11.
(0) Comments -- permanent link
Edit this (owner only)
Jan 23, 2022
Cold snap continues
last update: 01/23 @ 17:27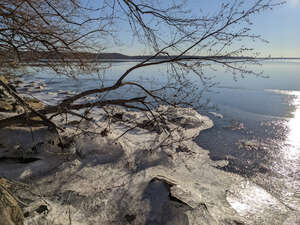 Sarah and I checked out the Potomac closer to Mt. Vernon than our regular haunts. The recent cold has left a lovely ice rim around the shore.
And yes, it is satisfying to break some of that ice up. It should be cold enough for at least the next week to rebuild anything we broke off.
(0) Comments -- permanent link
Edit this (owner only)
Jan 11, 2022
Snow (delayed post)
last update: 01/11 @ 22:47

We had a great heavy, big (for us) snowstorm last week.
Unfortunately, it came on the heals of the holiday break.
So while I walked in to the (closed) office, Robert got to get out the sleds and enjoy the snow.
He also took on the lion's share of clearing the sidewalk and car.
I wish I'd been able to join in the sledding, but "Closed" has a new meaning in the Telework age. In the federal space, weather events can close access to the buildings, but you're still expected to telework if you can.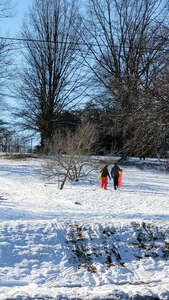 While I could, I'm more productive in the office and had that option (even though we were closed). So, after two weeks off, I went in and missed on the sledding. (I did get to join him and Ian on a hill in Seattle while we were there.)
Sarah, who took that photo, split her time between telework and some snow enjoyment.
Between that snow, and a refreeze and second, smaller snow, Robert's holiday break grew by a week — but he did have some on-line classes to pay attention to.
He's happy to be back in school, in person now. And I expect, Will, who joined him on the slopes, agrees.
(0) Comments -- permanent link
Edit this (owner only)
Jan 01, 2022
Happy New Year
last update: 01/01 @ 00:49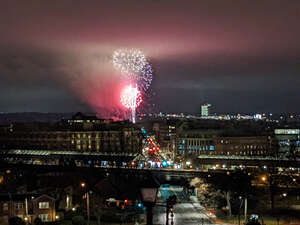 It was a bit subdued this year: the normal King St. / Old Town First Night festivities were cancelled due to Covid. But the fireworks went on.
And were great, as usual. Thank you Alexandria.
From the Masonic Memorial we could see about 9 other fireworks displays in the distance in additon to Alexandria's.
It's a nice way to ring in the year (along with the 12 grapes under the table, champagne, sweeping the porches and running around the house three times).
(0) Comments -- permanent link
Edit this (owner only)
---
Add new entry (owner only)