Oct 31, 2019
Halloween!!!
last update: 10/31 @ 20:12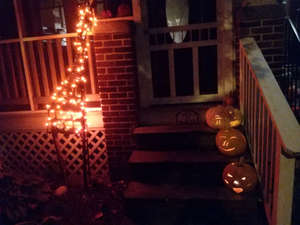 It was crazy warm for Halloween.
Robert's Walter White tyvek suit just about melted him.
Sarah was a ping pong game — she added the net after we took to the photo.
Again, not many folks on our street but they had a good time walking the neighborhood before getting too hot to keep going.
Now we're waiting to see what the powerful storms do on their way through to lower the temps.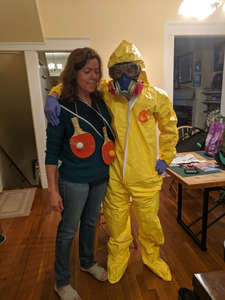 Oh, and the haul? That's a whole 'nother story. The new neighbors across the street saw the low interest and storm coming and dumped a huge load of candy into Robert's bag…
(0) Comments -- permanent link
Edit this (owner only)
Oct 29, 2019
ID Theft
last update: 10/29 @ 19:22

I guess I should not be surprised that I've become another victim of Identity Theft. So far it seems pretty contained; If I learn more or there seems more to add here, I'll do so.
Yesterday's mail brought a bank statement for a checking account I never opened. I sent a quick disputing email via the bank's contact us webpage and then called them this morning. The nice representative I spoke with this morning noted that it was flagged for looking fraudulent on what I believe to be the day after it was opened. (The statement period was 10/16 - 10/24 and she said it was flagged 10/17.) She noted that they would close the account and all the related access and said it looked like I was a victim of ID Theft. I did express a bit of surprise that they would open an account without a credit report, but she confirmed that is the case: They don't require a credit report to open an account, at least not for a checking account.
I hope the $306 the statement said was in the account is a net loss for the thief.
I've spent about 3 hours between the email last night, the call this morning and many of the steps outlined on the FTC website to report ID Theft. And so far, it looks to be only that one checking account opened with my name and address. I'm cautiously optimistic that following the advice years ago from Brian Krebs and freezing my credit report will help to keep the impact contained — though I have now filed for a fraud alert to be added to my credit report as well.
(0) Comments -- permanent link
Edit this (owner only)
Oct 22, 2019
Volleyball Season Finale
last update: 10/22 @ 19:05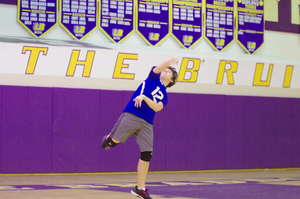 There were three rounds of Volleyball over the last few days: Friday, Saturday and Monday. But Monday's matches finished out the season.
Both matches last night were tough as both opposing teams were full of travel volleyball players. But the Titans held their own.
There are championship games scheduled Saturday; I'm sure the Titans will do well. Saturday's matches will be fun to watch
(0) Comments -- permanent link
Edit this (owner only)
Oct 19, 2019
Busy Day: Volleyball Victories
last update: 10/19 @ 19:31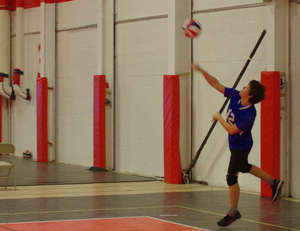 Robert's game winning ace serve.

The Titans won both matches today. We think one more game day Monday for the season.
(0) Comments -- permanent link
Edit this (owner only)
Busy Day: Burgundy Fall Fair
last update: 10/19 @ 19:28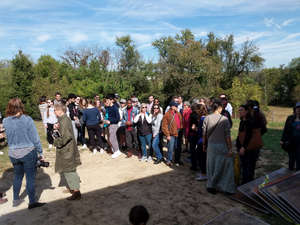 The weather was perfect for the fall fair today. And it was nice to be guests rather than working volunteers :)

Robert gathered with the rest of the alums for the annual photo. He ended up in the front, with many of his classmates by the time all the organizing and shuffling was done (after my phone battery died).
(0) Comments -- permanent link
Edit this (owner only)
Oct 14, 2019
Quick trip to Wiltshire
last update: 10/14 @ 16:20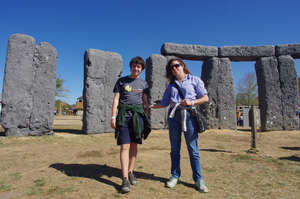 We took a quick trip across the pond to check out Stonehenge since we missed it on our England / Scotland trip this summer.
Actually, it's Foamhenge as erected at Cox Farm for their fall fair craziness. It makes as least as much sense there as the aliens who crash-landed in the hay ride field.
It was a pretty crazy warm fall day.
And for the record, Sarah won the slide race.
(0) Comments -- permanent link
Edit this (owner only)
Oct 12, 2019
Volleyball continues
last update: 10/12 @ 18:36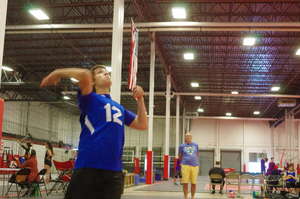 Robert and his team had games Thursday night and Saturday this week. The Titans are still looking good; some of the volleys and saves today were amazing.
(0) Comments -- permanent link
Edit this (owner only)
Oct 05, 2019
Titans Volleyball
last update: 10/05 @ 11:51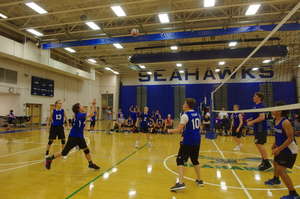 They continue to do well this season. While they lost the first match Thursday, they won the second.

Five and three so far for the season!
(0) Comments -- permanent link
Edit this (owner only)
Oct 02, 2019
More game time…
last update: 10/02 @ 18:41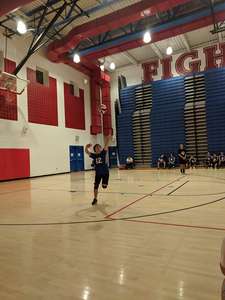 Sarah got this great shot at the game last night.
The Titans are doing well this year: 4 and 2 so far.
The team is really coming together and the games have been a blast to watch.
Some of the volleys and saves are getting really impressive.
And even with a bigger team (the interest in boys volleyball is growing), Robert is getting more game time.
Having such a nice court at his school is great for home games; we're still lined up to go back to the volleyball center for a couple more Saturday matches. That's a haul for us.
It's great to see the team gel and the level of play grow.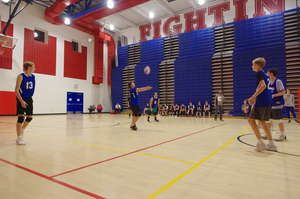 New this year: Robert got another friend in the neighborhood — they shared some classes last year and still share a bus this year — to join up. Will seems to be enjoying it too.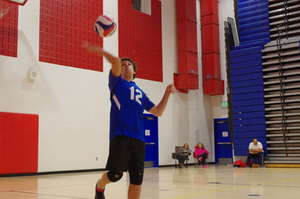 (0) Comments -- permanent link
Edit this (owner only)
---
Add new entry (owner only)