---
Other parts of the site:
Search the blog:
Archive:
Pick a Random Month
Full Blog Archive
(This is all the blog posts in cronological order, rebuilt every night so may be up to 24 hours out of date. It's also a big file with lots of graphics; please be patient.)
Mar 27, 2011
New Bikes
last update: 03/27 @ 17:44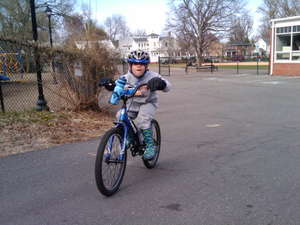 Sarah and Robert came home from New Jersey via her favorite bike shop in northern Maryland. They both got new bikes (I'm starting to get jealous).
(1) Comments -- permanent link
Edit this (owner only)
Mar 25, 2011
Spring Break
last update: 03/25 @ 22:46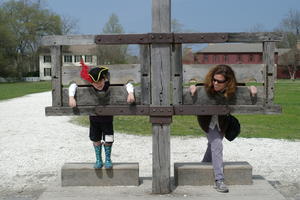 We took a quick trip back to Great Wolf Lodge and this time followed up with Colonial Williamsburg while Robert was out on spring break. We all had lots of fun (yes, as Sarah said, "cheesy," but still fun). More photos in the vacation section.
While Robert and Sarah aren't here right now, I didn't leave them locked up, they continued north to visit Harry and Elle and take in some of the sights NYC has to offer.
(0) Comments -- permanent link
Edit this (owner only)
Mar 19, 2011
Look Out World!
last update: 03/19 @ 09:33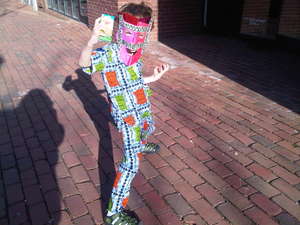 The Juice Box Hero is on the prowl. Always fighting injustice and thirst wherever there're found.
(0) Comments -- permanent link
Edit this (owner only)
Mar 12, 2011
Robert the Fly
last update: 03/12 @ 22:18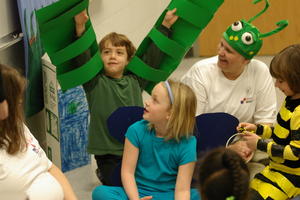 Robert was part of a team from his school participating in a Destination ImagiNation contest today. He was a fly as part of a skit about "Big Bug's Bad Day." More photos in Robert's section.
(0) Comments -- permanent link
Edit this (owner only)
Mar 06, 2011
Fun day
last update: 03/06 @ 14:19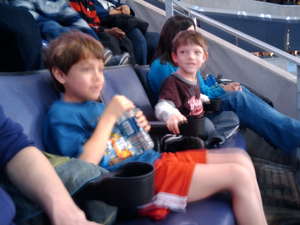 Yesterday was crazy busy but a lot of fun. Sarah started the day running some errands and finishing up the class project for the school auction. Then we headed over to the school to work on setting up the gym — we were part of the balloon inflation detail.
At noon we headed into DC for a Harlem Globetrotters game. Sue and Evan met up with us there. The boys had a great time and I regret that I don't have a photo of the huge belly laughs after pants were pulled down at mid-court. It was fun for me to see that over the 30+ plus years since I've seen them, not too much has changed. The bucket of water that turned into the bucket of confetti was still part of the show. (The pre-game show with "Globey" singing and dancing was all new, if for no other reason than iPods were not around when I was Robert's age.)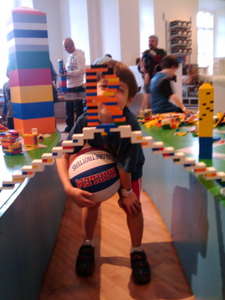 After the game we met up with Sally late of Atlanta, now of Wesleyan University. She was on her way to Atlanta and Savannah for spring break and we met her at the Building Museum. Robert (and his parents) introduced her to the cool Lego exhibit. She in turned helped in the construction of this arched bridge. And after seeing an "M" across the room, she crafted the "R" to top the bridge.

After a too brief visit with Sally, we saw her to the metro station and headed home for a parents night out at the big fundraising auction for the school. The food and drink were great, the conversations fun and we managed not to walk away with anything we didn't really need. It was fun to watch the bidding war over the case of the best wine made — but $200 per bottle is too rich for our blood.
(0) Comments -- permanent link
Edit this (owner only)
Mar 04, 2011
Guys night out…
last update: 03/04 @ 14:42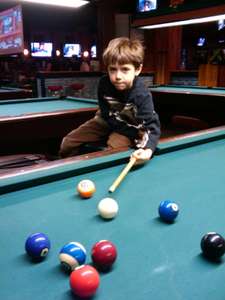 …it used to be we'd go to Uncle Joe's or some other restaurant. This time, while Sarah was in Boston for work, Robert asked in the car on the way home from school (on a school night), if we could go the Bungalow Billiards. We could and we did.
I blame Ron, a co-worker. We had a small happy hour there to morn his return after a temporary detail with the web group. Sarah and Robert joined us there and Robert clearly had a good time. We also always play a game or two when Harry is town.
It's a very nice, kid friendly place with good food and it's always fun to play pool; this time Robert sank the 13 ball all by himself (he did, unfortunately, go on to scratch on the 8 ball).
(0) Comments -- permanent link
Edit this (owner only)
---
Add new entry (owner only)
The posts on this page will slowly roll off as new ones are added to the top. The "permanent link&quot links above will take you to one post's permanent address; that should not change or disappear. You can also build up a link to see any month's postings by adding the four digit year, a slash, the two digit month and a trailing slash to the the main www.kayakero.net/news/blosxom URL. Like this:
/news/blosxom/2004/08/. (You can go down to the day level if you like.)
Only the site owners can edit this page (and all attempts to do so are logged); however anyone is welcome to add a comment using the "comments" link below each posting.