---
Other parts of the site:
Search the blog:
Archive:
Pick a Random Month
Full Blog Archive
(This is all the blog posts in cronological order, rebuilt every night so may be up to 24 hours out of date. It's also a big file with lots of graphics; please be patient.)
Apr 30, 2019
Blast from the Past
last update: 04/30 @ 22:22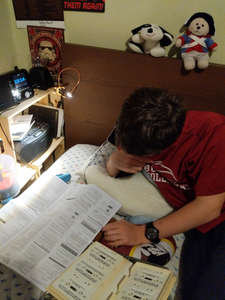 Robert's new clock radio happened to have a cassette player which seemed pretty anachronistic. But then he happened to see we still had The Hitchhiker's Guide on cassette.

It may be awhile before he gets to sleep, having figured out that crazy technology with the tape and wheels.

If only I had more faith and held on to my cassettes…
(0) Comments -- permanent link
Edit this (owner only)
Apr 28, 2019
Proud of Scotch Heritage
last update: 04/28 @ 19:47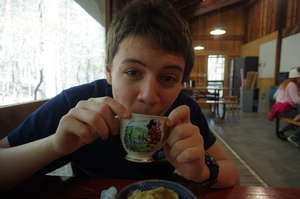 Robert showing off his pride in his Scottish roots: he looked through the tea cup for the "Mad Tea Party" and choose this one. The Mad Tea Party is part of the work weekend to open the West Virginia campus of his now prior school. We went back this weekend as it is such a nice spot and great bunch of folks.
(0) Comments -- permanent link
Edit this (owner only)
Apr 26, 2019
Iceland!!!
last update: 04/26 @ 01:25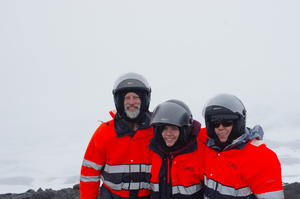 Back from the land of Fire and Ice. We saw lots of ice! There are many more photos in the vacations section.
(0) Comments -- permanent link
Edit this (owner only)
---
Add new entry (owner only)
The posts on this page will slowly roll off as new ones are added to the top. The "permanent link&quot links above will take you to one post's permanent address; that should not change or disappear. You can also build up a link to see any month's postings by adding the four digit year, a slash, the two digit month and a trailing slash to the the main www.kayakero.net/news/blosxom URL. Like this:
/news/blosxom/2004/08/. (You can go down to the day level if you like.)
Only the site owners can edit this page (and all attempts to do so are logged); however anyone is welcome to add a comment using the "comments" link below each posting.