Apr 21, 2013
Poetry Slam
last update: 04/21 @ 22:36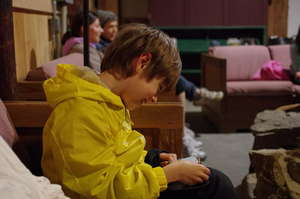 Robert fine tuning his poetry entry for the Saturday Night Poetry Slam during the work weekend to open up the West Virginia campus of his school. It was cold at night, but the fire warmed us up; it was beautiful during the day, and most importantly, the folks who show to help out are always a great crowd.
(0) Comments -- permanent link
Edit this (owner only)
Apr 14, 2013
Another Year…
last update: 04/14 @ 23:30

…another tax day letter in the mail (and on the web). Let us know if you're not getting a hard copy and would like one. No luck yet on the Linux drivers for the new printer but we have a system now and the paper copies look pretty good to my eye (heavier paper this year helps).
I don't mean to short-change the web version; it looks fine too (and has working links); every once in a while, I just like to hold a piece of paper.
(0) Comments -- permanent link
Edit this (owner only)
Lightening
last update: 04/14 @ 16:05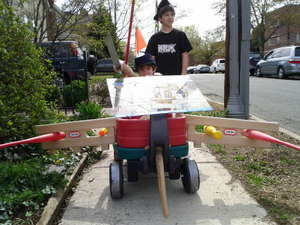 Apparently while I was doing some chores, Robert was watching a NOVA special on Egyptian war chariots. So he and Jonathan got work on their rendition called, "Lightening"
Perfect weather for a bit of war chariot construction and neighborhood terrorizing…
(0) Comments -- permanent link
Edit this (owner only)
Apr 06, 2013
It's like a computer and printer all in one
last update: 04/06 @ 23:53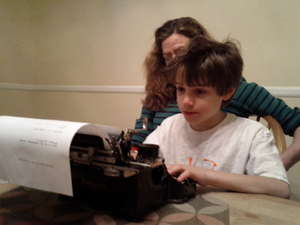 And no power cord or battery!!!
Sarah got her typewriter back from the repair shop today. Robert was thrilled. After, "ROBERT is awesome," he moved on to pre-ascii art with the underline and hyphen :)
I expect to get a photo that does it justice at some point.
(0) Comments -- permanent link
Edit this (owner only)
Apr 05, 2013
Hmm….
last update: 04/05 @ 21:10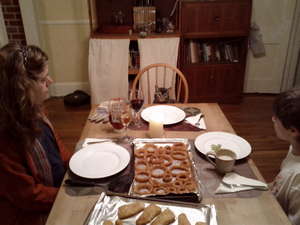 … something seems a little amiss here… I guess if I want a seat at the table, Pinker needs opposable thumbs so she can take the picture?
(0) Comments -- permanent link
Edit this (owner only)
Apr 04, 2013
Date Night
last update: 04/04 @ 22:06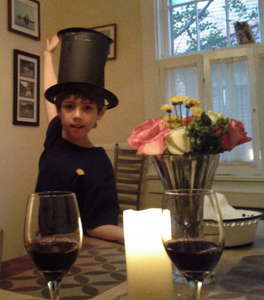 It's like this…
Sarah and I had a sitter lined up for last night but then Robert got really sick in school (he seems to have completely recovered now). So we cancelled the sitter and our reservations.
I picked up some celebratory flowers (today is the 16th anniversary of our first date) and a consolation bottle on wine on the way home.
Robert saw the flowers, heard the explanation and went to work. He kicked us out of the room changed into his fanciest black duds (including a boutonniere and his Abe Lincoln top hat), lit a candle, turned the lights down and draped the bakers rack with a sign that said Happy First Date Anniversary.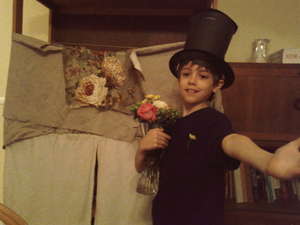 Sarah and I were astounded — it was really cool. (I understand he saw this on a TV show so I guess it's OK for him to watch some TV now and again.)
(0) Comments -- permanent link
Edit this (owner only)
Apr 01, 2013
The Great Easter Egg Hunt
last update: 04/01 @ 21:38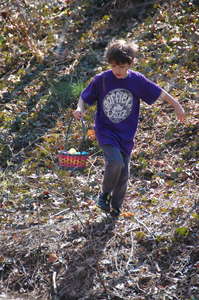 Sasha took this great shot (and several others) of Robert in the great neighbourhood Easter Egg Hunt. We went by their house Saturday and Robert joined Eleanor and Alex in the neighbourhood hunt before we had lunch (those of us who did not eat our Easter candy and still had an appetite). Then we settled in to watch The Hobbit (with Legos for the scary parts). It was great fun day.
Followed by more Easter celebration at Hank and Sally's house on Easter Sunday. That was another great meal followed (for some us) by too much time in their hot tub — a great way to wind down from Spring Break.
(0) Comments -- permanent link
Edit this (owner only)
---
Add new entry (owner only)