May 27, 2017
El Galeón
last update: 05/27 @ 15:12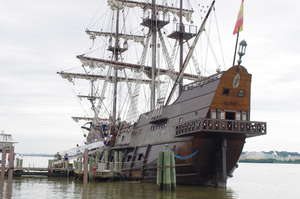 This is at least the second year that El Galeón has visited Alexandria.
We tried to go last time but the lines were too long. Today, with the treat of a thunderstorm, we almost walked right on.
It was pretty cool. Very impressive to think about blue water sailing in such a ship. More so to think about that without the modern advances which they have stashed out of view of the visitors.
A crew of 40 seems pretty large for what is not too big a ship. But one of the notes pointed out that it takes 18 to raise the 2,000 pound mainsail.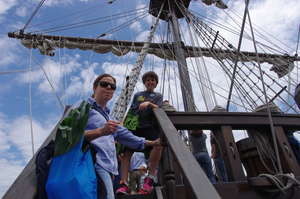 Perhaps most intriguing: that misbehaving cabin boys were forced into the crows nests during storms as punishment.
Also the causal note that nowadays they have safety lines when folks are working the rigging; originally, there was a rope towed behind the ship. If you fell off, you needed to get to the rope to be saved.
The rain held off (is still holding off). So we could take our time exploring. And even managed to pick up a couple items from the Farmers Market (note the leeks peeking out of Sarah's bag).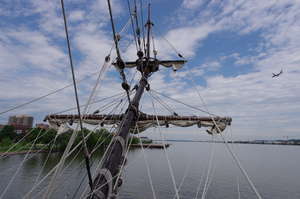 (No one made any jokes about leaks while we were on board.)
(0) Comments -- permanent link
Edit this (owner only)
Leaving Home…
last update: 05/27 @ 09:30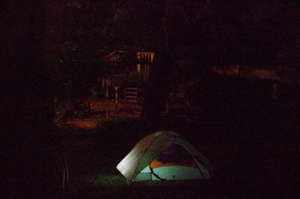 … perhaps a bit early.
I think inspired by setting the tents up to air out and dry off after their rainy trip to West Virginia, Robert decided to stay in his tent last night.
He slept well and slept in.
And took it down after he got up. Perfect!
(0) Comments -- permanent link
Edit this (owner only)
May 26, 2017
West Virginia Field Trip
last update: 05/26 @ 17:21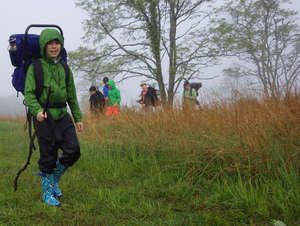 Robert (and I) are back from the Seventh Grade's last visit to the West Virginia campus of his school.
The kids hiked up to the bald and camped there the first night (in the rain). We came down with sleeping bags the next morning for a hot breakfast back the lodge.
Wednesday was a full day of activities:
a really cool group survey, mapping exercise of the creek,
a climb up into the tree canopy
and then a mock town hall meeting to discuss the pros and cons of building a dam on the property.
Robert did a good job pointing the strong risk of the dam being undermined due to the soft rock that would form the foundation.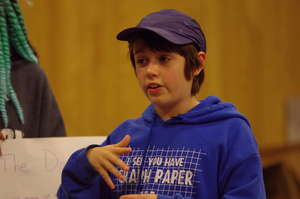 With thunderstorms predicted, they decided to stay in the dorms the second night.
The next morning, everyone got up early, hiked back up to the bald and recovered the damp tents before breakfast. Then, a bit of clean up, making lunch (for the trip back), and a closing activity in the barn to finish out a great trip.
While the weather could have been better, the kids, faculty and staff had a great time.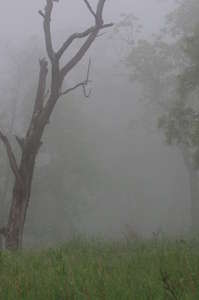 Waking up on the bald meant getting to experience this incredible fog shrouding the mountaintop. It was astoundingly pretty. I loved getting the chance to get up and wander a bit before the day really started.
(0) Comments -- permanent link
Edit this (owner only)
May 22, 2017
Happy Birthday!!!
last update: 05/22 @ 19:33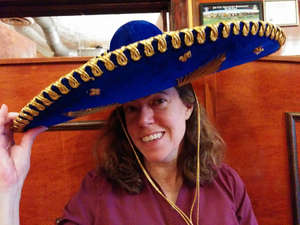 We celebrated Sarah's birthday this weekend. She was feeling a little under the weather but rallied for the cake (thank you Kenna, it's great) and traditional trip to Los Tios and the sombrero.

With the Mother's Day trip to New York, we've done a lot of celebrating this month.

That's a good thing!

I think Sarah is rocking the sombrero this year. The blue really pops out.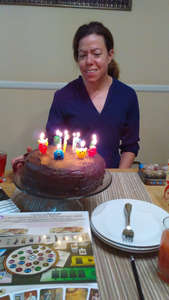 One of the ways Robert's school raises funds is the annual auction. And one way the middle schoolers participate is by offering a service for sale at the auction. This year, we got the cake creation by Kenna. And Sarah choose her favorite birthday cake: yellow cake with chocolate frosting.
Kenna's baking skills did not disappoint :)
(And Robert's camera work is first rate — I was lighting candles.)
(0) Comments -- permanent link
Edit this (owner only)
May 15, 2017
Mother's Day in NYC
last update: 05/15 @ 21:30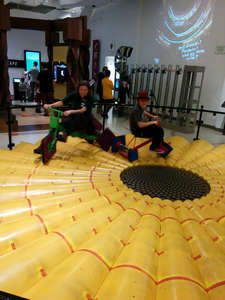 We took the train up to New York for the weekend. It was a chance to say, "Hi!" to David Z., Ian, Elle and Sophie and family. And Sarah cut some secret deal to let her brother pick up the last ticket to Sweeney Todd in exchange for Hamilton tickets for Sarah as a Mother's Day / Birthday present.

While the weather could have been better Saturday, we made the most of it with a visit to the Tenement Museum (which has been on Sarah's list for a while) and back to the Math Museum. We looked for the cool number line that they brought to the Math Festival last month.

While we didn't find that, we did find plenty to keep us entertained and out of the rain.

Hamilton really did live up to the hype. It's was astoundingly cool: very high energy, very musical and very historically revealing. We had a GREAT time!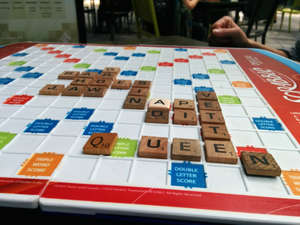 Getting to visit briefly Saturday night with David Z. before the show was an unexpected a treat. (We knew we were going to get together for Sunday brunch.)
The weather was much better Sunday and we had time before brunch to hang out in Bryant Park and play Scrabble. Not to gloat (at least not too much), but I lucked into a 68 point queen play…
Sarah can't have all the fun on Mother's Day, right?
Speaking of Mother's Day fun… Robert and I stopped by the M&M store that was just a block from our hotel. They had custom printing while you wait. So Sarah has a small cup of Happy Mom Day M&Ms (not enough space for Mother's Day).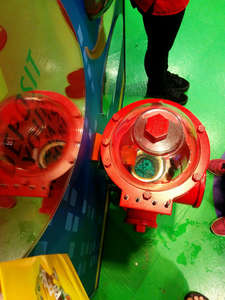 That was a pretty fun surprise. The M&Ms came out of the printer and filled up the cup in what looked like a fire hydrant. All-in-all, it was pretty cool.
And, of course, Mother's Day brunch was great! We got to meet Sophie's parents and sister. And Sophie seemed to really enjoy the games Robert picked out for her birthday: Timeline and Swish (both highly recommended).
(0) Comments -- permanent link
Edit this (owner only)
Cloister Heather Gardens
last update: 05/15 @ 21:11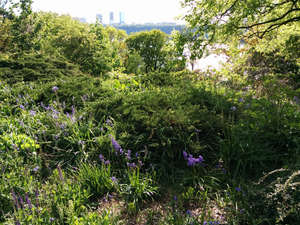 On our quick trip to New York over Mother's Day weekend, we stopped by The Cloisters. This is the Heather Garden where we sprinkled some of Lois Zapolsky's ashes many years ago.
It seemed perfect to visit on Mother's Day and add some tulips, surreptitiously, to the grounds overlooking the Hudson and GW Bridge.
It was pretty impressive how quickly a storm blew in while were there, started to chase us out, then cleared completely to let us spend a bit more time in the garden.
(0) Comments -- permanent link
Edit this (owner only)
May 07, 2017
Spring Potomac in the Trees
last update: 05/07 @ 18:46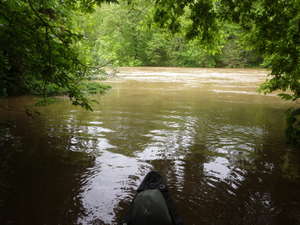 The river was pretty high today. Way higher than I've been on it in canoe. And I really didn't remember what Angler's Inn is like at 8 feet (8.3, actually).
The boat ramp and beach were gone. There is a little loop of roadway for the fire department to launch their swift water rescue raft. Today, no loop, two roads; both ending in the river.
I ended up portaging over the rocks to get to an eddy in the back channel that I could get up. Basically, paddling through the trees (and over the path a couple of times).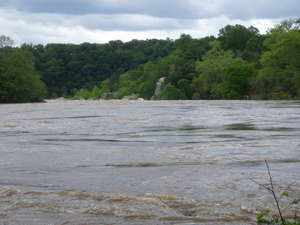 After a poking up as high as I could get in the back channel (I was not feeling aggressive, especially seeing the trees floating downstream), I poked my nose around the bottom corner of back channel and up as far as I was comfortable on the main channel.
The current was flying by, carrying the occasional log or tree. And the waves in what is normally flat water, were really impressive.
After a bit I headed back to the trees of the take out. I knew I didn't really want to get into the main current, but thought I'd get close enough to catch some downstream water.
The boils and whirlpools were impressive.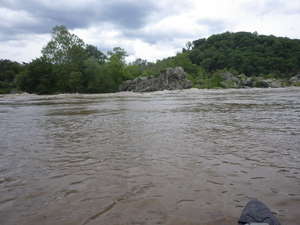 If your not familiar with the area: the first photo would normally be from the bank, several feet above flat water. The second and third would be of what looks like a placid pool, it's pretty wide, and it does flow slowly downstream normally, but it's flat at normal levels.
(0) Comments -- permanent link
Edit this (owner only)
May 01, 2017
Cool of the West Virginia Hills
last update: 05/01 @ 19:35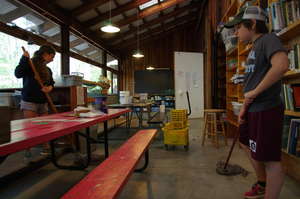 We spent much of last weekend at the West Virginia campus of Robert's school getting the place ready for the first school trip heading that way shortly.

Lots of cleaning…

Sweeping…

Mopping…

Raking…

Moving stuff around…

Trail Clearing…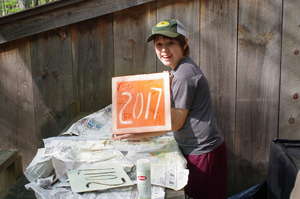 But some fun jobs, like making the sign for the 2017 compost pile (ORTS, I thought it stood for something, but it's Middle Low German for scrap of food).
And then there was the high tea Saturday afternoon — always a tasty fun treat.
And the great weather to enjoy (it's been a lot colder and a lot rainier other times we've been there).
Robert's class is headed that way later in the month — I think at least one other class goes there first.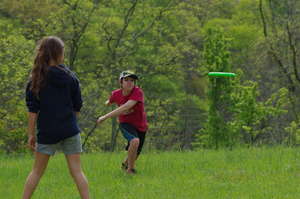 (0) Comments -- permanent link
Edit this (owner only)
---
Add new entry (owner only)