Feb 21, 2021
Still in it…
last update: 02/21 @ 17:31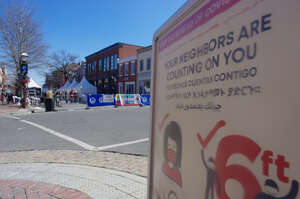 I should have added a photo like this a while back. As the recommendations have improved, Alexandria seems to have done a good job at paying attention.
I think the dining outside, spread out, started to be allowed last summer. Alexandria decided to close off this block of King St. to open up more space for that.
As the weather has cooled, the tents were moved in. We've rarely tried the tent dining, preferring take out, but this seems like a reasonable approach.
Of course, we'd love to see the vaccine fully rolled out and the pedestrian block stay so we can enjoy more outdoor dining with the pandemic behind us.
(0) Comments -- permanent link
Edit this (owner only)
Feb 15, 2021
Still looking at this
last update: 02/15 @ 10:45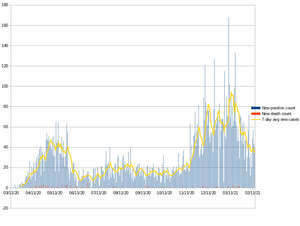 I stopped posting this chart last fall because I kept waiting for that 7 day moving average to drop down and stay down below 10 new cases a day. It kept looking close.
But then the fall wave really hit and it sky rocketed.
Now at least it looks like we're going back down. But that 10 new cases per day is still a long way away.
I know new positives is not the best measure now, and artificially high compared to a year ago as testing has become much more available.
And it's great that the vaccine is rolling out; thank you Sarah and the volunteer Alexandria medical corps working the PoDs (place of distribution).
It's looking better, but seems like we still have a ways to go.
(0) Comments -- permanent link
Edit this (owner only)
Feb 13, 2021
Now it's just ice
last update: 02/13 @ 23:24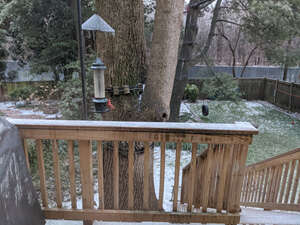 This weekend has been icy…
The snow melted, it warmed up a bit for a few days and then…
The temps dropped and we got freezing rain, sleet and a fair amount of ice.
Fortunately, so far, not enough to take out power for us.
(0) Comments -- permanent link
Edit this (owner only)
Jan 31, 2021
SNOW!
last update: 01/31 @ 13:31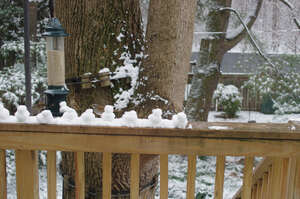 It seems like it's been years since we've had any snow; or at least more than a dusting. Actually, only 709 days — which is pretty close to two years.
There is enough snow for Sarah and Robert to finally use the ducky snow mold from two Christmases ago. Seems to work pretty well.
But I'm not sure the hungry and chilly birds really appreciate the full artist merit of a ducky taking up space on their feeder…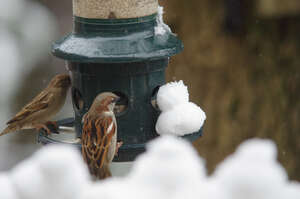 (0) Comments -- permanent link
Edit this (owner only)
Jan 18, 2021
Crazy Times…
last update: 01/18 @ 17:56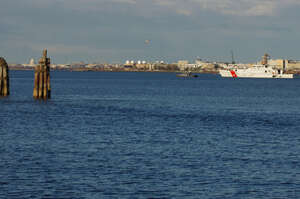 Sarah and I took a walk down to the river this morning to check out the Coast Guard presence.
Still there: the USCGC Lawerence Lawson, a sentinel class cutter.
I decided to walk back down closer to sunset with the "real" camera to see if I could get a better picture than I could with my cell phone.
It's appalling to me that we need this kind of overwhelming show of force to ensure a peaceful transfer of power.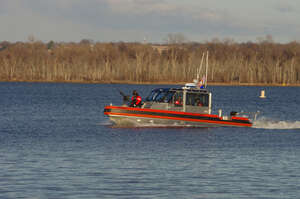 But I'm optimistic that with the 25,000 troops and police of various stripes and our own coast guard cutter on the river (along with several fast, small gun boats) and who knows what all on standby at Andrews air force base the transfer will be peaceful and orderly and we can all get on with our lives.
It is a very surreal time in our little town.
I just really hope it gets a lot less surreal and a lot more normal soon. Vaccines are getting into arms (thank you Sarah for you time volunteering with the Medical Reserve Corps) so that normality has be on the way.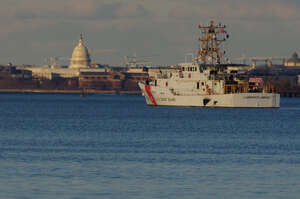 (0) Comments -- permanent link
Edit this (owner only)
Dec 26, 2020
Done!!!
last update: 12/26 @ 11:24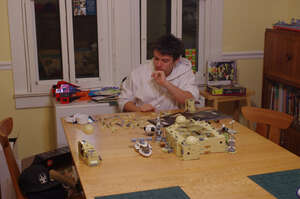 Notice how dark it is outside.
We thought we might watch Wonder Woman after dinner.
But Mos Eisley took a good, long time to build.
Let's see if Robert comments on the hours invested.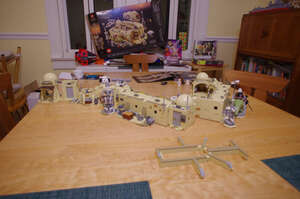 It does look really cool.
And will be in Robert's collection for a long time.
He even added some extra storm troopers to help out on patrols.
Serious parental win on getting this before they sold out — Thank You SZap!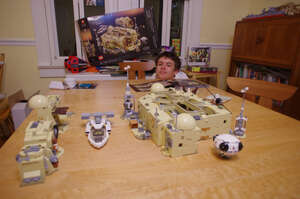 (0) Comments -- permanent link
Edit this (owner only)
Construction resumes
last update: 12/26 @ 11:19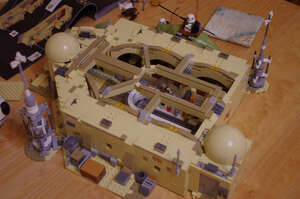 Robert was back at it after dinner.
His parents were nice enough to clean up while he was building.
And Sarah popped the chocolate molten lava cakes into the oven.
Robert was sure to need a bit more sustenance to finish up.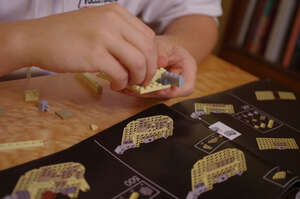 It was really taking shape by now.
And clearly it was going to be very cool when completed.
And Robert was really focused on finishing it in one day.
One, long, long day…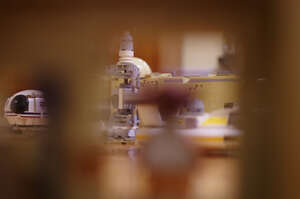 (0) Comments -- permanent link
Edit this (owner only)
Interruption
last update: 12/26 @ 11:12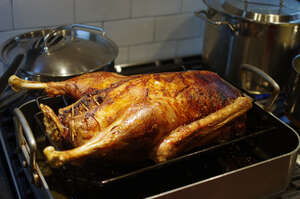 Of course, Robert was not the only one working…
…Sarah was cooking this lovely goose, the highlight of a spectacular Christmas dinner.
And that called for a break the construction.
Which gave Robert time to stretch and set the table.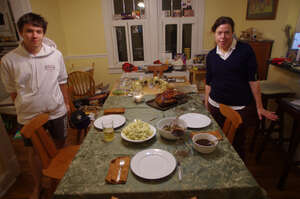 It really was lovely.
And made me wonder why Thanksgiving and Christmas come so close together?
Another fabulous meal.
Another full tummy.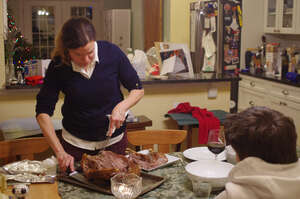 And note the partial construction in the background…
We're looking forward to friends taking the place of Mos Eisley now that we have a slightly larger table.
(0) Comments -- permanent link
Edit this (owner only)
The work starts…
last update: 12/26 @ 11:05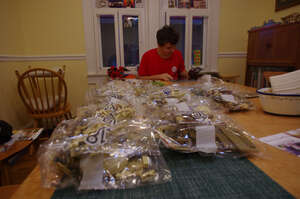 After a break to relax and munch on something…
…Robert started building Mos Eisley.
It's a pretty cool set; lots of detail, lots of guys.
And, as Robert noted, lots of cool play potential after it's built.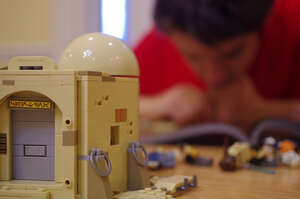 Of course, that means building it comes first.
Or at least enough to have a scene to play in.
You'll maybe notice as time passes, the change in light out the window.
It tool a while to put together.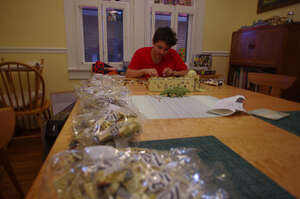 (0) Comments -- permanent link
Edit this (owner only)
Dec 25, 2020
Even a bit of snow!
last update: 12/25 @ 13:02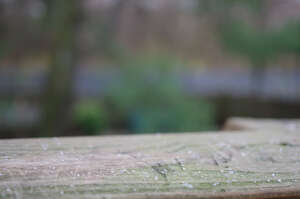 Conversational, but snow none the less!
(And yesterday's high was 60 degrees.)
Sarah got the prize for largest box this year (5MB gif).
You'll have to ask her what was carefully packed inside.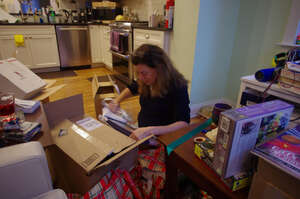 Robert got a pretty big box too!!!
We'll see how long this keeps him busy.
Just in case, we added a couple leaves to the table so we can still eat there if he's not finished with Mos Eisley by dinner time.
Interesting for this Lego set, there are multiple bags with the same number. While 18 was the largest number, there are closer to 30 bags of pieces to put together.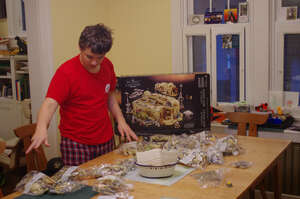 (0) Comments -- permanent link
Edit this (owner only)
---
Add new entry (owner only)