Mar 25, 2023
Too short a visit…
last update: 03/25 @ 11:07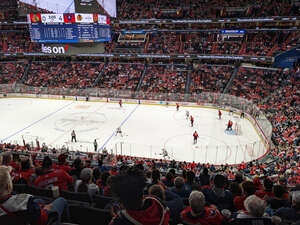 Robert is back in Seattle after a very short visit. It was great to have him in the house. And great to hear how his first year at UW is going.
And it was fun to compare Capitals hockey to Kraken hockey: we got to see them crush the Blackhawks which was great for many reason.
But then, Robert got back on a plane and headed to Seattle yesterday and the house seems too quiet again.
(0) Comments -- permanent link
Edit this (owner only)
Mar 19, 2023
Robert back in the house
last update: 03/19 @ 16:34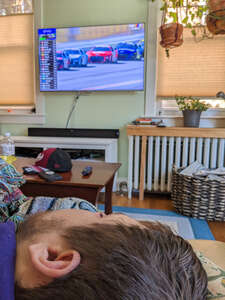 It's great to have Robert back from Seattle for the week.
And great to see him sleeping through NASCAR as usual.
We did all watch F1 earlier in the day.
He's really enjoying UW and Seattle so this may be a much less common experience.
Sarah and I are looking forward to more time in Seattle in the coming years.
(0) Comments -- permanent link
Edit this (owner only)
Mar 11, 2023
Lyle Lovett
last update: 03/11 @ 18:48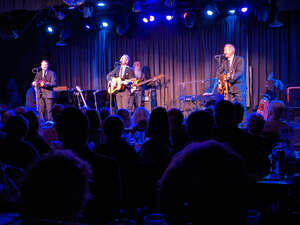 Sarah arranged for Lyle Lovett (and his acoustic band) tickets for the Birchmere last week. While Lyle had a bit of cold, the band was great and it was an excellent show.
Happy engagement anniversary to us :)
It's great to have the Birchmere so close by; we're looking forward to Graham Nash next month.
(0) Comments -- permanent link
Edit this (owner only)
Mar 05, 2023
That feeling when…
last update: 03/05 @ 17:45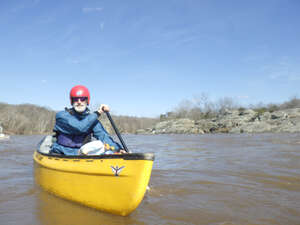 … You've not really been paying attention to the river level but think it's been just under 4 for a while and you drive over the bridge on the way there and think… hmmmm…. maybe I should have checked the gauge?
It was actually about 6.25. I had fun, saw some ducks but didn't get as far up to the rapids as I normally (at lower water levels) do. I also looked long and hard at one spot before thinking the possible swim be be very long and very cold. I snuck around that spot.
The weather was fantastic, but the water was cold.
(2) Comments -- permanent link
Edit this (owner only)
Feb 26, 2023
Not Panzer
last update: 02/26 @ 14:38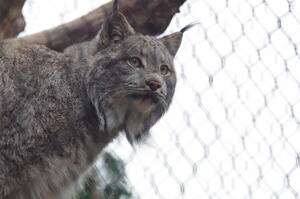 We took a quick trip last weekend to visit Robert (and the Zaps) in Seattle. While we were there, we checked out the Woodland Park Zoo (they have a lynx). There are more photos in the trips section.
(0) Comments -- permanent link
Edit this (owner only)
Feb 12, 2023
Great Memories
last update: 02/12 @ 12:23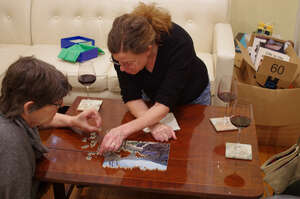 When we came back from Christmas in Decatur, Loren and Susan told us it was our turn to keep some of the Williams family treasures.
So we have Loren's walking stick, which the brothers gave to him at his 80th birthday party.
And the Rivendell puzzle. A custom jigsaw puzzle made from a photo of the Rivendell bed and breakfast Loren and Sarah ran for several years.
The B&B was on a ridge over the Watuga river several miles outside of Boone. You had to want to go there, it was not a casual, drop in kind of place.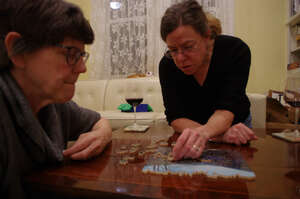 With Carolee visiting, we took that down from the shelf and had a lot of fun putting to together.
It's not a large puzzle.
And does not have a lot of pieces.
But the pieces are carefully cut to make it hard to put together.
And most fun, the pieces are cut into shapes of things important to the family and location: a knife, fork and spoon; a wine glass; a deer; one piece spells out Rivendell.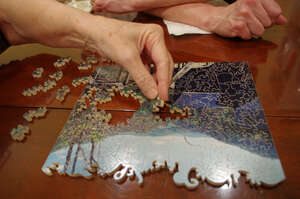 It really was a fun way to spend the evening, reminiscing with Carolee and thinking about all our parents and others no longer with us.
(0) Comments -- permanent link
Edit this (owner only)
Fun visit
last update: 02/12 @ 12:23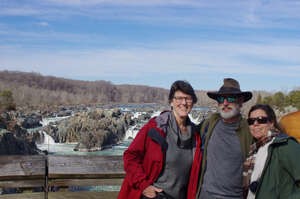 Carolee came up to DC for a conference and was able to come a couple days early and stay with us.
We had a lovely dinner Friday at our newest favorite local spot.
Saturday, we took advantage of the fantastic weather and headed to Great Falls (Virgina side).
Doug, who saw where we were, asked a good question: why "Olmsted Island?"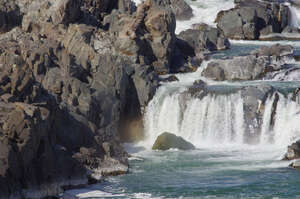 I'll get some of what Carolee found out later wrong, but Frederick Law Olmsted, Jr. was on the Park Improvement Commission for the District of Columbia.
So the island just downstream of the the main falls (to the right of these photos) is Olmsted Island to honor him.
Doug's question, which Carolee posed to one of the rangers we met on our walk, caused him to go, "hmm… I've got some research to do."
Which was fun, it's often hard to stump a park service ranger.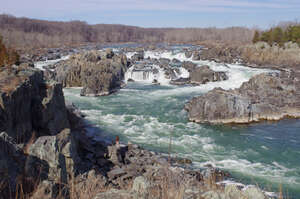 It may have been mid-February, but it was a beautiful mid-February afternoon. And it was great to have someone to share that fun spot with, to learn a little more history and inspire a park ranger to learn a bit more about their park.
(0) Comments -- permanent link
Edit this (owner only)
Jan 28, 2023
Winner
last update: 01/28 @ 17:54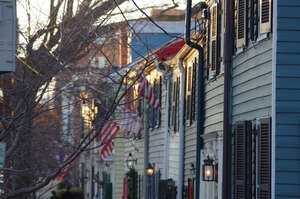 The new camera bag seems like a winner.
The hip strap and rain cover showed up this week and I tried out the clip on a walk down to the river.
For me, on the shoulder strap is more comfortable than on the hip belt. And while it's very convenient, it's not where I'd keep my camera all the time. Good for getter around places you want to take pictures while the bag stays on your back.
But still a bit off feeling. Maybe it would be a bit better without the faux-motor-drive-battery-pack; but I like never having to think about changing the battery.
(0) Comments -- permanent link
Edit this (owner only)
Jan 22, 2023
Mt. Vernon
last update: 01/22 @ 15:56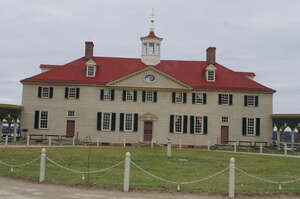 We had a free weekend.
And I just got a new bag for my camera.
So we headed to Mt. Vernon as it's been a while since we were there. It provided three tests: a bit of walking around, tighter quarters (with the other folks and the roped off portions of the house) and access to the camera.
I'm not yet ready to call the new bag perfection. But it is a worthy successor.
I have a couple more optional additions on order from Peak Design to finish my set up.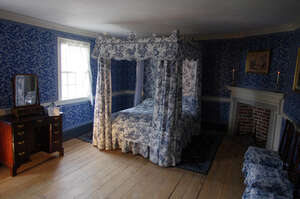 First impression: the side access while still on one shoulder works OK. I'm still figuring out how my camera (with faux motor-drive-extra-battery) wants to sit in the bag. And I worry I'm going to lose the lens cap more easily now. (I've had them disappear for bit in the other bag so that not completely unexpected.
And, when we were inside the heated museum and I took my jacket off, I realized I had the clip set way to high on the shoulder strap and it was rubbing on my collar bone.
I moved that down but I've yet to actually use it.
That will be the next acid test.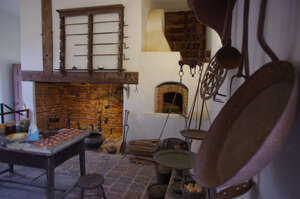 I bought this after getting a small award from PTO that was burning a hole in my pocket. And as I looked around at options I got sucked in by the clip and how it seemed like a good idea.
I'll find out next time I'm wandering around with my camera if it's as much a winner as I thought watching the video.
More news later (as they say).
(0) Comments -- permanent link
Edit this (owner only)
Expected visitor
last update: 01/22 @ 15:35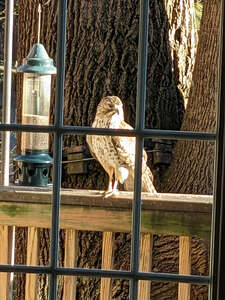 I went to the blog search on the left because I know he or she (or some kinfolk) have been here before. But this is as close as I recall the cooper's hawk coming to the house — waiting patiently at the bird feeder :)

First sighting in 2008; then again in 2020. I'm not sure of the lifespan but I kind of think this may be a family vs. one bird over 14 or so years.

But maybe 14 years makes you more comfortable getting closer to the house and humans (I was sure he or she was looking at me as I tried to get closer for a better photo).
(0) Comments -- permanent link
Edit this (owner only)
---
Add new entry (owner only)