Apr 14, 2021
Sneak Peek
last update: 04/14 @ 22:00

I know it's not quite the tax day yet, but the new Tax Day letter is in the can and will go to the post office tomorrow. If you normally get a hard copy and happen across this before it shows up; here's your chance to see it now.
As the listing page says, "Christmas has proven too hectic for writing an annual letter, so I elected to do our annual letter writing for tax day. I hope this makes a typically less fun time a bit more fun (it does for me!)."
If you'd like to get a hard copy next year, just let us know and we'll add you to the list.
(0) Comments -- permanent link
Edit this (owner only)
Apr 04, 2021
The tradition continues…
last update: 04/04 @ 13:11

The Peep-o-rama tradition is back…
This year, fittingly, Sarah opted for a vaccine Point of Delivery.
She has been working PoDs over the last several months (and Robert and I got to see her in action yesterday).
Note all the details: vial of vaccine (courtesy of yesterday's PoD), humongous syringes (jut kidding), poster for the CDC V-Safe app…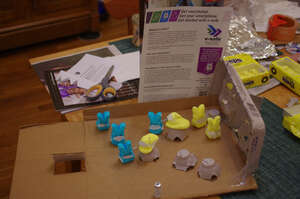 The masks add the special touch (and were hard to put on). Note how they cover both nose and mouth as recommended by the CDC.
When the that front wall comes up, you even see the traffic flow pattern: in one door, out the other.
Kind of sad that Sarah has all the details down, but the Peep-o-rama is really cool.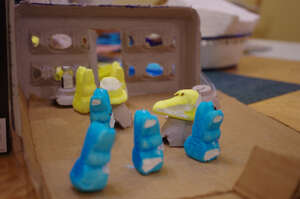 (0) Comments -- permanent link
Edit this (owner only)
Robert's Rocket
last update: 04/04 @ 13:03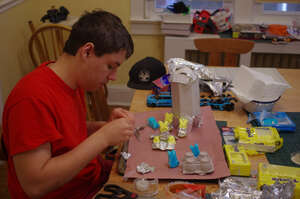 This year, Robert's Peep-o-rama is rocket based.
But not just any Rocket….
…That's clearly the rocket from The Martian.
And not just that…
Blue Martians coming to check it out.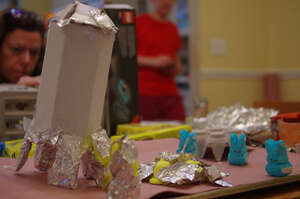 And points for the red planet's red surface.
With more time, some rocks would have added to it.
The antenna to communicate back to Earth seems very apt as well.
(In the background, Sarah is working hard on her PoD.)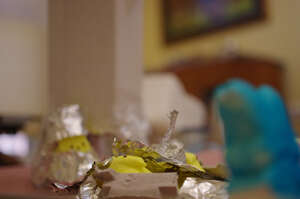 (0) Comments -- permanent link
Edit this (owner only)
Apr 02, 2021
Easter weekend
last update: 04/02 @ 23:00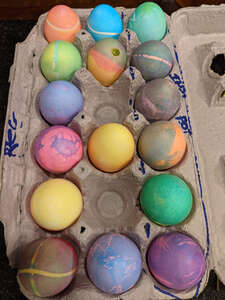 We had plans to join Loren and Susan on Ocracoke. But Alexandria is pretty adamant in recommending limited travel over spring break.
And now Robert has a vaccine appointment on Saturday; so it's for the best, long term, to stay close to home and plan to do our visiting later in the year.
At least the vaccine is here, getting into arms and visiting is a lot less questionable this summer than last.
(0) Comments -- permanent link
Edit this (owner only)
Looking up
last update: 04/02 @ 22:55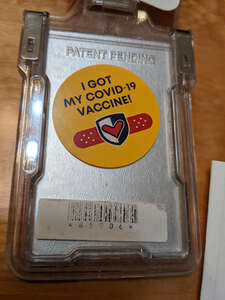 I got my first shot on Wednesday. Robert is scheduled for tomorrow. (Sarah is has been fully vaccinated for weeks now.)
So we're starting to make summer plans.
Finally.
After a year…
(0) Comments -- permanent link
Edit this (owner only)
Mar 27, 2021
Warm March day
last update: 03/27 @ 22:34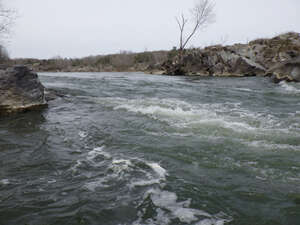 Another perfect day for the river.

Unfortunately, Sarah was volunteering as vaccinator's assistant for the city today. She missed most of the warm weather (tomorrow is supposed to be rainy, alas).

The Potomac is a pretty amazing resource to have so close by. This is the top of the Virginia chute — and really doesn't do the wave justice. It needs a boat for perspective.
(0) Comments -- permanent link
Edit this (owner only)
Mar 21, 2021
Beautiful day
last update: 03/21 @ 22:40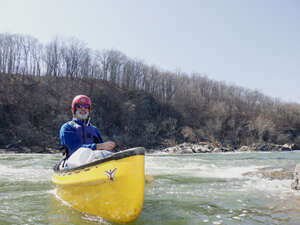 I got back out on the river for the first time in months. The water is still a bit cold, but with the sun out, it felt wonderful.
I saw geese and ducks but it's too early for ducklings.
(0) Comments -- permanent link
Edit this (owner only)
Mar 16, 2021
Catastroversary
last update: 03/16 @ 22:47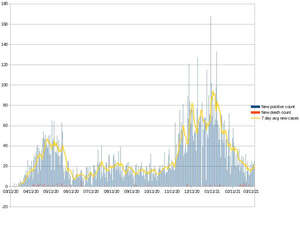 Not unexpected: Alexandria has now provided a full year's data for this chart. The city's version lets you hover on any date to see the numbers. This version is just a snapshot.
The bad news is the current direction of that line. Hopefully the upswing is just more noise in the data and will drop down and start to look better.
There are better data sets to look at now, hospitalizations was the second big metric after new cases. Then percent of tests which were positive; the latest (and most optimistic) data set is percent vaccinated. All generally better measures (especially as testing started out very slow) of the situation than this chart of new cases. But this data set now goes back a full year. Hopefully we'll feel a lot more like pre-Covid before there is a year's worth of percent positive data, and well before a year of percent vaccinated is interesting.
(0) Comments -- permanent link
Edit this (owner only)
Feb 21, 2021
Still in it…
last update: 02/21 @ 17:31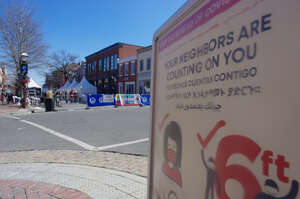 I should have added a photo like this a while back. As the recommendations have improved, Alexandria seems to have done a good job at paying attention.
I think the dining outside, spread out, started to be allowed last summer. Alexandria decided to close off this block of King St. to open up more space for that.
As the weather has cooled, the tents were moved in. We've rarely tried the tent dining, preferring take out, but this seems like a reasonable approach.
Of course, we'd love to see the vaccine fully rolled out and the pedestrian block stay so we can enjoy more outdoor dining with the pandemic behind us.
(0) Comments -- permanent link
Edit this (owner only)
Feb 15, 2021
Still looking at this
last update: 02/15 @ 10:45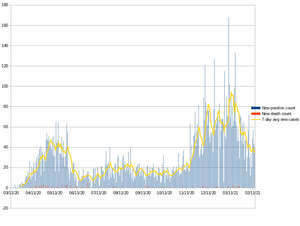 I stopped posting this chart last fall because I kept waiting for that 7 day moving average to drop down and stay down below 10 new cases a day. It kept looking close.
But then the fall wave really hit and it sky rocketed.
Now at least it looks like we're going back down. But that 10 new cases per day is still a long way away.
I know new positives is not the best measure now, and artificially high compared to a year ago as testing has become much more available.
And it's great that the vaccine is rolling out; thank you Sarah and the volunteer Alexandria medical corps working the PoDs (place of distribution).
It's looking better, but seems like we still have a ways to go.
(0) Comments -- permanent link
Edit this (owner only)
---
Add new entry (owner only)