Aug 18, 2019
Twenty20
last update: 08/18 @ 22:05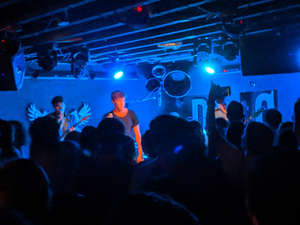 Sarah took us to see Twenty20 at DC 9 tonight. They were not bad. Friends of friends kids making their first headline appearance.
(0) Comments -- permanent link
Edit this (owner only)
Aug 11, 2019
Perfect Day!
last update: 08/11 @ 22:43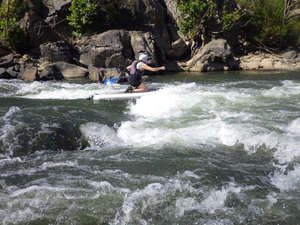 We had a perfect afternoon on the river.
The level was low but not too low; the Maryland chute was fun and it was easy to get back up and even drag the boats over the rocks and paddle down.
And the humidity has broken for the weekend — truly amazing to have such perfect weather for a weekend in August.
We packed up the boats and headed to Angler's Inn.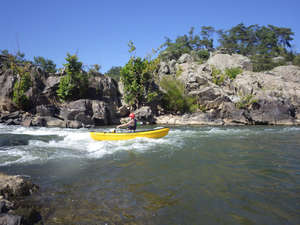 And we even got a parking space before we were completely unloaded.
I guess we happened to time it all just right today.
There were others on the river, including a river dog, but mostly they were in one spot and we were in another.
Speaking of spots, I didn't get a picture, but golf ball is huge now. Space for two or three helicopters :)
We've likely seen the last big water for the year, so it may stay huge until next spring.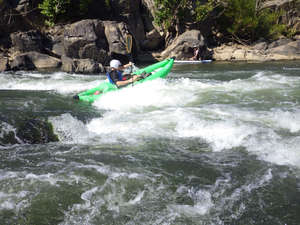 After a day like today, I'm sure we'll be back to check it out.
(0) Comments -- permanent link
Edit this (owner only)
Aug 09, 2019
Agile Software Development
last update: 08/09 @ 09:58

Sorry a bit off the normal family topic…
Plan as much as you need as late as you can.
My summation of Agile Software development. I don't see any results when I search for that on the web so I'm going to claim ownership of it.
And I'll quote myself again from a short presentation I'm putting together for work:
"It's always hard to find the sweet spot between over planning yourself into a box and flying by the seat of your pants into a cliff. We try to make sure we know where we're generally going and what next one or two steps are most likely to get us closer."
I think it applies more generally than just software development: when remodeling, you don't need to choose the colors before the drywall is up.
Back to normal family travel and milestones…
(0) Comments -- permanent link
Edit this (owner only)
Aug 04, 2019
Birthday Celebration Conclusion
last update: 08/04 @ 09:51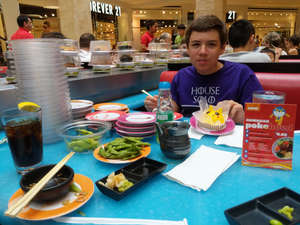 We concluded our traditional birthday celebrations with a visit to the Sushi-go-round (Wasabi) and Lego store.
After a haircut, we started with sustenance to ensure no one passed out in the Lego store.
That was plenty of sustenance :) I'm sure we eat more, but also try more different things in the conveyor belt model.
And it is fun.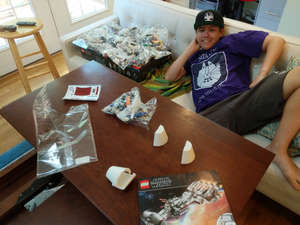 Robert had been eyeing this particular set since it showed up in a catalog. And we've moved to a new model where he's paying part of the cost directly.
Initially he was disappointed that the store didn't have what he was looking for, and he started debating getting something different, getting something small and ordering what he wanted online, or trying the store in Pentagon City (which lacks the sushi appeal).
And then he realized someone had put back a non-Star Wars set in the Star Wars section. Moving that out of the way revealed the Tantive IV he was looking for.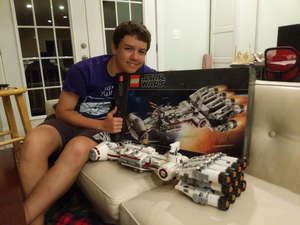 Several hours later, he had it put together and ready to show off.
Which was great as Jenny was visiting to finish out a week of conference here after moving to Tennessee last summer. We miss them and it's been a nice visit.
(0) Comments -- permanent link
Edit this (owner only)
Jul 30, 2019
Back from Great Britain
last update: 07/30 @ 20:19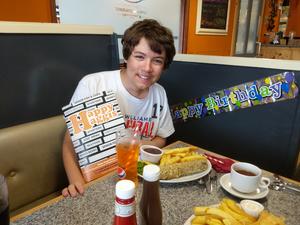 We had a great trip!!!

We celebrated Robert's birthday in style, with haggis, as requested.

We saw some sights in London, Cambridge, Edinburgh.

And we got all the way to the Brough of Birsay on Orkney!

Palaces, Castles, lochs, coasts and more…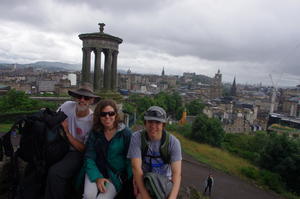 The photo on the right, from our walk around Edinburgh, when we did have some typical Scottish weather, was just a couple hours before the photo below of the old chapel of Holyroodhouse.
The weather was much like that for our trip: changeable but generally outstanding.
No snow, but rain, wind, fog, sun.
And we came back with suntans.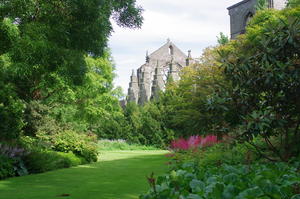 There are many more photos in the vacations section.
(0) Comments -- permanent link
Edit this (owner only)
Jul 07, 2019
Assateague!!!
last update: 07/07 @ 20:16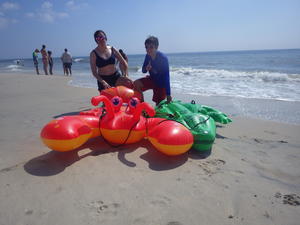 Another great trip to Assateague Island this year!!!
The weather was perfect: hot but not oppressive at night. We even had some cool fog. And the special treat this year: no mosquitoes! I hope that's not a sign of the coming climate catastrophe.
More photos in the vacations sections.
(0) Comments -- permanent link
Edit this (owner only)
Jun 23, 2019
Summer in earnest
last update: 06/23 @ 11:04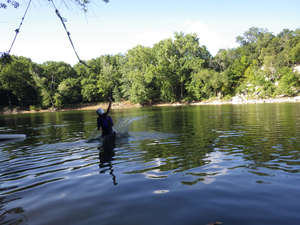 We took our flotilla back to the river on Saturday. We had plans to actually paddle downstream: Angler's Inn to Lock 10. In the modern age, we figured Lyft could be a part of the shuttle.
Unfortunately, when I tried to get a lyft back from Lock 10 to meet up with Sarah and Robert at Angler's Inn, they were having credit card processing issues.
Fortunately, there happen to be a Barwood taxi driver who was enjoying the day at Lock 10. He was just leaving when I was giving up on Lyft and so that was perfect, urban boating — taxi for shuttle.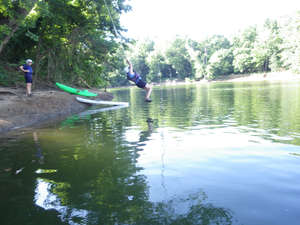 Unfortunately, I carefully left my paddle in the car at Lock 10, and realized it as I was walking to the river, waiting boats and Sarah and Robert at Angler's Inn.
Fortunately, there are only a couple rapids on that stretch. After trying out Robert's beach shovel as a paddle, I decided to hand paddle instead.
Unfortunately, there is a fair amount of flatwater, but the downstream breeze helped keep those of us without a paddle moving.
Fortunately, we discovered that rafting up, we could have the two outside boats paddle while the inside one held on.
It was a fun day on the water with an extra dose of adventure tossed in.
And a ropeswing break; Robert dropping in above; Sarah showing off below.
(0) Comments -- permanent link
Edit this (owner only)
Jun 08, 2019
Delayed Birthday Present
last update: 06/08 @ 09:50

We went to see the Subdudes at The Birchmere last night.
It was another great show and lots of fun. And there is a new album on the way but not out yet. We'll keep our eyes open for that.
Belated Happy Birthday, Sarah!!!
(0) Comments -- permanent link
Edit this (owner only)
Jun 02, 2019
Not the usual river trip…
last update: 06/02 @ 18:42

… We don't normally run into the Park Police helicopter on the river. Sometimes it flies over; this is the first time I've seen it on the ground at "golf ball island."
(I thought I was taking stills, but realized after the fact the camera was still set up for a school project of Roberts.)
We heard there was an injury on one of the trails. The response was impressive, we saw four rafts plus the helicopter. No sign of whoever was injured.
With the excitement over, we enjoyed a lovely day on the river; warm enough to enjoy getting splashed, high enough to have some fun waves.
All and all, a nice start to the summer for us.
(0) Comments -- permanent link
Edit this (owner only)
May 24, 2019
Honor Roll again
last update: 05/24 @ 21:54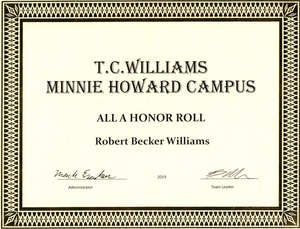 Robert has been keeping his grades up and made all A honor roll again for the quarter. He's starting to look forward to school winding down and summer travel (and work at the Smithsonian) picking up.
(0) Comments -- permanent link
Edit this (owner only)
---
Add new entry (owner only)