Jan 07, 2018
Birthday Quilt
last update: 01/07 @ 10:18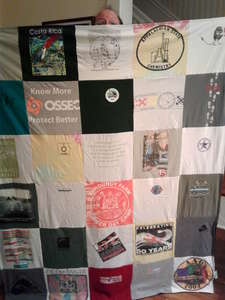 Sarah gave me a tee shirt quilt for my birthday. I shipped off bunch of tee shirts (my drawers are still pretty full) to Project Repat. A few weeks later, this showed up in the mail.

It's GREAT!

There may be more in our future.

I was worried about the deterioration of some of my old favorites; this seems like it will help them stick around for several more years.
(0) Comments -- permanent link
Edit this (owner only)
Jan 01, 2018
Happy New Year!!!
last update: 01/01 @ 12:10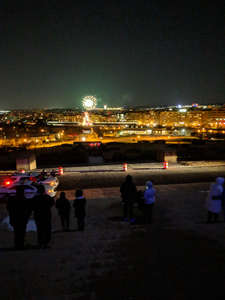 It was pretty cold this year for New Years with the temperature around 15 or so. We mostly stayed at home in front of the fire.
And with Robert's help, we celebrated New Years in Kathmandu, Istanbul, St. Mary's Canada, San Juan Puerto Rico and then Alexandria.
In Alexandria, the city did a very nice job with the fireworks. We left our fireside about 11:50 and walked up the steps at the Masonic Temple to check them out at the foot of King Street.
That got us back home to run around the house (thank you Norman's for not minding us cutting across your yard), sweep our troubles off the porch and eat our grapes under the table.
If asked, Robert will report that there are way more jokes about grapes than raisins.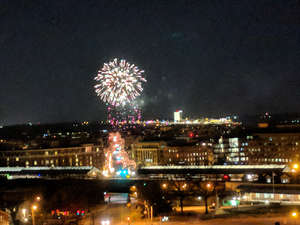 Hoppin John and getting ready to go back to work and school are on the agdenda for today — indoor activities as the temperature is not expected to get above 25 today.
Here's to hoping 2018 is a more sane year and we can turn the corner on the political craziness.
(0) Comments -- permanent link
Edit this (owner only)
Dec 25, 2017
The Chef and her Goose
last update: 12/25 @ 14:10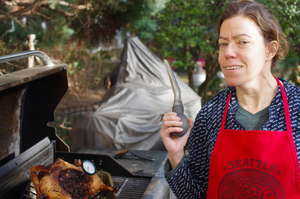 Sarah doing an excellent job cooking the goose.
Yesterday, she was on tap to cook two . I wondered aloud if it was possible to do a goose on the grill — two in our oven is really a tight fit (we've not remodeled the kitchen yet).
She put on her researcher hat and lo and behold: it is, and it is really good, and maybe even easier than in the oven.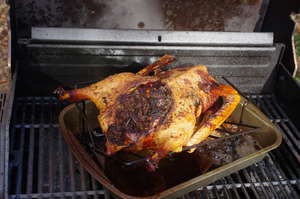 There could be more goose in our future.
(0) Comments -- permanent link
Edit this (owner only)
Complete!!!
last update: 12/25 @ 14:06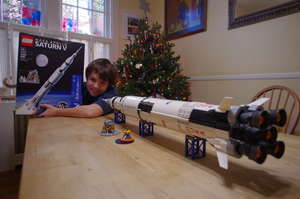 The Saturn V is complete — one day and before we leave for dinner. That's just too fast :)
The complete rocket is a meter tall.
It comes with the cool display stands.
And the lunar lander and splash down mini-displays.
With mini-astronauts.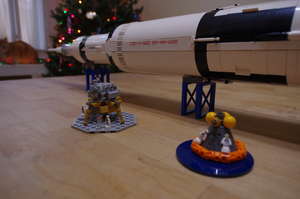 (0) Comments -- permanent link
Edit this (owner only)
Opening in Earnest
last update: 12/25 @ 11:45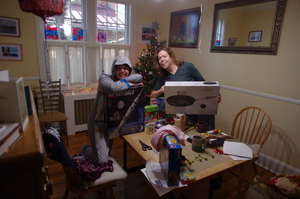 Robert let us sleep in a bit after a fantastic Christmas eve meal and party at the Hargadon's. And then we got on to the serious business of unwrapping all the great gifts that were in the stockings (and next to the stockings) and under the tree.
Robert got the next size up PJs from this Atlanta kin; the whole Williams clan has matching PJs.
Sarah got some books off her list. And also from her wish list: a new Scan Pan (currently in use on goose gravy for dinner).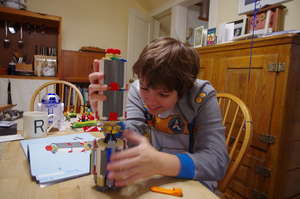 I got tickets to see Sweet Honey in the Rock when they come to The Birchmere.
But really, it was very Legoy Christmas…
We each got a stocking stuffer set to build. Robert got his parents cool sets (I have a drilling truck now).
And we got Robert the Saturn V rocket, crazy big set.
He's already halfway through building the rocket.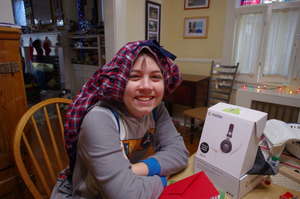 (0) Comments -- permanent link
Edit this (owner only)
Dec 24, 2017
Early present opening…
last update: 12/24 @ 12:19

… Normally frowned on here but if folks come all the way from Seattle bearing gifts and say, "You should open this now." What are you gonna do?

Robert and Ian both got Sphero minis; the cats lives will never be the same.

Thank you David Z.!
(0) Comments -- permanent link
Edit this (owner only)
Dec 03, 2017
Looking a lot like…
last update: 12/03 @ 20:18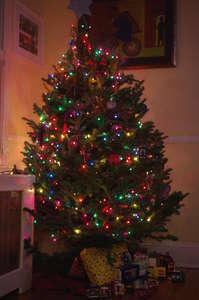 … CHRISTMAS!!!

We picked up our tree today.

We are a little earlier this year as our local (walkable) tree guys sold out last year when we waited longer.

Then I ran to the river for a quick paddle — it was 55 and bright and sunny.

Robert and I moved the tree in while Sarah was off singing the Messiah.

Then we all reconvened for lighting and decorating.

(And dinner.)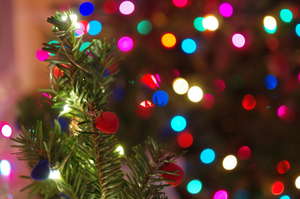 Robert had the great idea to make a tree for his cubby at school.
And a couple more for favored teachers.
His has lights, their Chrismas trees have ornaments but we didn't have any more of the micro lights.
Maybe we can see them in place at the big winter show in a couple weeks.
All very cool in my book.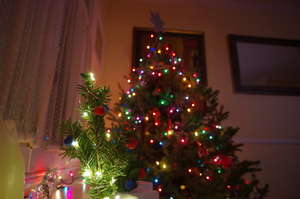 (0) Comments -- permanent link
Edit this (owner only)
Nov 21, 2017
Stanley Clarke
last update: 11/21 @ 08:29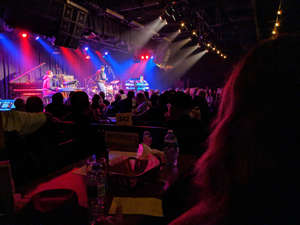 At the Birchmere. It was a great show that we all enjoyed.

And an excellent start to the Thanksgiving vacation season.

We're looking forward to a quick trip and visiting with lots of family and friends over the next week.

Maybe even some more live entertainment.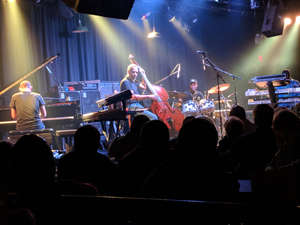 (0) Comments -- permanent link
Edit this (owner only)
Nov 11, 2017
Hmmmm
last update: 11/11 @ 19:21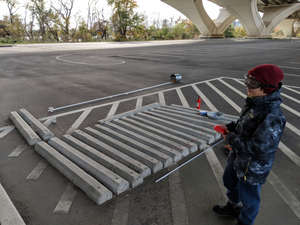 This should work: model rocket engine, track, wheels. What could go wrong?

(Note the fire extinguisher in the background.)

See Robert's videos for yourself.
(0) Comments -- permanent link
Edit this (owner only)
That Feeling…
last update: 11/11 @ 07:15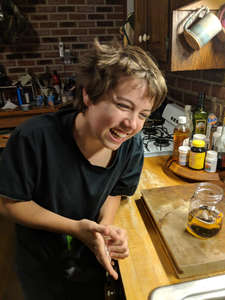 … of Martinelli's Sparkling Cider coming out of your nose because you're laughing so hard after you took a sip.

No one is really sure why Robert was laughing so hard. But it was fun to watch :)

(And a nice picture under difficult light for my new Pixel 2 phone.)
(0) Comments -- permanent link
Edit this (owner only)
---
Add new entry (owner only)