Nov 24, 2018
Fantastic Friday
last update: 11/24 @ 10:44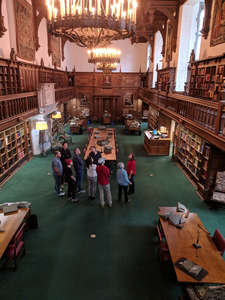 David Z. arranged a great post Thanksgiving day for the extended family today:
We met up at the Folger Library for a tour. Apparently David ran into Michael Witmore, the Director, in Seattle and so arranged a tour today.
Not just any tour, but they managed to pull together some very cool artifacts from their collection for us to look at including a 17th century map (Sarah the geographer was thrilled) and a block print from down on the river in the winter including a proto-hockey player.
We toured the theater (where Robert performed twice as part of the middle/high school competition) and the reading room — seen here.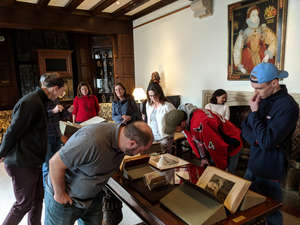 Then, in the founder's room, they had laid out those items from the collection for us to peruse. Note the first folio in the foreground. One of 82 in the collection — they wanted enough to be able to track the corrections made during printing.
And then we took a quick turn through the Library of Congress on our way to see the Washington DC Capitols beat the Detroit Red Wings.
Beside the Haragadons, who all play hockey, the recent addition of Holtby (the Caps goalie) to Robert's old school gives us another connection to hockey.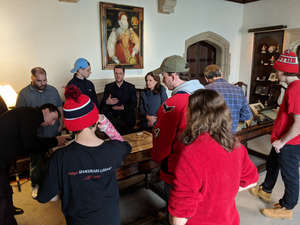 Michael was great, enthusiasic and obviously well versed in the library, theater and all things Shakespeare; he called on Rachel, one of the two lead librarians, who pulled the items from the collection and told us all a bit about them.
(0) Comments -- permanent link
Edit this (owner only)
Proof of better times…
last update: 11/24 @ 10:44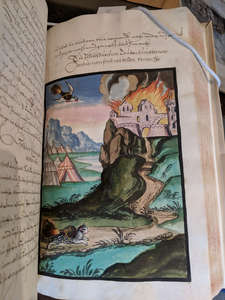 … and worse times.
One of the manuscripts Rachel brought out for us to look at. The "rocket cat." Actually a cat (and bird) drawn with petards as part of a castle siege. I think a plan thought of but never actually used: the bird can't carry that much weight, and anyone with cats knows they wont run where you want them to…
But note the amazing colors still striking after hundreds of years. The benefit, Rachel told us, of velum rather than wood pulp paper. (And possibly poisonous dyes, I'm guessing.)
(0) Comments -- permanent link
Edit this (owner only)
Nov 04, 2018
Perfect Day …
last update: 11/04 @ 20:25

… for a November wedding. CONGRATULATIONS Kelly and Dan!!!

A great wedding in a lovely spot under a blue sky.

And with games!!!

Bluemont Vineyard treated us well.
(0) Comments -- permanent link
Edit this (owner only)
Oct 31, 2018
And the aftermath…
last update: 10/31 @ 20:34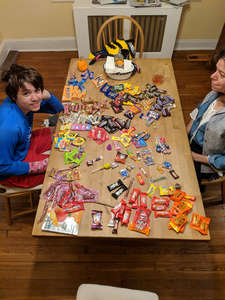 A crazy huge haul. We measured a bit over 7 pounds!!!
Too much to histogram on the table (and it would have taken a while). Just sorting was impressive…
(0) Comments -- permanent link
Edit this (owner only)
Halloween
last update: 10/31 @ 19:47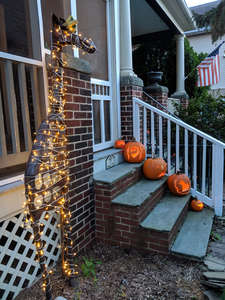 That spooky time of year!!!

Fortunately, we have George the Giraffe to look after us.

This year, Robert decided that the kitties pumpkins needed to be carved (as well as the full-sized ones).

And he took that on free hand,

One Pinker….

…One Panzer.

For the full-sized pumpkins, we have (starting at the top)

The Stig (if you're not familiar, you need to watch Top Gear), a traditional grumpy/scary face (now with improved? nose technique), and a dinosaur.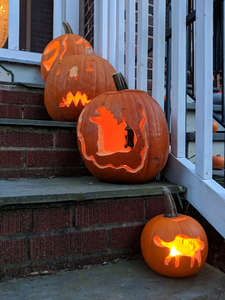 The fancy scroll work is all Robert; he may have found his calling.
Sarah is doing a great job of being Dolores from Westworld, the first season, before she started killing everyone.
Robert is a coral reef restoration diver. Good think we opted for the waterproof cast (hidden on his right hand).
The weather was perfect, no need for coats and Robert in shorts was fine (Sarah may even have been a little over dressed).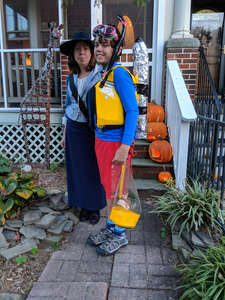 (0) Comments -- permanent link
Edit this (owner only)
Oct 29, 2018
And not a moment too soon…
last update: 10/29 @ 19:50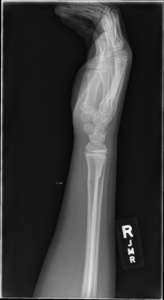 Handball in PE injury: fracture on Robert's right wrist. That would surely have taken him out of the volleyball rotation.
We see the ortho doctor tomorrow who will tell us if he keeps the splint he has or gets a hard cast.
(0) Comments -- permanent link
Edit this (owner only)
Oct 28, 2018
End of the Season
last update: 10/28 @ 22:46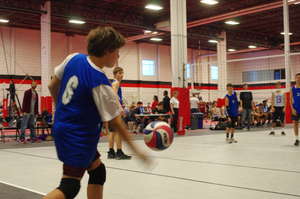 The volleyball season is over. The Titans did a great job, especially considering this was the first season they were in any games.

They may be really hard to beat next year!

Robert, and his teammates, seemed to have a lot of fun and make huge strides in their playing.
(0) Comments -- permanent link
Edit this (owner only)
Oct 21, 2018
Wonderful Evening!!!
last update: 10/21 @ 23:11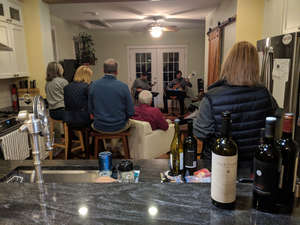 Sarah did another great thing: she signed us up to host a Groupmuse concert. You offer to open your house, ask friends to come by (or they will fill out with neighbors) and yoiu get a private concert.
It was fantastic!!! Joel Michael-Schwartz on mandolin and Todd Shelar on guitar were a lot of fun to listen to, meet and get to know. We recommend others sign up (or come by the next time we host). It's a great evening.
(Also, a very nice way to enjoy the work recently done on the house.)
(0) Comments -- permanent link
Edit this (owner only)
School Photo
last update: 10/21 @ 21:36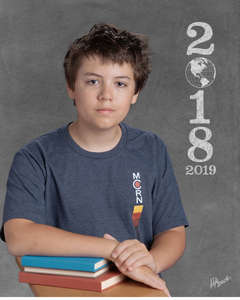 The fake text books are a classic touch for our first High School photo :)
(0) Comments -- permanent link
Edit this (owner only)
Oct 20, 2018
Save!
last update: 10/20 @ 20:28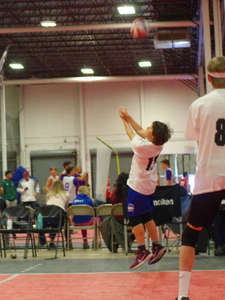 The Titans only had 5 players for the games this afternoon but they split the matches. With only 5 players, not substitutes; everyone played the whole time. Robert's serves are greatly improved from the start of the season and here he's doing a great job here keeping the ball alive for a Titan score.
Sarah is looking for rec leagues to pick up when the school season ends next week.
(0) Comments -- permanent link
Edit this (owner only)
---
Add new entry (owner only)