Mar 11, 2018
Now you see it …
last update: 03/11 @ 11:29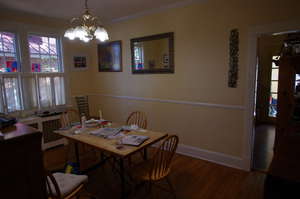 … Now you don't.

They took down the wall between dining room and kitchen, the original back wall and the downstairs back wall of the 1976 addition. That really opens it up.

It also really creates a lot of dust. I was less aware of the dust when we did work on our house in Richmond when I was growing up. I remember my mom complaining about how it got everywhere. I completely get it now.

The general plan is to add a counter between dining room and kitchen, open on the right and keep the kitchen open to the expanded addition in the back.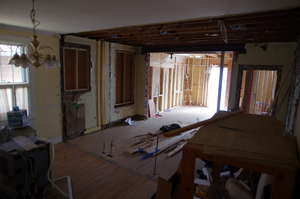 The stove will go along the exterior wall between where the windows used to be (topped with an exhaust fan).
The windows have been roughed into the addition but are still covered. The skylights in the addition have been cut out, but the roof is still tarp covered.
And on the right, you can see the framing for the new, downstairs powder room.
(0) Comments -- permanent link
Edit this (owner only)
Feb 24, 2018
Something seems different….
last update: 02/24 @ 19:27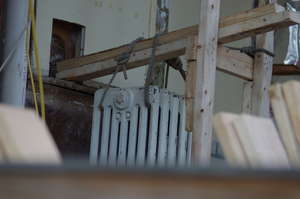 The radiator in the back office does not normally need to be suspended by a rope…

We're making great strides on our efforts to get an exhaust fan for the kitchen.

Because…

If you're going to put in a fan, you may as well…

Add on to the house while remodeling the kitchen.

Which we're doing.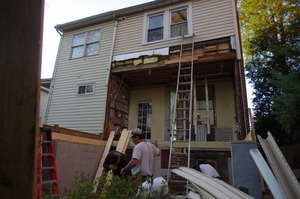 It's going to be great when it's done. But we have a while yet before we can call it complete.
We do know about most of what will go into the the new kitchen (it was fun to look as giant slabs available as counter tops (we settled on Virginia Mist — but it's not really from Virginia).
And I'm sure we'll celebrate when we have a kitchen again. I'm less sure when that will be.
(0) Comments -- permanent link
Edit this (owner only)
Feb 16, 2018
Geek Fun
last update: 02/16 @ 22:12

Thanks to Linux Advanced Routing & Traffic Control HOWTO and @clumpidy for pointing out the way, I have a multihomed network at the moment.
Verizon DSL has just become too slow, fiber is not yet an option so I'm giving Comcast a try…
After one failed attempt based on simpler instructions, this seems to be working and our conection speed is much better now. Let's see how stable it is over time and how hard getting out of Verizon is…
(2) Comments -- permanent link
Edit this (owner only)
Shakespeare Elective
last update: 02/16 @ 13:17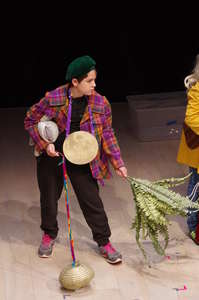 Robert's busy week this week included the performance at the Folger Theater of the Shakespeare Elective's A Midsummer Night's Dream.

Admittedly I'm biased; I thought it was great. I'm really glad to have been able to attend.
(1) Comments -- permanent link
Edit this (owner only)
Feb 08, 2018
Something to strive for
last update: 02/08 @ 22:53

From a very interesting fellow, John Perry Barlow:
Principles of Adult Behavior
Be patient. No matter what.
Donít badmouth: Assign responsibility, not blame. Say nothing of another you wouldnít say to him.
Never assume the motives of others are, to them, less noble than yours are to you.
Expand your sense of the possible.
Donít trouble yourself with matters you truly cannot change.
Expect no more of anyone than you can deliver yourself.
Tolerate ambiguity.
Laugh at yourself frequently.
Concern yourself with what is right rather than who is right.
Never forget that, no matter how certain, you might be wrong.
Give up blood sports.
Remember that your life belongs to others as well. Donít risk it frivolously.
Never lie to anyone for any reason. (Lies of omission are sometimes exempt.)
Learn the needs of those around you and respect them.
Avoid the pursuit of happiness. Seek to define your mission and pursue that.
Reduce your use of the first personal pronoun.
Praise at least as often as you disparage.
Admit your errors freely and soon.
Become less suspicious of joy.
Understand humility.
Remember that love forgives everything.
Foster dignity.
Live memorably.
Love yourself.
Endure.
Shamelessly lifted from Kottke.org.
(0) Comments -- permanent link
Edit this (owner only)
Feb 04, 2018
Because… Science…
last update: 02/04 @ 14:12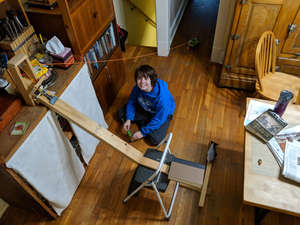 Just who was Rube Goldberg anyway?
Robert's science class is studying simple machines by building Rube Goldberg-esq contraptions. This one is getting close to working well.
We did need a bit more traction and mechanical advantage for the RC car to be able to lift the weight, sending the wedge car down the ramp to wedge up/knock over the book onto the catapult, launching the fish.
All-in-all, a sucess. Fine tuning to follow…
(0) Comments -- permanent link
Edit this (owner only)
Jan 07, 2018
Birthday Quilt
last update: 01/07 @ 10:18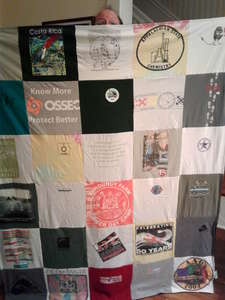 Sarah gave me a tee shirt quilt for my birthday. I shipped off bunch of tee shirts (my drawers are still pretty full) to Project Repat. A few weeks later, this showed up in the mail.

It's GREAT!

There may be more in our future.

I was worried about the deterioration of some of my old favorites; this seems like it will help them stick around for several more years.
(0) Comments -- permanent link
Edit this (owner only)
Jan 01, 2018
Happy New Year!!!
last update: 01/01 @ 12:10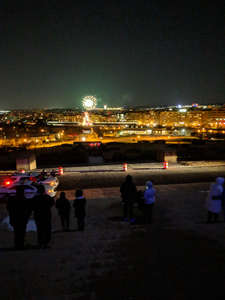 It was pretty cold this year for New Years with the temperature around 15 or so. We mostly stayed at home in front of the fire.
And with Robert's help, we celebrated New Years in Kathmandu, Istanbul, St. Mary's Canada, San Juan Puerto Rico and then Alexandria.
In Alexandria, the city did a very nice job with the fireworks. We left our fireside about 11:50 and walked up the steps at the Masonic Temple to check them out at the foot of King Street.
That got us back home to run around the house (thank you Norman's for not minding us cutting across your yard), sweep our troubles off the porch and eat our grapes under the table.
If asked, Robert will report that there are way more jokes about grapes than raisins.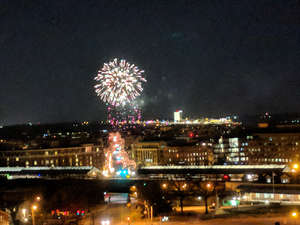 Hoppin John and getting ready to go back to work and school are on the agdenda for today — indoor activities as the temperature is not expected to get above 25 today.
Here's to hoping 2018 is a more sane year and we can turn the corner on the political craziness.
(0) Comments -- permanent link
Edit this (owner only)
Dec 25, 2017
The Chef and her Goose
last update: 12/25 @ 14:10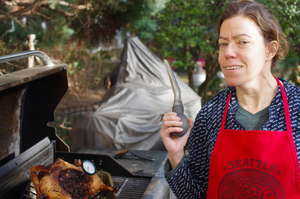 Sarah doing an excellent job cooking the goose.
Yesterday, she was on tap to cook two . I wondered aloud if it was possible to do a goose on the grill — two in our oven is really a tight fit (we've not remodeled the kitchen yet).
She put on her researcher hat and lo and behold: it is, and it is really good, and maybe even easier than in the oven.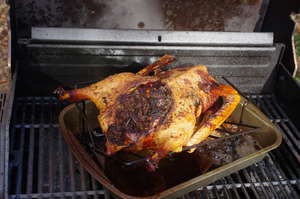 There could be more goose in our future.
(0) Comments -- permanent link
Edit this (owner only)
Complete!!!
last update: 12/25 @ 14:06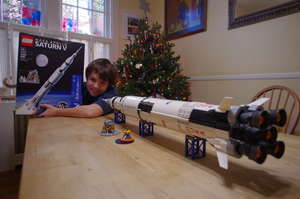 The Saturn V is complete — one day and before we leave for dinner. That's just too fast :)
The complete rocket is a meter tall.
It comes with the cool display stands.
And the lunar lander and splash down mini-displays.
With mini-astronauts.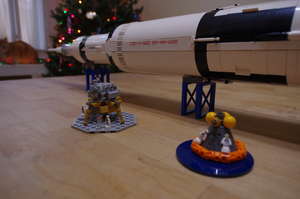 (0) Comments -- permanent link
Edit this (owner only)
---
Add new entry (owner only)