Jun 14, 2021
Storming the castle
last update: 06/14 @ 19:08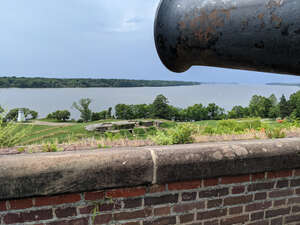 We missed doing this for Mother's Day last month.
And with Robert now gainfully employed, he missed the trip yesterday.
But, Pocket one of the folks from the vaccination PoDs Sarah has been working since the vaccine became available, joined us this time.
The weather was pretty perfect. Plenty warm but with a brief bit of rain to keep it from getting too summer-time hot.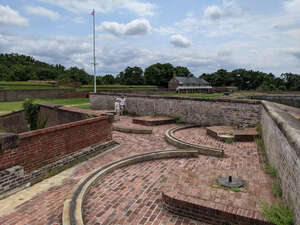 And most interesting: Pocket, (who's real name is also Sarah with an H but adopted Pocket for… reasons) brought her foldable kayak.
She has an Oru Kayak.
It's pretty cool: fits in the back of car, folds together in a couple minutes (gathering a crowd of interested onlookers), and works well.
Pocket was first across the river each way. I credited her longer boat with more of keel to track straighter and go faster. Sarah credited Pocket's upper body strength as she is an avid rock climber.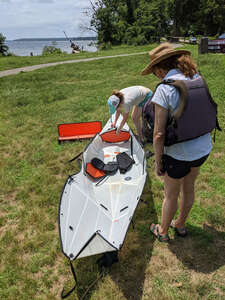 It was fun way to spend a Sunday afternoon.
And if you're interested, Fort Washington is back to firing off their cannon on the first Sunday of the month. Alas, yesterday was not the first in month so we missed it.
(0) Comments -- permanent link
Edit this (owner only)
Jun 11, 2021
And so, a whole new era begins…
last update: 06/11 @ 22:57

From Robert, "Ok I get off at 7"
He got an application at the local laser tag place last weekend.
Dropped off the application yesterday.
Went in this afternoon for his interview.
Started his first shift after the interview.
Our Robert is now gainfully employed!!!
(0) Comments -- permanent link
Edit this (owner only)
Jun 09, 2021
Done with this
last update: 06/09 @ 20:31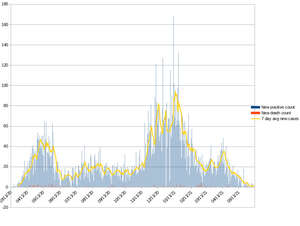 That's 450 days of data. The 7 day moving average has been in the single digits for weeks now. I'm no longer obsessing. I think we've finally turned the corner and I'm looking forward to wider travel soon.
We are extremely lucky to not have had any close family or friends severely impacted. And now that we're all fully vaccinated, we're feeling pretty good about getting back to normal.
But I still wear a mask inside the PTO building when I'm not in my office (no longer required for fully vaccinated folks).
(0) Comments -- permanent link
Edit this (owner only)
May 31, 2021
Smoking in the backyard
last update: 05/31 @ 10:42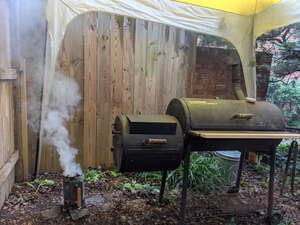 Robert and I got out the smoker for the first time in a couple years. The weather was a little damp so our beach sun shade will remind us of this day :)
With the 7 day moving average of new Covid cases in it's longest streak of single digits ever, we enjoyed spending time with some Burgundy friends and some of the Medical Reserve Corps folks Sarah has been volunteering with.
It's starting to feel like things are beginning to think about possibly getting back to normal.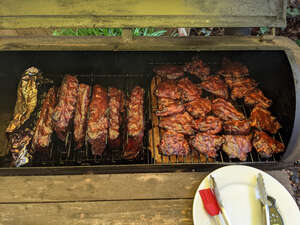 And it's about time.
(0) Comments -- permanent link
Edit this (owner only)
May 23, 2021
Hagerstown Speedway
last update: 05/23 @ 14:44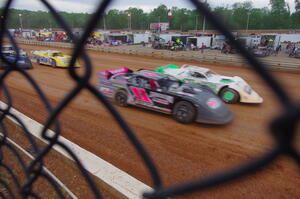 Dirt track racing is pretty crazy.
I'm still missing my NASCAR race: we had tickets for Dover but they oversold the stands and cancelled. Sarah and Robert had such a good time in Richmond they convinced to go to a race.
Not the same but, Robert and I took Will up to Hagerstown on Saturday night for the race and it lived up to it's reputation: a fun, loud evening.
There were several kinds of cars racing, all blasting around the dirt.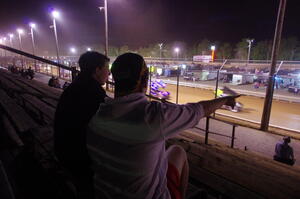 Robert took a lot of photos and videos. I took just this short video of the crazy sprint cars.
There are lots more photos (but not much narration) in the vacation section.
We have to convince Sarah to check out a dirt track, and I am still interested in seeing a NASCAR race — but the small, down-home feel of dirt track may be more my style.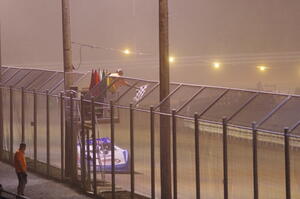 (As much as racing is my style.)
(0) Comments -- permanent link
Edit this (owner only)
Vroom, Vroom
last update: 05/23 @ 12:22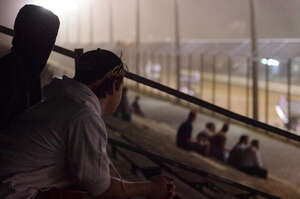 More to come in a bit…
Robert wanted to check out dirt racing so we took Will to Hagerstown Speedway last night.
It was wild. The blurs are the sprint cars racing by.
I took a lot of (bad) pictures and need to sort through them.
(0) Comments -- permanent link
Edit this (owner only)
May 22, 2021
Aliens have arrived
last update: 05/22 @ 16:27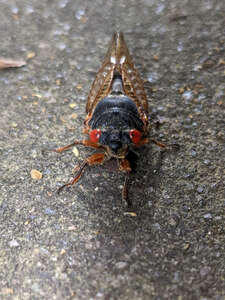 We're just starting to hear them around our neighborhood.
And this is one of the few I've seen so far in our yard. But down the street the shells are starting to sprout on their white fence.
And I've heard stories of hoards descending a bit further out from DC.
It will be interesting to see if the kitties will go on porch if they really start showing up in mass.
(0) Comments -- permanent link
Edit this (owner only)
Happy Birthay!!!
last update: 05/22 @ 16:27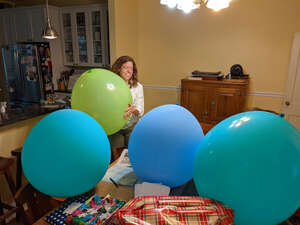 We're liking the crazy big balloons for celebrating.
Yesterday for Sarah's birthday!!!
And, in a nod to getting a bit back to normal, we had birthday dinner inside at Los Tios.
We even had a guest, Seileen joined us to help celebrate.
The sombrero tradition continues…
Next year, bigger, more normal party.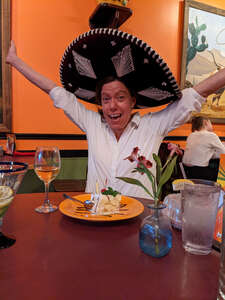 But still at Los Tios, of course. Because, the sombrero, right?
(0) Comments -- permanent link
Edit this (owner only)
May 16, 2021
Rainy river
last update: 05/16 @ 23:47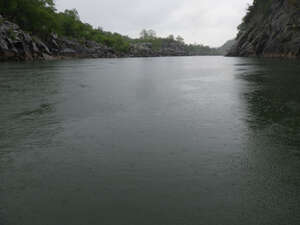 A little rainy this afternoon on the river.
But I went up the gorge to Wet Bottom Chute were I ran into the Fauquier County swift water rescue team practicing.
Interesting to me, should not be a surprise though, that Virginia county enters the river on the Virginia side. I'm used to the Cabin John Volunteers and Montgomery County fire departments entering at Angler's Inn on the Maryland side.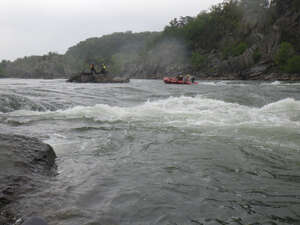 While it was a little gray and rainy; it's still a very pretty spot. And especially so for a spot that close to home and DC.
(0) Comments -- permanent link
Edit this (owner only)
May 14, 2021
Finally…
last update: 05/14 @ 23:27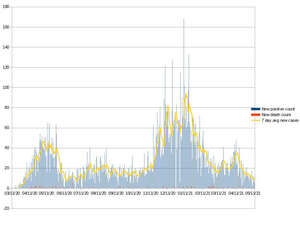 I spent a lot of time last summer and fall waiting for the seven day moving average to drop into single digits. I thought that would be a sign of things getting better.
It's not been this low since July Fourth, and that was a tiny blip. I really hope this trend holds.
And, after a year, it's really odd to walk around without a mask. The CDC said fully vaccinated don't need to mask up in most cases. I walked to work today with a mask in my pocket, and it felt really strange.
Here's to continuing that downward trend and getting back to normal.
(0) Comments -- permanent link
Edit this (owner only)
---
Add new entry (owner only)