Aug 06, 2017
Addition to the Flotilla
last update: 08/06 @ 21:18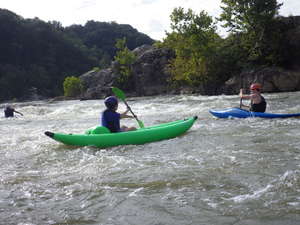 On our last day in Lewsiton after the Salmon trip, we drove up to Moscow, home of NRS, and picked up an inflatable kayak.
(Moscow Idaho is way closer than the more well known Moscow.)
Robert chose green over blue. It's very green.
We call it the Green Machine.
It's a lot of fun.
And we discovered it's very stable.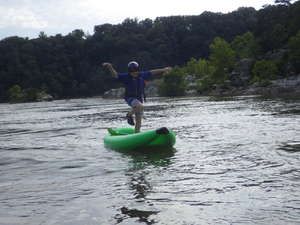 Stable enough for yoga.

Which is an interesting look on the river.

Robert and Sarah are now fighting over who gets to paddle the Green Machine.

Or, should that who gets to stand on the Green Machine?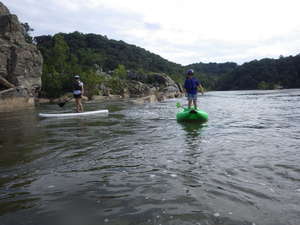 Our silly standing boaters showing off :)
(0) Comments -- permanent link
Edit this (owner only)
Jul 30, 2017
Salmon River!
last update: 07/30 @ 22:49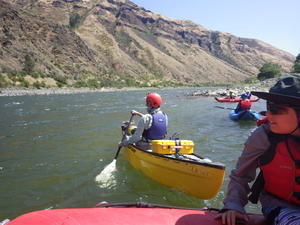 Back from a great trip to Idaho: ~90 miles paddling, 6071 driven and 3 weeks with no work worries! Many more photos in three pages of the vacation section.
(0) Comments -- permanent link
Edit this (owner only)
Jul 28, 2017
Traditional Birthday Dinner
last update: 07/28 @ 08:59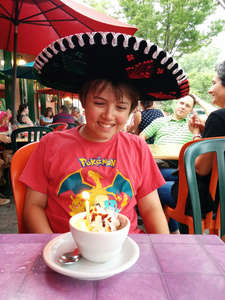 I got back to Alexandria early Thursday morning (about 2:30). So we celebrated Robert's birthday dinner at Los Tios as we have for several years.
They have the best birthday sombreros!
And very tasty food as well.
(0) Comments -- permanent link
Edit this (owner only)
Jul 24, 2017
Early Rafting Pictures…
last update: 07/24 @ 23:41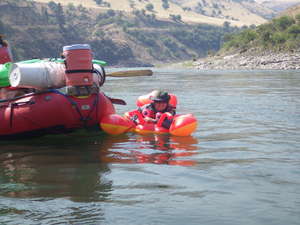 … Or the most unexpected pictures…

Someone will have to correct my spelling (and I'll update this post) — thank you Robert.

Sarah and I were talked into buying an inflatable alligator (later named Gary) to take on the trip. But Robert decided klawboautoman the lobster was more stable.

Sarah preferred Felecia the Flamingo (there may be stories about her flight and recovery when the main posting goes up).

And Annie managed to tame Gary the Gator (mostly).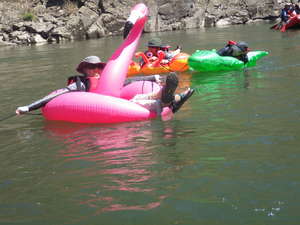 Which was good because they all were towed through some fun rapids on the Lower Salmon last week.
All the inflatable critter riders reported having a good time. Robert, perhaps, the best time if for no other reason than he was mostly able to stay out of water. It was "refreshing."
But an excellent counter to the hot air.
Everyone (rafters, hard boaters, IK1ers and inflatable critter riders) had a great time. While the weather was hot, it could have been hotter; the water was cool and high — but not too high.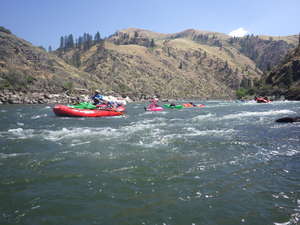 Of course, for the bigger rapids, the pool toys (inflatable critters) were strapped to the rafts (which made the rafts extra fun to look at).
More later when I join Robert and Sarah who are already back in Alexandria.
(1) Comments -- permanent link
Edit this (owner only)
Jul 22, 2017
Teenager
last update: 07/22 @ 10:33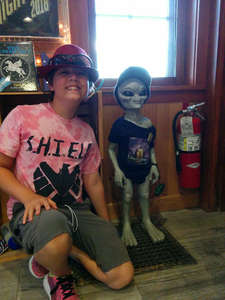 Robert is now, officially, a teenager!!!

This is from our drive out to Idaho; we stopped a Devil's Tower (after watching Close Encounters before we left.

This was all the Park Service had on hand recognizing the role Devil's Tower played in that movie.

Happy Birthday Robert!!!
(0) Comments -- permanent link
Edit this (owner only)
Jul 03, 2017
A little tune up…
last update: 07/03 @ 20:17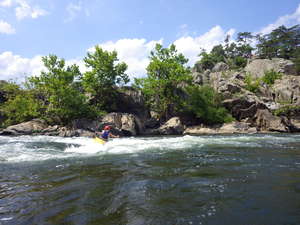 The weather was nice (hot but surprisingly dry) yesterday so we took our water craft to the Potomac.
Robert has outgrown his sit-a-top kayak (we're pretty sure) so Sarah give him a ride on her paddle board.
With a Salmon trip coming up, we expect he'll get a chance to try out a ducky and decide if that's the next boat for him.
Robert got in the canoe briefly and looked pretty good; Sarah got in and pronounced it tippy. I don't think it's any more tippy than her SUP.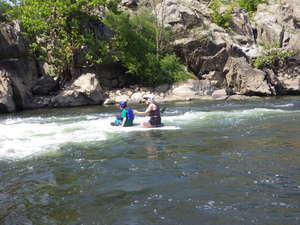 (0) Comments -- permanent link
Edit this (owner only)
Jul 02, 2017
Beach trip
last update: 07/02 @ 12:29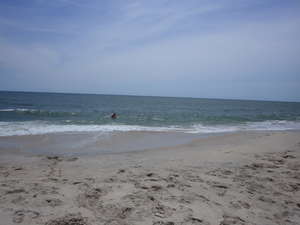 Sarah and Robert are back from Assateague Island. They joined the annual 4th of July trip this year. I'm saving up my vacation time for our Salmon trip.

They said it was really windy and a bit cool — frigid compared to last year's oppressive heat.

The wind kept the mosquitoes down. And being a week early meant a bit less crowded. but not actually being there for the fourth.

But in exchange for missing the fireworks over the beach (Ocean City is close enough to see), they saw a cool rocket that planted huge, colorful clouds in the night sky.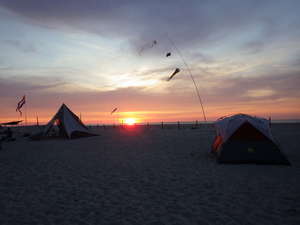 Night sky, sorry, no pictures. But it sounded really cool.
(0) Comments -- permanent link
Edit this (owner only)
May 27, 2017
El Galeón
last update: 05/27 @ 15:12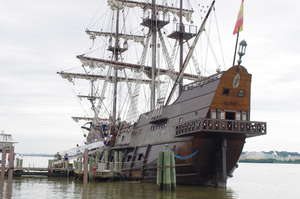 This is at least the second year that El Galeón has visited Alexandria.
We tried to go last time but the lines were too long. Today, with the treat of a thunderstorm, we almost walked right on.
It was pretty cool. Very impressive to think about blue water sailing in such a ship. More so to think about that without the modern advances which they have stashed out of view of the visitors.
A crew of 40 seems pretty large for what is not too big a ship. But one of the notes pointed out that it takes 18 to raise the 2,000 pound mainsail.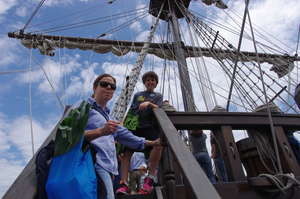 Perhaps most intriguing: that misbehaving cabin boys were forced into the crows nests during storms as punishment.
Also the causal note that nowadays they have safety lines when folks are working the rigging; originally, there was a rope towed behind the ship. If you fell off, you needed to get to the rope to be saved.
The rain held off (is still holding off). So we could take our time exploring. And even managed to pick up a couple items from the Farmers Market (note the leeks peeking out of Sarah's bag).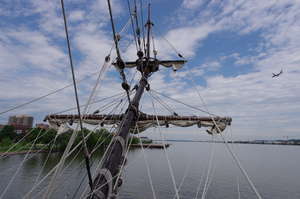 (No one made any jokes about leaks while we were on board.)
(0) Comments -- permanent link
Edit this (owner only)
Leaving Home…
last update: 05/27 @ 09:30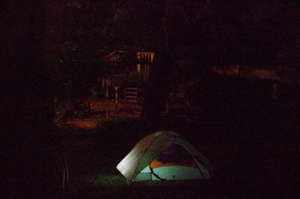 … perhaps a bit early.
I think inspired by setting the tents up to air out and dry off after their rainy trip to West Virginia, Robert decided to stay in his tent last night.
He slept well and slept in.
And took it down after he got up. Perfect!
(0) Comments -- permanent link
Edit this (owner only)
May 26, 2017
West Virginia Field Trip
last update: 05/26 @ 17:21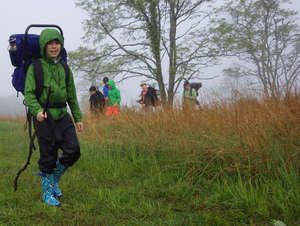 Robert (and I) are back from the Seventh Grade's last visit to the West Virginia campus of his school.
The kids hiked up to the bald and camped there the first night (in the rain). We came down with sleeping bags the next morning for a hot breakfast back the lodge.
Wednesday was a full day of activities:
a really cool group survey, mapping exercise of the creek,
a climb up into the tree canopy
and then a mock town hall meeting to discuss the pros and cons of building a dam on the property.
Robert did a good job pointing the strong risk of the dam being undermined due to the soft rock that would form the foundation.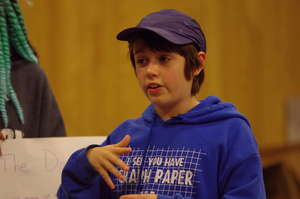 With thunderstorms predicted, they decided to stay in the dorms the second night.
The next morning, everyone got up early, hiked back up to the bald and recovered the damp tents before breakfast. Then, a bit of clean up, making lunch (for the trip back), and a closing activity in the barn to finish out a great trip.
While the weather could have been better, the kids, faculty and staff had a great time.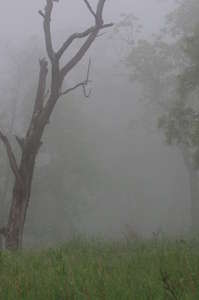 Waking up on the bald meant getting to experience this incredible fog shrouding the mountaintop. It was astoundingly pretty. I loved getting the chance to get up and wander a bit before the day really started.
(0) Comments -- permanent link
Edit this (owner only)
---
Add new entry (owner only)