Halloween
last update: 10/31 @ 22:34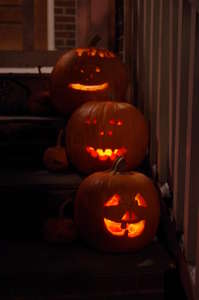 The big day arrived.

We had an excellent and healthy dinner.

We put our jack-o-lanterns on the steps.

Added a bowl of candy.

(Which turned out to be way more than we needed. Sarah, once again correct, that I expect many more trick or treaters than we get on our street.)

Sarah morphed into Daenerys Targaryen, Mother of Dragons.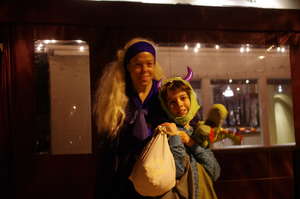 Robert morphed into one of the dragons.

We headed out to see what we could see.

After doing the round in our neighborhood, we headed down to Lee St., known as Halloween Central around here. We saw lots of costumes but were a bit late by the time we got there.

No matter though…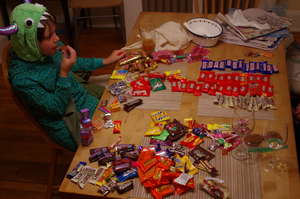 … Robert's haul was way more than enough!

We should have stomach aches covered for weeks; and all our discretionary income is earmarked for fillings.

(Notice how full that big is.)