---
Other parts of the site:
Search the blog:
Archive:
Pick a Random Month
Full Blog Archive
(This is all the blog posts in cronological order, rebuilt every night so may be up to 24 hours out of date. It's also a big file with lots of graphics; please be patient.)
Apr 28, 2012
Baseball is back
last update: 04/28 @ 19:20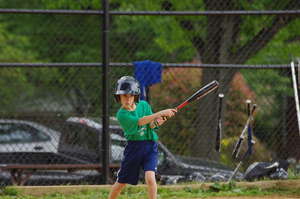 Robert had his first game today. This year the team is the Hillcats. The team is looking good — Robert has his special form going for him. And coach JT managed to get Maury as our home field so Robert can ride his bike there.
(0) Comments -- permanent link
Edit this (owner only)
Apr 22, 2012
Opening Weekend
last update: 04/22 @ 18:54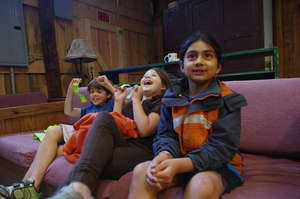 We just got back from helping to open up the West Virginia campus of Robert's school. He and Sarah get to go on his next class trip. That's Robert, prior classmate Rowan and current classmate Zoya clearly having a good time by the fire.
(0) Comments -- permanent link
Edit this (owner only)
Apr 18, 2012
Return to Legos
last update: 04/18 @ 19:14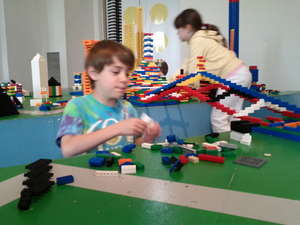 Robert had a short day at school today so the faculty and staff could participate in a meeting with the re-accreditation team. That combined with the cool, drizzly weather seemed like a great reason to head back to the National Building Museum and their Lego room.
Robert and I built this bridge; well.. I built this bridge with encouragement from Robert (it didn't take much encouragement). And then Robert wanted to add a little bridge keepers house at the top.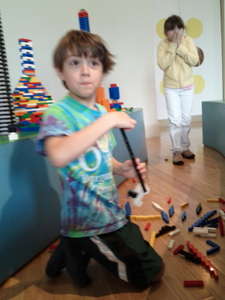 And.. Well… There were some structural issues. I really like the look on Anna's face in the background. (Yes, we did stay long enough to get to know some of the vacationers we met there.) Robert's expression is pretty great too.

All was not lost, clearly. This is the bigger, stronger, faster bridge after being rebuilt. The museum staff who were cleaning up said they would leave the bridge up for a while — most structures get recycled after a couple hours. The bridge might make it overnight, since they were closing down as we left.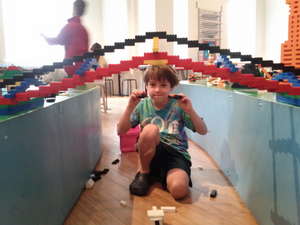 We're going to be sad to see that exhibit go. It's already been extended a year so I don't think they will extend it another year. We'll say goodbye to it as Robert enters the third grade in September. We were introduced in August, 2010 and have been back several times.
(0) Comments -- permanent link
Edit this (owner only)
Apr 16, 2012
Tax Day
last update: 04/16 @ 23:23

The annual letter is in the mail and on the web. Of course it's a day early this year because I didn't factor in DC's emancipation day providing one more day of respite. New printer for the hard copy this year; now I need to work on getting better Linux drivers for it — had to print on Sarah's Mac (thank you, SZap).
(0) Comments -- permanent link
Edit this (owner only)
Apr 15, 2012
Ice Cream
last update: 04/15 @ 15:12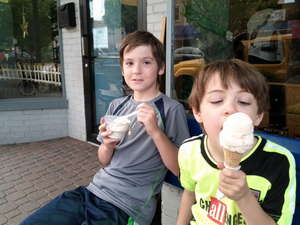 Robert and his friend Jonathan outside Dairy Godmother on the return leg of our bike ride this afternoon. It was too nice a day to sit inside and try to get the "Obama sat here" seat.
Next up: Chuckie Cheese for a birthday party — I'm expecting the bike ride to the be high point of the day for me.
(0) Comments -- permanent link
Edit this (owner only)
Apr 08, 2012
Peeps!!!
last update: 04/08 @ 16:50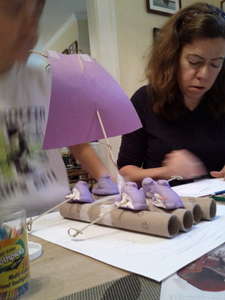 Robert found peeps in his Easter basket. After finding the eggs (we think all of them) hidden by the Easter Bunny, he and Sarah sat down to build Jason and the Argonauts in peep scale. Once they were through, the full story played out, complete with dragon attacks, golden (well, pastel) egg recovery, followed by the inevitable demise of the individual peeps, one-by-one. Actually he had to save the last one for Sarah.
(0) Comments -- permanent link
Edit this (owner only)
---
Add new entry (owner only)
The posts on this page will slowly roll off as new ones are added to the top. The "permanent link&quot links above will take you to one post's permanent address; that should not change or disappear. You can also build up a link to see any month's postings by adding the four digit year, a slash, the two digit month and a trailing slash to the the main www.kayakero.net/news/blosxom URL. Like this:
/news/blosxom/2004/08/. (You can go down to the day level if you like.)
Only the site owners can edit this page (and all attempts to do so are logged); however anyone is welcome to add a comment using the "comments" link below each posting.