---
Other parts of the site:
Search the blog:
Archive:
Pick a Random Month
Full Blog Archive
(This is all the blog posts in cronological order, rebuilt every night so may be up to 24 hours out of date. It's also a big file with lots of graphics; please be patient.)
Oct 31, 2016
King of Candy
last update: 10/31 @ 22:45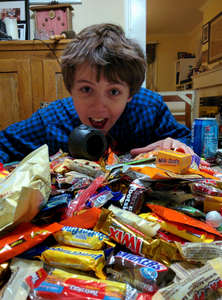 Robert really was not out Trick-or-Treating very long.

And yet, the haul is pretty impressive.

This year, we weighed it: 115 ounces (a bit over 7 pounds). We've divided it into foreseeable future consumption and two bags in the freezer we hope to forget…

Let's see if there is an update to this story in March or April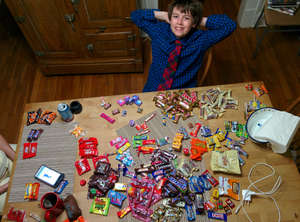 (By the way, the tie is part of the Fitz, Agent of Shield costume. But he does rock it!)
(0) Comments -- permanent link
Edit this (owner only)
Oct 30, 2016
Getting Close…
last update: 10/30 @ 18:55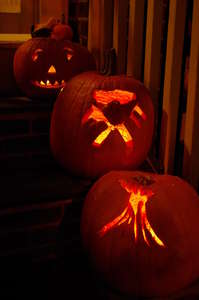 … to Halloween! Sarah lit up the pumpkins tonight.

Robert's Agent's of Shield seal looked better before the pesky squirrels ate the eagle's head off.

And Sarah did great things with PumpSuvias, the volcanic Jack-o-Lantern.

I stuck with my traditional, sharp teeth look,
(0) Comments -- permanent link
Edit this (owner only)
Even Prettier Day
last update: 10/30 @ 17:55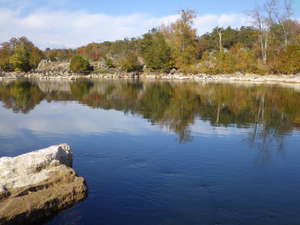 Prettier is probably too subjective…

But warmer, and later in the fall.

Crazy to get on the river at the end of October with no shirt — but it was 80 out there. The water, I can say from experience, was much cooler. But not so cold that I put on the polypro top I brought, just in case.

And the low water fall river levels mean the water is really clear; as you can see in the "selfie:" canoe shadow on rocks. (I don't think there is a way to get a polarizing filter on our little waterproof camera.)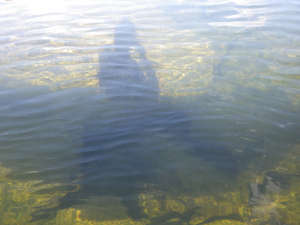 (0) Comments -- permanent link
Edit this (owner only)
Oct 23, 2016
Pretty Day on the River
last update: 10/23 @ 19:44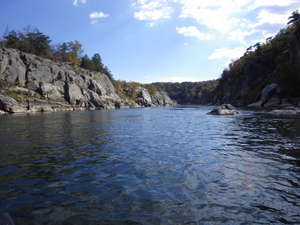 I took my new boat out to Anglers and went upstream. Sarah and Robert were hunting pumpkins for our Jack-o-Lanterns. Any way you sliced it, it was a beautiful day to be outside.
(0) Comments -- permanent link
Edit this (owner only)
Oct 09, 2016
The Fleet Continues to Grow
last update: 10/09 @ 15:32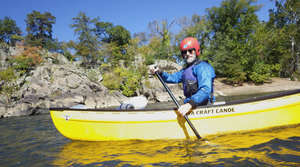 I decided it was time to take the plunge into a solo canoe; Robert is in his own boat now and the Esquif outfitting for 1 is OK but it's really kind of big.

At least, that was my thought before getting this shiny Ocoee. It's only been on the water once and I was getting more comfortable in it after a couple hours. But I'll need a couple more hours before I'm ready to really make up my mind about this.
(0) Comments -- permanent link
Edit this (owner only)
Oct 08, 2016
School Photo
last update: 10/08 @ 13:23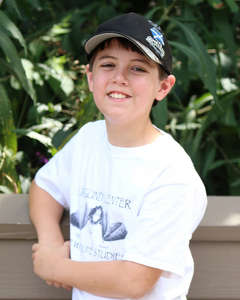 That time of year: School photos are back. Robert continues his hatted tradition. This time commemorating our recent trip to Scotland.

He's already settled into Seventh Grade life and contemplating this year's Model UN trip. Interestingly, this year the Model UN is in Williamsburg.
(0) Comments -- permanent link
Edit this (owner only)
---
Add new entry (owner only)
The posts on this page will slowly roll off as new ones are added to the top. The "permanent link&quot links above will take you to one post's permanent address; that should not change or disappear. You can also build up a link to see any month's postings by adding the four digit year, a slash, the two digit month and a trailing slash to the the main www.kayakero.net/news/blosxom URL. Like this:
/news/blosxom/2004/08/. (You can go down to the day level if you like.)
Only the site owners can edit this page (and all attempts to do so are logged); however anyone is welcome to add a comment using the "comments" link below each posting.