---
Other parts of the site:
Search the blog:
Archive:
Pick a Random Month
Full Blog Archive
(This is all the blog posts in cronological order, rebuilt every night so may be up to 24 hours out of date. It's also a big file with lots of graphics; please be patient.)
Sep 22, 2012
The Big Build
last update: 09/22 @ 21:47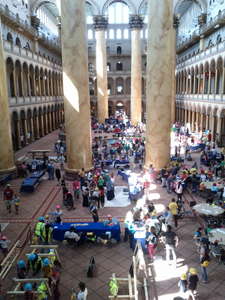 This was The Big Build day at the National Building Museum. we took the Metro in and found it full but not so packed as to be uncomfortable or have lines too long to stand in.
Actually, there were really very few lines. Robert had a chance to lay a few bricks outside before we visited with the blacksmiths (also set up outside). The blacksmith made the point that machine shops waste a lot of metal in cutting and grinding, blacksmiths, "move metal."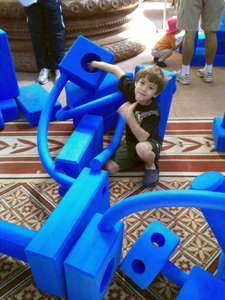 When we went inside, we found this area with foam building blocks. We heard later that what used to be the Lego room — the star attraction of the museum in our opinion — will be getting these blocks, "only about a hundred times more."

That might be a fair trade. Robert was very happy to build away with these for a good long time before we moved on to see what else there was to see and do.

The woodworking was fun as well. There was a small line to get safety glasses and a mallet, but the wait was short. Just about the same wait for the stone workers, and electricians, who were bending conduit.
And while the Lego room is no more (becoming the foam room, if rumors are to be believed), they did have a huge cloth map of DC laid out along with lots of Legos — maybe not as many as in the Lego room, but plenty enough for all the builders in attendance.

So we got to see and play with cool, new things and build with Legos. A good day all around.
(0) Comments -- permanent link
Edit this (owner only)
Sep 16, 2012
Robert on the water
last update: 09/16 @ 16:13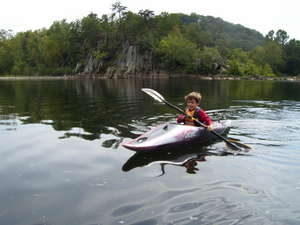 Robert got into the RPM today as we headed back to the Angler's Inn beach. We paddled up to the Virginia Shoot and saw three or four flotillas of paddleboard classes. I guess that's all the thing now…
Anyway, Robert clearly was having a great time!
(0) Comments -- permanent link
Edit this (owner only)
Sep 09, 2012
End of Summer
last update: 09/09 @ 20:41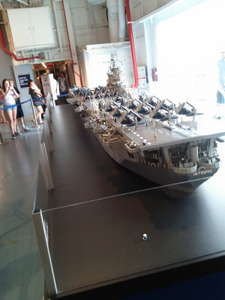 This is a little out of date: for Labor Day weekend, Sarah picked up tickets to the Saturday Cirque du Soleil matinee. It was a very entertaining show and happened to be on the way up to NJ.
We were headed that way to meet up with Ian and give him and his stuff (stored in the massive basement of Harry and Elle's new place) a lift back to Columbia. The move-in on Sunday was very straightforward. His roommate seems like a nice guy and the room is way bigger than a closet.
After a couple trips up to his floor to drop off boxes, he joined us on a visit to the Intrepid which was my first time to see the museum. This is a 1/40th scale Lego model (complete with man overboard in the lower left corner); it's pretty impressive and way too big to fit in our house.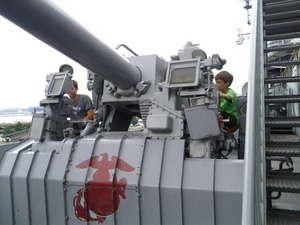 While the Lego model was probably the high point, getting into the gunners seat for one of the anti-aircraft guns was pretty cool too. I think if I had an office on 46th Street, I might be worried to see these pointed my way.

Having his big cousin Ian in the seat next to him made it even more fun for Robert. and Sarah and I enjoyed the chance to visit a little more with Ian.

And back inside, Robert and Ian got to test out a medic evac helicopter. This one seems to me to be straight from the set of M*A*S*H.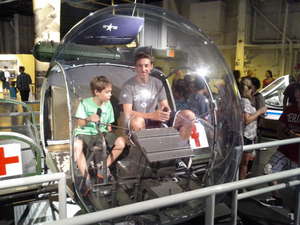 It was too short a visit, and I'm sorry Harry and Elle couldn't join us on the Intrepid trip. But it was fun to see how they've moved into the new house and how well it suits them. And dinner with them Saturday and Sunday night was great fun.

We're hoping Ian and friends may come down to celebrate or protest (depending) the inauguration.
(0) Comments -- permanent link
Edit this (owner only)
Sep 04, 2012
First Day
last update: 09/04 @ 23:24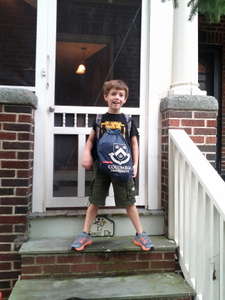 Robert as a third grader: Columbia belly pack courtesy of his cousin Ian, and his big backpack not looking so big as he's grown over the last year. Still a big smile on his face, but this year, no raincoat. A first since JK (just to be complete: here's first grade (with friends) and kindergarten.
(0) Comments -- permanent link
Edit this (owner only)
---
Add new entry (owner only)
The posts on this page will slowly roll off as new ones are added to the top. The "permanent link&quot links above will take you to one post's permanent address; that should not change or disappear. You can also build up a link to see any month's postings by adding the four digit year, a slash, the two digit month and a trailing slash to the the main www.kayakero.net/news/blosxom URL. Like this:
/news/blosxom/2004/08/. (You can go down to the day level if you like.)
Only the site owners can edit this page (and all attempts to do so are logged); however anyone is welcome to add a comment using the "comments" link below each posting.