May 27, 2013
Memorial Day on the Potomac
last update: 05/27 @ 17:46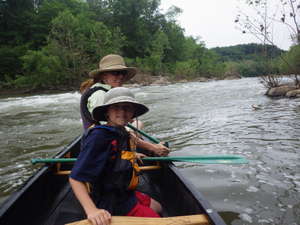 The weather has been great for the long weekend, starting off nicely cool and warming up. After a couple relaxing days around the house and neighborhood, today we put the canoe in the water for the first time in 2013.
We headed from Angler's Inn to lock 10 with a break on a rock island in the middle.
It was lots of fun with enough water to make the waves splash into the boat. That was enough to convince Robert he really didn't want to jump in for a swim yet.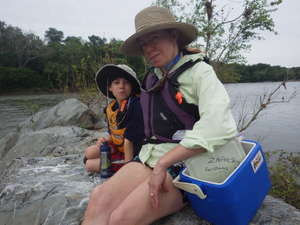 I'm expecting to see a lot more of the Potomac as the weather warms up.
These are also the inaugural photos from a new waterproof (so they say) digital point and shoot. So far I have no reason to regret picking it up for our Grand Canyon trip this summer.
(0) Comments -- permanent link
Edit this (owner only)
May 17, 2013
Inspired…
last update: 05/17 @ 00:34

Robert coming in to first base in the Hillcats vs. the Silver Hawks game. After watching the Nats play last weekend, he was ready to try to steal second — the first base coach called him back, pointing out that's a major league move, not a coach pitch move.
(0) Comments -- permanent link
Edit this (owner only)
May 12, 2013
Mother's Day with the Nationals
last update: 05/12 @ 23:08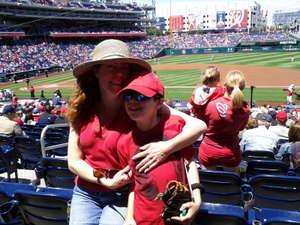 For Mother's Day we went to see the Nats play. Sarah arranged great seats for us on the first base line. We metroed out without issue (showed up on the King Street platform just as our train was coming in).
And the weather was absolutely perfect, blue sky, cool breeze; couldn't be better.
We had a good view of the first Nationals score.
Being close enough for Screech to make an appearance was fun too.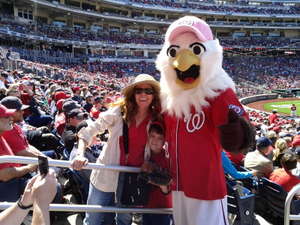 Unfortunately, the Nats lost to the Cubs 2 to 1. Fortunately, Robert and Sarah missed the winning run while they were getting in line for Robert's own chance to run the bases.

That was a nice change as he had two games called due to weather the last couple of days.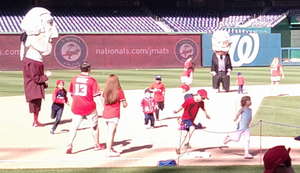 Here he is being sure to tag third base (under the watchful eye of our first president).
(0) Comments -- permanent link
Edit this (owner only)
May 11, 2013
Monopoly With Bob
last update: 05/11 @ 23:01

We had a great game of Monopoly with Bob over at Hank and Sally's house. Dave and Anne were the surprise guests. It was great fun, even for those of us who lost to Sarah's superior economic skilz.
Bob was back in town to see young William graduate (well, close to graduate). Alas he heads back to Pullman where things are lining up quite nicely for him.
(0) Comments -- permanent link
Edit this (owner only)
May 06, 2013
Sax Recital
last update: 05/06 @ 23:40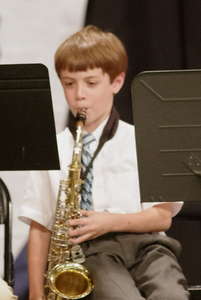 Tonight was the big 3rd grade recital; Robert joined two other saxophonists on the stage and did a great job. It was cool to see all the kids smiling and no stage fright tonight.
It was such a big deal, we had multiple cameras covering it (thanks you Sasha for the photo).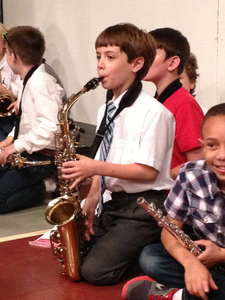 I'm not sure we've decided to rent a sax for summer practice. There are so many other things going on this summer. I wonder: what's a sax concert in Redwall Cavern sound like?

By the way, the tie and the rest of the clothes were his idea — or his under the influence of the rest of the saxophonists in the 3rd grade. Will came complete with shades…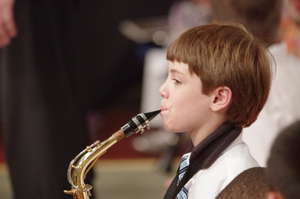 (0) Comments -- permanent link
Edit this (owner only)
May 05, 2013
Hit!!!
last update: 05/05 @ 12:06

Robert getting a good hit in yesterday's baseball game. Today is team picture day (it's busy weekend).
(0) Comments -- permanent link
Edit this (owner only)
And She's Off….
last update: 05/05 @ 11:51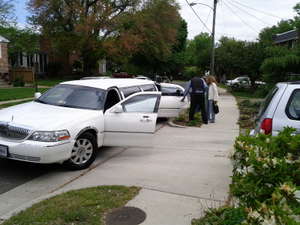 Sarah was picked up by limo for one of the school auction winnings. The manicure/pedicure for six was one of items won by friends and the limo just seemed like a nice touch to cap off the day.
(0) Comments -- permanent link
Edit this (owner only)
May 02, 2013
Springtime!
last update: 05/02 @ 22:44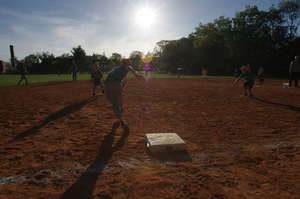 It's clearly springtime: baseball is back. This evening was the second game for the Hillcats. That shadow in the foreground is Robert taking off after a ball while covering 3rd base. It's great to watch how much the kids have gotten better. After I put my camera down, Robert had a great pop fly catch.
(0) Comments -- permanent link
Edit this (owner only)
---
Add new entry (owner only)