---
Other parts of the site:
Search the blog:
Archive:
Pick a Random Month
Full Blog Archive
(This is all the blog posts in cronological order, rebuilt every night so may be up to 24 hours out of date. It's also a big file with lots of graphics; please be patient.)
Jul 26, 2015
Traditions winding down…
last update: 07/26 @ 16:40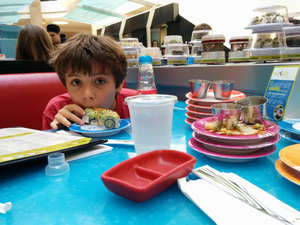 We went in to the Lego Store today to let Robert pick out a set for himself. This is starting to seem superfluous what with Amazon and all. But just down the mall hall from the Lego store is Wasabi sushi go-round. And that's hard to beat. Especially if they make a caterpillar roll just for you (avocado outside a California roll with wispy carrot stick antennae).

(Normally, Robert picks up his food and brings it to his mouth…)
(0) Comments -- permanent link
Edit this (owner only)
Jul 22, 2015
Traditions…
last update: 07/22 @ 22:05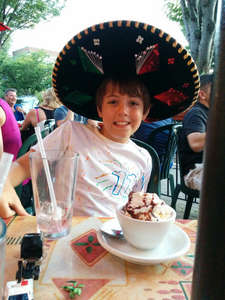 We started the day (as you can see below), in a very Lego kind of way.

Harry and Elle sent the very cool Lego train set. And Robert let us both help build parts of it. I got to build the tanker car and Sarah got to build the livestock car.

Expect a photo or two once we manage to get get it up to Robert's room (where it will take up most of the floor).

I don't know if he's going to take a break or launch into building the Ultra Agents set tomorrow.

And after camp and work, we headed to our traditional Los Tios birthday dinner.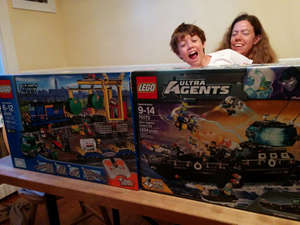 Check out the very cool shirt Sarah made for Robert last night.

(Yes we think he is still allergic to dairy, but it's getting better; we traded the birthday ice cream for sopapillas.)
(0) Comments -- permanent link
Edit this (owner only)
Jul 20, 2015
Festivities Continue
last update: 07/20 @ 20:19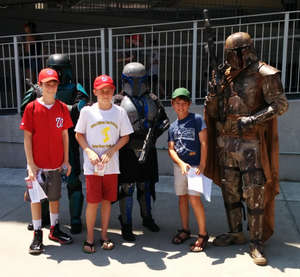 The birthday party season continued with a trip to Nationals Stadium Sunday for (what I think is the first) Star Wars day.

We saw these characters on our way in and snapped a photo or two. (Sarah found out after the fact that there were small fans in the costumes — a good thing as it was the hottest day of the year).

We had Robert's favorite seats: up in the rafters were you can see the whole game. And catch a breeze. And be in the shade.

It was a nice time even if we did loose.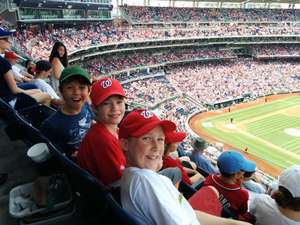 We ended up leaving while it was still resptable (1-0 Dodgers) and stopped off at the water park. By the time we got there, the score was 5-0 and I was too hot to think about getting a photos of the guys in the wading pool.
That's Robert, Travis and Will (we're sorry that Will is heading to a new school next year).
(0) Comments -- permanent link
Edit this (owner only)
Jul 18, 2015
First Pair Birthday
last update: 07/18 @ 16:36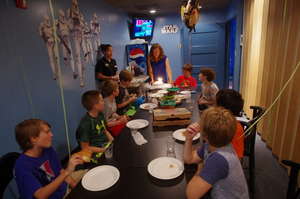 Robert is turning 11 next week. His first birthday with a pair of digits!

We kept with our current strategy of air conditioned indoor parties and headed back to UltraZone for laser tag.

Robert's team won three of three battles!

And somehow it seemed appropriate that during the traditional signing of Happy Birthday…

… a balloon got too close to a light bulb and popped. That got everyone's attention.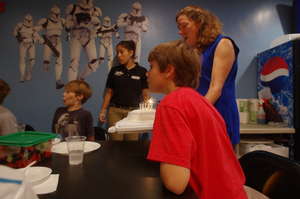 I expect we'll be heading to Los Tios for birthday dinner next week and the requisite sombrero picture.

(I'm not sure how we lucked into the Star Wars room, but that was an extra plus this year.)
(0) Comments -- permanent link
Edit this (owner only)
Jul 15, 2015
Financial Education
last update: 07/15 @ 16:39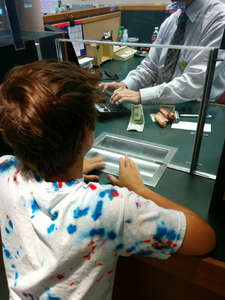 Robert continued his financial education by depositing a jar of change we had hanging around. The most convenient branch of his bank does not have change machine so we had to roll the coins ourselves. It seems like a good, physical connection to how many pennies, nickels, dimes and quarters make up a dollar. He ended up depositing $22.50, not a bad haul.
(0) Comments -- permanent link
Edit this (owner only)
Jul 04, 2015
Back From Assateague
last update: 07/04 @ 21:03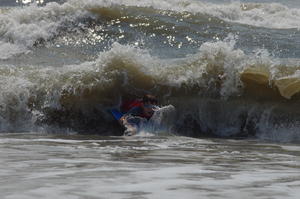 We just got back from what is now our annual trip to Assateague.

Great weather (mostly) and fantastic boogie boarding waves.

We all had a blast.

This year, the blog photos were curated by our almost 11 year old, Robert.

I'm sensing a pattern in the photo selection.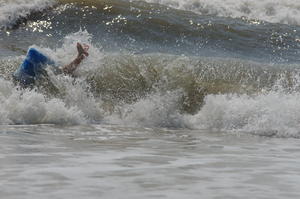 It may be hard to see, but Robert is about to be swallowed up by that wave — he's in the shadows in the photo above.
On the right, is the aftermath.
The photo below is a better run on a different day. Clearly, that's a happy Robert.
More photos in the trips section.
(0) Comments -- permanent link
Edit this (owner only)
---
Add new entry (owner only)
The posts on this page will slowly roll off as new ones are added to the top. The "permanent link&quot links above will take you to one post's permanent address; that should not change or disappear. You can also build up a link to see any month's postings by adding the four digit year, a slash, the two digit month and a trailing slash to the the main www.kayakero.net/news/blosxom URL. Like this:
/news/blosxom/2004/08/. (You can go down to the day level if you like.)
Only the site owners can edit this page (and all attempts to do so are logged); however anyone is welcome to add a comment using the "comments" link below each posting.