---
Other parts of the site:
Search the blog:
Archive:
Pick a Random Month
Full Blog Archive
(This is all the blog posts in cronological order, rebuilt every night so may be up to 24 hours out of date. It's also a big file with lots of graphics; please be patient.)
Aug 29, 2006
Somebody got a hair cut
last update: 08/29 @ 20:22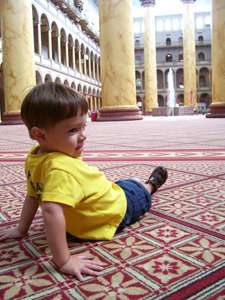 Robert got a haircut yesterday. And today we played in the National Building Museum. It was too hot to spend much time outside (still) but this gave Robert a good chance to run around. There are a couple more photos from the Building Museum in Robert's section.
(0) Comments -- permanent link
Edit this (owner only)
Aug 27, 2006
Train Ride!
last update: 08/27 @ 16:26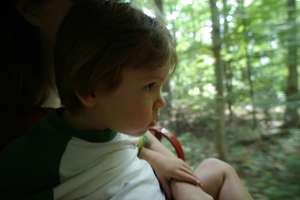 This morning we headed off to Burke Lake Park to ride the mini-train. Robert was completely enthralled the whole time. It's hard to believe he rides a metro train every day… but then, the metro is not open air and doesn't go through the woods and next to water towers and windmills….
(1) Comments -- permanent link
Edit this (owner only)
Aug 26, 2006
Shake Down….
last update: 08/26 @ 15:42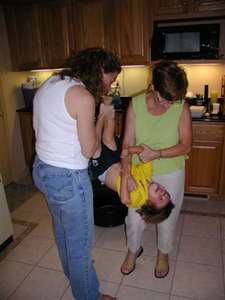 Robert being shaken down for any spare change he might have in his pockets. Tupperware is not cheap and he does like playing with Elle's tupperware when he visits Highland Park. There are a couple more photos of last weeks visit in Robert's section of the web site.
(1) Comments -- permanent link
Edit this (owner only)
Aug 23, 2006
College?
last update: 08/23 @ 20:16

So, Robert didn't eat much dinner but he was keeping us company tonight while Sarah and I finished our dinner. He brought over the Thomas the train catalog and pointed out all the different trains available.
After a few minutes of that I said, "Well, I think we should raid your college fund and buy a couple of each of these trains so we can have the full collection. Who needs college anyway?"
To which Robert replied, clear as a bell, "Robert! Robert need college!"
So I guess his college fund is safe (for now).
(1) Comments -- permanent link
Edit this (owner only)
Aug 06, 2006
What was that???
last update: 08/06 @ 13:34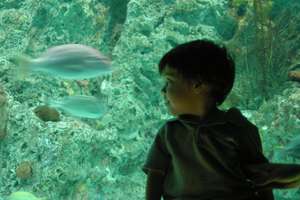 We had a great visit with Steve, Helen and Aaron last week. They decided they really needed to learn to appreciate their home weater, so they visited in the height of our heat wave. That was a perfect excuse to go the National Aquarium in Baltimore. Where certain creatures of the fishy variety were catching Robert's eye.
(1) Comments -- permanent link
Edit this (owner only)
---
Add new entry (owner only)
The posts on this page will slowly roll off as new ones are added to the top. The "permanent link&quot links above will take you to one post's permanent address; that should not change or disappear. You can also build up a link to see any month's postings by adding the four digit year, a slash, the two digit month and a trailing slash to the the main www.kayakero.net/news/blosxom URL. Like this:
/news/blosxom/2004/08/. (You can go down to the day level if you like.)
Only the site owners can edit this page (and all attempts to do so are logged); however anyone is welcome to add a comment using the "comments" link below each posting.