Apr 22, 2018
Opening up the West Virginia Campus
last update: 04/22 @ 17:34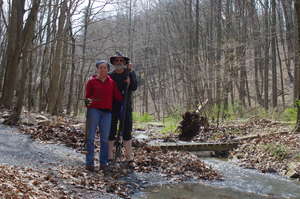 It was a bit chilly at night but beautiful during the day at Robert's school's West Virginia campus.

We were out there over the weekend helping get it ready for the first round of kids coming in the next couple weeks.

Always a good time. And good, non-computer, non-federal procurement work.

This morning, Sarah and I cleared the stream by the ford to keep the water flowing (and discovered that wet leaves are heavier than dry).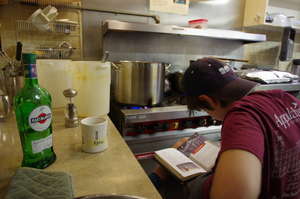 Robert helped with dinner last night — no he was not driven to drink by the pressure.
Maybe most unexpected: Sarah found out that one of the volunteers was at NASA New York not too long after her folks met there.
(0) Comments -- permanent link
Edit this (owner only)
Apr 16, 2018
Tax Day!!!
last update: 04/16 @ 17:29

Officially a day early (courtesy of Emancipation Day), our annual Tax Day Letter is in mail (paper copies) and online.
If you'd like a paper copy let us know and we'll add you to the list. If you get a paper copy in the next couple days and would prefer we stop pestering you, let us know that as well.
-David, Sarah and Robert
(1) Comments -- permanent link
Edit this (owner only)
Apr 15, 2018
Jess Nolan
last update: 04/15 @ 22:04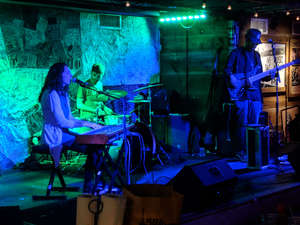 Sarah went to high school with Steve Nolan. His daughter was playing the stage at Hill Country BBQ in DC.

She has several new fans; perhaps none as jazzed as Robert.

He's clearly a big fan of Jess Nolan

Actually, we all are. The show was great.

And Robert insisted we stay for the second set.

If you get the chance, go see her!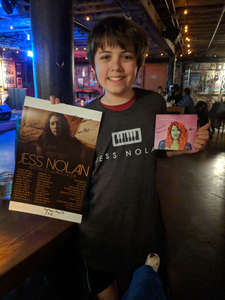 She did several of her own songs and covered Stevie Nicks, Joni Mitchell, and Carol King (Aretha Franklin).
(0) Comments -- permanent link
Edit this (owner only)
Apr 14, 2018
Gallo Pinto
last update: 04/14 @ 12:24

A father son cooking experience (Robert's assignment for Spanish class this week): Gallo Pinto video
And while we were there, a quick tribute to Salsa Lizano: Lizano commercial
(0) Comments -- permanent link
Edit this (owner only)
Apr 10, 2018
Art Festival
last update: 04/10 @ 22:19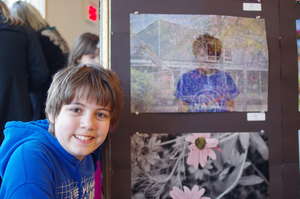 Robert and his photo from the school Arts Festival. It's very cool with the overlays.

This was the first time the festival has been in the new building; it's a lovely space.
(0) Comments -- permanent link
Edit this (owner only)
Apr 08, 2018
Another round of fame?
last update: 04/08 @ 17:56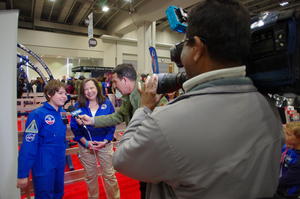 We went in to the Science and Engineering Festival today to check it out and because Robert had volunteered to work the Space Camp booth. We were surprised when MBN happened by and asked if Robert could join in an interview. More photos in our vacations section.
(0) Comments -- permanent link
Edit this (owner only)
Apr 07, 2018
The Subdudes!!!
last update: 04/07 @ 14:09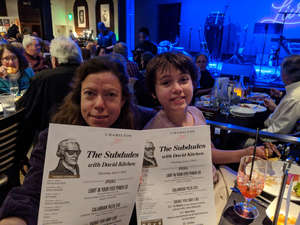 April 4th, 1997 was the fist time Sarah and I went out on a date. (I have her very nice, initial rejection note on my wall.)

To celebrate that anniversary, she got ticket for us to see the Subdudes at the Hamilton (they were playing on the 5th).

Yes it was a school night.

And, yes, the Hamilton is in DC, not as convenient as the Birchmere.

But it was the Subdudes.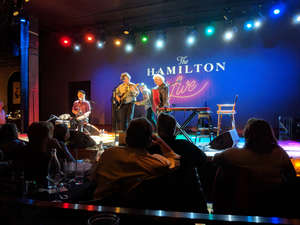 And they were GREAT!

The Hamilton had the volume up pretty high (higher than needed). But that didn't deter from the show.

We clearly had great seats (thank you SZap for both the tickets and the great seats).

And the seats were even greater when they came out into the audience for a few accoustatic numbers at the end of the show. (That is Robert's profile on the left.)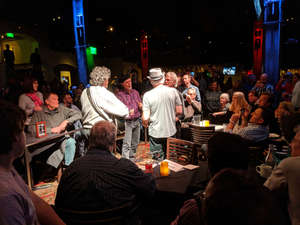 Really a great night!
(0) Comments -- permanent link
Edit this (owner only)
Apr 04, 2018
It's like this…
last update: 04/04 @ 22:45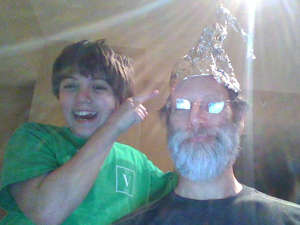 … While we are in our apartment, with the house under construction, there is a lot of going back and forth. And doing that (even though it's close) after a day at work or school can sap the energy for doing much in the apartment's kitchen. A kitchen that is not as nice as our old one nowhere near the same league as our new kitchen.

So we tend to eat out or order in more than we used to. (And more than we will.) This time there was some extra foil that Robert turned into a hat. Sarah posted it to Facebook and then the comments came in.

And then Robert was inspired to up his game.

And Sarah commanded a princess hat.

And Robert wanted to see how it looks on me.

And there you have it.
(0) Comments -- permanent link
Edit this (owner only)
---
Add new entry (owner only)