---
Other parts of the site:
Search the blog:
Archive:
Pick a Random Month
Full Blog Archive
(This is all the blog posts in cronological order, rebuilt every night so may be up to 24 hours out of date. It's also a big file with lots of graphics; please be patient.)
Jul 26, 2010
Birthday Party!!!
last update: 07/26 @ 22:31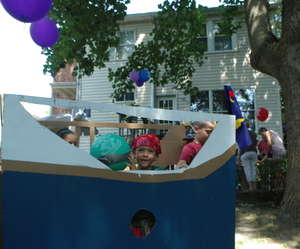 The big six year old pirate party was Sunday. Check out the cool pirate ship we made (and Robert's pirate balloon). More photos in Robert's section.
(0) Comments -- permanent link
Edit this (owner only)
Jul 23, 2010
Birthday!!!
last update: 07/23 @ 21:14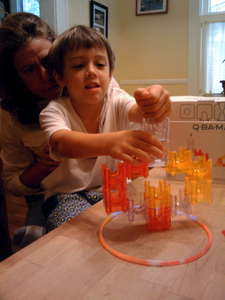 Robert turned 6 yesterday. It was great to have Robin here for the birthday morning and Robin attracted Joanne and inspired us to have an Ethopian birthday dinner. By the time we got home Robert was pretty fried, so today was the first day of playing with any of his cool new stuff. First out for a test run, the marble maze courtesy of Grand Martha. Next was Operation then the Snap Electronic kit courtesy of Harry and Elle.
The big party is Sunday — wish us luck…
(0) Comments -- permanent link
Edit this (owner only)
Jul 18, 2010
The Family Unit
last update: 07/18 @ 23:43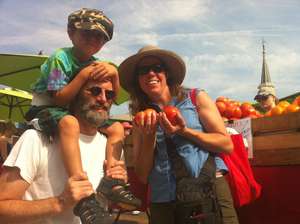 Thanks Amy for a great excuse to hit the Farmer's Market on Saturday.
Hi Nanette, Adam and Taylor!!!!!!!!!
(0) Comments -- permanent link
Edit this (owner only)
Jul 11, 2010
Happy Birthday Alexandria!
last update: 07/11 @ 11:09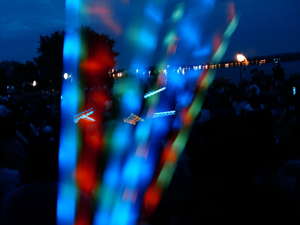 Alexandria celebrated its 261st birthday on Saturday night. Robert and I walked down with a picnic dinner and Sarah joined us a bit later. This is a view of the festivities before the fireworks (music on the stage, kids running around, etc) through a rainbow light saber. Robert will tell you that, "rainbow is my most powerful setting." (There are 7 other options — what would we do without little computer chips…)
Once it was dark enough, the fireworks started with the traditional 1812 Overture — with real howitzers. We were sitting right behind them and had a great view. If you look closely, you'll see two of the firing squads below this burst (this was after the Overture, so they were not so busy) and a new firework shell taking off from the barge between them.

Just because of Alexandria's location, the fireworks would pause for a couple minutes now and again to let a plane land at National Airport. The last pause seemed to be the end so we were halfway back to our car before the last round of fireworks went off.
(0) Comments -- permanent link
Edit this (owner only)
Jul 06, 2010
World Cup Twister at the Beach
last update: 07/06 @ 00:16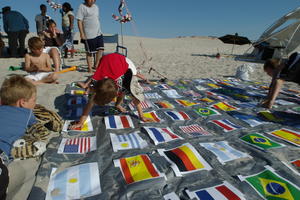 We had a great trip over the Fourth of July weekend to join a group camping on Assateague Island. Part of the festivities was this game of World Cup Twister — more photos in the vacations section.
(0) Comments -- permanent link
Edit this (owner only)
---
Add new entry (owner only)
The posts on this page will slowly roll off as new ones are added to the top. The "permanent link&quot links above will take you to one post's permanent address; that should not change or disappear. You can also build up a link to see any month's postings by adding the four digit year, a slash, the two digit month and a trailing slash to the the main www.kayakero.net/news/blosxom URL. Like this:
/news/blosxom/2004/08/. (You can go down to the day level if you like.)
Only the site owners can edit this page (and all attempts to do so are logged); however anyone is welcome to add a comment using the "comments" link below each posting.