Oct 31, 2012
The Loot
last update: 10/31 @ 21:51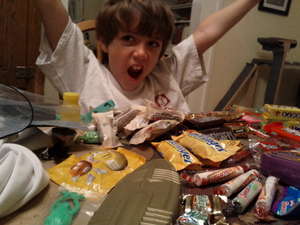 We're back on track now and Halloween was not delayed for Alexandria. Here's Robert's loot from this evening's Trick or Treating.
We had no noticeable damage and with the power out only overnight no real problems at all from the storm. Robert's school did have a tree land on one of the buildings, but gently with minimal damage. Still, school was out one more day to allow unfettered access for a crane to remove the tree. Tomorrow is back to normal.
(0) Comments -- permanent link
Edit this (owner only)
Oct 30, 2012
Light
last update: 10/30 @ 09:45

Twelve hours later, the power is back! Thank you Dominion Virginia Power. We'll have to have a look around later, no obvious damage here, but it's a lot colder (barometer on the rise but still pretty low at 973.
(0) Comments -- permanent link
Edit this (owner only)
Oct 29, 2012
Dark
last update: 10/29 @ 21:46

And the power goes out. I'll see about the generator in the morning…
(0) Comments -- permanent link
Edit this (owner only)
Falling pressure
last update: 10/29 @ 16:57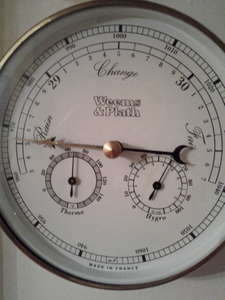 Seems like every time I walk down the hall, the barometer has dropped a bit more. I don't believe it's entirely accurate, but I do have faith in the relative change over the coarse of the day. We're pretty much 180 degrees away from Fine.
Speaking of change we had our first flicker to the power a couple minutes ago.
(0) Comments -- permanent link
Edit this (owner only)
Sandy starts to show up
last update: 10/29 @ 11:32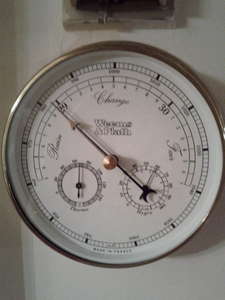 As the barometer drops, Robert and I decided to venture out. It may be a while before we feel like going out again.
The rain was coming down steadily but not in buckets. And the wind was clearly there, but not so much that it really bothered you — though Robert did not like it blowing into his face.
And the gutters were starting to fill up a bit — all the leaves coming down is not helping at all. I expect to see some flooding on Commonwealth Avenue later on.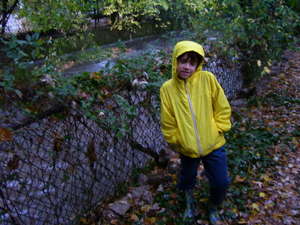 We took a stroll by Hoof's Run to see how it was doing. It's still clearly within its banks.

Hoofs Run is the creek, now mostly underground, that runs behind our backyard. A couple blocks away, it has a channel exposed to the sun so you can peek at it.

Normally it's just a trickle, now it is making progress towards the sides of the channel.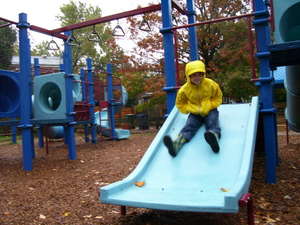 And then we stopped by the Blue Park. For reference: slides, even small ones, can be faster when wet (and you're wearing wet rain pants and jacket). And the corkscrew slide that ends in a large puddle, well… let Robert tell you about it sometime.

PS: Unrelated footnote: Dominion Virginia Power is starting to show outages in Northern Virginia.
(0) Comments -- permanent link
Edit this (owner only)
Pretty Sandy picture…
last update: 10/29 @ 10:17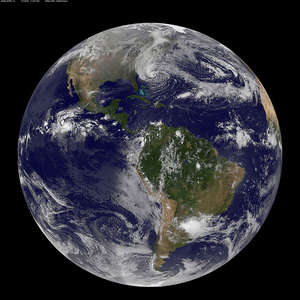 Thank you NASA Goddard. Sandy is the swirly bit between Florida and Canada…
(0) Comments -- permanent link
Edit this (owner only)
Oct 28, 2012
Waiting
last update: 10/28 @ 17:58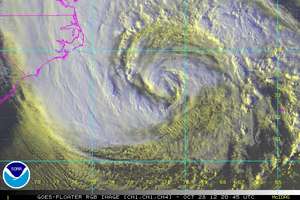 While we wait for Sandy to show up and bring lots of wind and rain chaos — Robert's school is closing; local schools are closing Alexandria government is closing; federal government is closing — we're looking for things to do outside the house. Thinking we may be in the house for a while when Sandy really hits.
The Apothecary Museum had their annual Halloween Mad Science! day today. With the weather and cancellations there were surprising few takers so we had our own tour. Complete with making Mad Science Putty.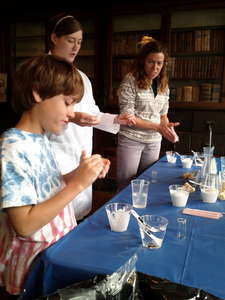 Our friend Lauren hooked us up with the idea. She was also taking pictures while Robert and Sarah joined mad scientist Michelle in their experiments.

Of course we also got a tour, which was very entertaining — I did not realize it was a going operation from 1792 - 1933 (from presidents Washington to Roosevelt).

Robert was most intrigued to learn that a lot of what was medicine then, is known to be poison now. The docent made the point that often the difference between poison and medicine is dosage.
(0) Comments -- permanent link
Edit this (owner only)
Oct 27, 2012
That time of year …
last update: 10/27 @ 20:22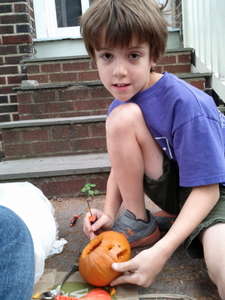 … and this year, Robert is carving one of the pumpkins! This could be an excellent turn of events. Though I'm not ready to seem him wielding the big butcher's knife any time soon. Sarah did our main pumpkin and I took the top of this one for Robert but the rest of the work is all his.
(0) Comments -- permanent link
Edit this (owner only)
Oct 26, 2012
Cox Farms
last update: 10/26 @ 23:04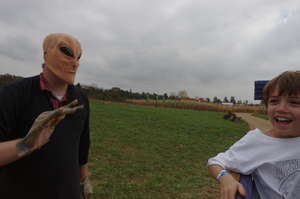 It's hard to explain…
We took Robert and Will and met up with other friends at Cox Farms because school was out for them today (some big conference on campus).
And part of the Cox Farms experience is the hay ride.
And part of the hay ride is the alien spaceship…
And, of course, there are aliens in the spaceship.
And there are silly mirrors in the corn maze.
Along with forks in the road — I should have taken a picture.
And monster houses.
Scary jungles.
Spinny rooms.
And really, all sorts of craziness in the corn maze.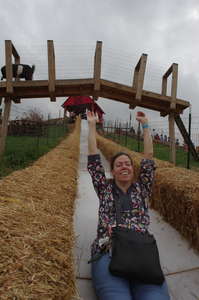 And slides.
There are lots of slides.
And the slides are not just for the kids.

We all had a great time; now we're starting to batten down the hatches for hurricane Sandy.
(0) Comments -- permanent link
Edit this (owner only)
Oct 18, 2012
Geek Post: Updating Ubuntu
last update: 10/18 @ 15:22

I'm out of town but have some time and a nice cable Internet connection so I decided to upgrade my laptop to Ubuntu 12.04. Upgrading Robert's PC (Sarah's old PC), did not go super smoothly and I ended up doing a clean install so I brought along a USB drive to back up to before starting. As an aside, Robert's PC has had since we got it from Dell a weird intermittent lock up issue. It must be hardware as it's been consistent from Windows to Fedora to Ubuntu.
At any rate, the download went swimmingly (thanks to the speedy cable connection), the upgrade took a while (and needed more of my attention than I expected to accept or reject a couple changes). On reboot there was a problem: no wireless network.
Fortunately, I had a CAT 5 cable (I've had wireless issues before here, but the new router has resolved all of those). Plugging in that wire and doing some Google searching, I was on the right path with uninstalling and reinstalling the Broadcom drivers (bcmwl-kernel-source). However, there was a hitch: every time I tried to remove, install or update software, I got the weird error about "pdvdlinux" — an error I'd seen and glossed over in the upgrade.
Back to Google and several bum leads until I ran into this: post, complete with good,simple instructions on hacking the software database to clean up the issue.
Thank you NerdyKid for the post; thank you Ubuntu for the forum to support the post; and thank you Google for pointing me to the post.
Wireless is back working and now I have to get used to the new user interface for 12.04.
Actually, one annoyance: the resolver doesn't seem to be getting set correctly: /etc/resolv.conf keeps using 127.0.0.1 for its nameserver rather than what it gets from the WiFi hotspot. It turns out that is intentional as bind is running; I just ran into DNS issues on that otherwise fabulous cable network. Back home, in it's normal environment and all is well — I'm not sure how well it would be on more restrictive networks…
(In case anyone is more interested: it seems that pdvdlinux was included by Dell when I bought my Inspiron laptop years ago and now the company behind it has dropped Linux support (and may have gone out of business). At any rate, it seems to be a somewhat known issue with Dell / Linux machines.)
(1) Comments -- permanent link
Edit this (owner only)
Oct 14, 2012
Pumpkin Hunting
last update: 10/14 @ 16:11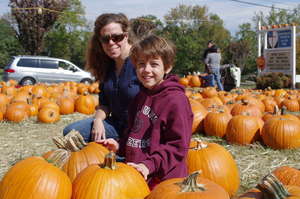 Today was the day for pumpkin hunting. It warmed back up — it was a bit chilly yesterday and the sky was a beautiful blue. Robert homed in on this bunch. We took home one large, 2 smalls and 3 small gourds — so everyone in the family is represented (3 humans, 3 kitties).
(0) Comments -- permanent link
Edit this (owner only)
Oct 13, 2012
Fall Fair
last update: 10/13 @ 23:30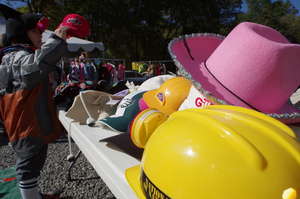 The was the big Fall Fair at Robert's school. Sarah was working the Kids Closet and picked up a cool shark hat for Robert, but he still took advantage of helping out to see what other hats might fit his wardrobe…
(0) Comments -- permanent link
Edit this (owner only)
Oct 03, 2012
Damp Field Trip
last update: 10/03 @ 17:48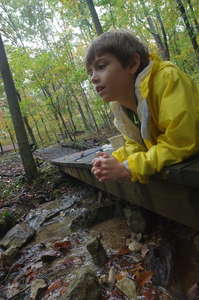 Robert and I just came back from another field trip to the West Virginia campus. This trip was particularly rainy — it was a perfect trip to have remembered rain pants. Maybe next time, I'll actually wear mine. Robert did wear his and was only a little damp despite all the creek crossing.
The kids did a salamander census and their results will be added to the last 10 years or so to track how the population is doing.
They also took a trip on the Magic School Bus, or so it seemed, to go fossil hunting. The bus was boarded by Neanderthals and almost attacked by a T-Rex on its way to the fossil hunting grounds. I was following close enough to the bus to hear the screams when the Neanderthals jumped out of the woods and into the bus.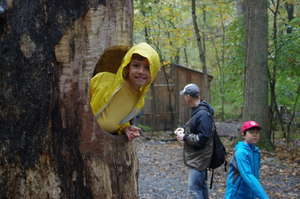 There were a few cool finds but Robert was not one of the lucky kids to find a trilobite.

Sarah was not happy to hear there is no spring trip this year, but they are doing a couple long day trips to the Chesapeake Bay — and we will likely volunteer to close and open the campus for a couple more, not so educational, trips.
(0) Comments -- permanent link
Edit this (owner only)
---
Add new entry (owner only)