Jan 26, 2014
Ice
last update: 01/26 @ 17:16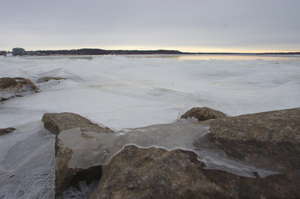 After our sledding run, we headed over to Jones Point to check out the frozen Potomac. It was, as expected, frozen. And more windy close to the water.
It as also impressive how quickly the cloud bank rolled in; we had blue sky for sledding. We threw lots of rocks onto and sometimes through the ice.
No one fell in, which is good, and Robert managed to collect a good set of different samples of ice.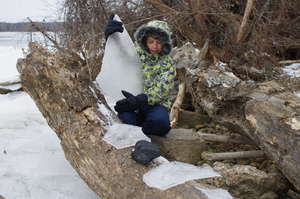 He did not, however, can get to bring the ice home.
(0) Comments -- permanent link
Edit this (owner only)
Sledding
last update: 01/26 @ 17:04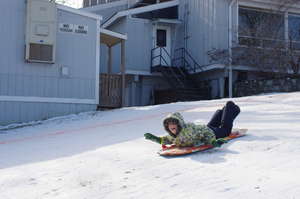 We went back to our favorite hill at Robert's school and my favorite juxtaposition — sledding down the hill in front of the "No Sledding" sign.
It was cold but not too windy and surprisingly, we had the hill all to ourselves. The snow has been well packed by all the kids sledding — that's standard P.E. for the school — and really fast.
Lots of fun was had by all.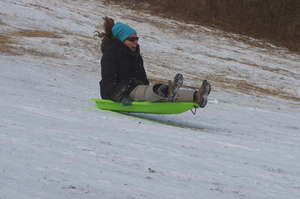 Sarah got good air on this run. I missed getting pictures of Robert's big air run and wipe out this time; I got a good shot last month, but the snow was much better today.

(0) Comments -- permanent link
Edit this (owner only)
Jan 20, 2014
Snow Tubing…
last update: 01/20 @ 21:59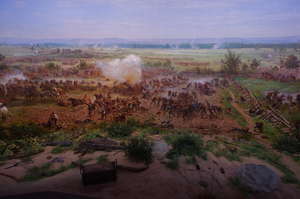 … it seemes so promising: the weather was pretty warm, we had an extra day in the weekend, the live video cam at Liberty did not make the tubing hill look bombed out at all.
Alas, when we got there, they were sold out until 6pm — later than we wanted to stay. We looked at the lines for skiing and decided to punt and head to Gettysburg; just a couple miles away.
It was great, no crowds, very interesting museum, with a History Channel produced video presentation and the cyclorama (seen here). We had time for a little bit of the battlefield auto tour before it was too dark to see. I expect we'll be back on a trip planned for Gettysburg for the day.
(0) Comments -- permanent link
Edit this (owner only)
Jan 07, 2014
Dropped Two Digits…
last update: 01/07 @ 23:21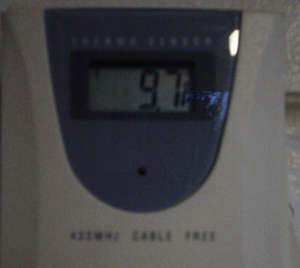 … from the height of the Derecho storm in 2012 (when it was 104.7 degrees) to the Polar Vortex this year (when it was 9.7 degrees this morning).
As I often say, "I'd rather have the cold because I can always add layers." Especially as we have not lost power in this winter storm (yet). 104.7 and no A/C was rough.
(0) Comments -- permanent link
Edit this (owner only)
Jan 04, 2014
More Sledding
last update: 01/04 @ 22:14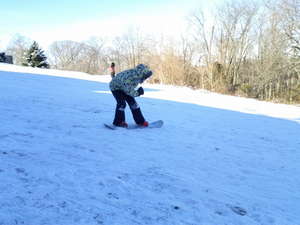 While Sarah and Robert got to go sledding yesterday when the snow was fresh, it's been plenty cold and no melting (not much anyway) so there was lots of snow for Robert and I today. (Maybe not lots by New England standards.)
We ran into a friend who managed to find this snowboard left at a park. And Robert got to try it out. He did pretty well actually.
A couple good wipeouts, but after he got some speed and distance as well.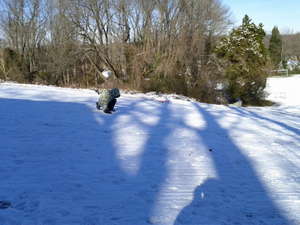 If you look closely in the large version of this, you can see the snow board bindings on the snow board as it goes across and down the hill after Robert lost control. But you have to look closely or you'll think he's still on the board…
(0) Comments -- permanent link
Edit this (owner only)
Jan 03, 2014
Snowy Dinner in Baltimore
last update: 01/03 @ 12:16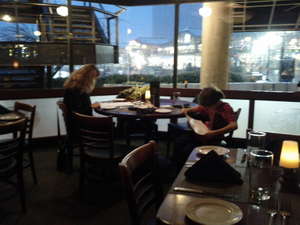 we headed up to Baltimore to check out the Mummies at the Science Museum. We didn't really expect to come out to a snowstorm — earlier predictions had it going further north. Since we had mostly skipped lunch, and some of us were very hungry, we headed to the M&S just down the sidewalk from the museum for an early dinner. Between being early and the weather, we had our pick of the place and chose this table with a great view of the snow coming down.
The trip back was slow but not terrible, roads were mostly OK and the traffic kept moving — though not fast.
(0) Comments -- permanent link
Edit this (owner only)
---
Add new entry (owner only)