Oct 26, 2008
Dubious
last update: 10/26 @ 20:51

Robert:(singing) Doo bee doo bee doo whaaaah.
Mommy: Nice.
Robert: That's my dubious song.
(1) Comments -- permanent link
Edit this (owner only)
Curly fry rings?
last update: 10/26 @ 20:49

Robert: (counting loops on a curly fry): 1, 2, 3, 4, this fry is 4 years old. This other one is only 1.
Mommy: What?
Robert: This fry is only one.
Mommy: I guess, that works on trees - but isn't that kinda old for a fry?
Robert: No. Now it's et.
(0) Comments -- permanent link
Edit this (owner only)
Oct 19, 2008
Halloween Preparations
last update: 10/19 @ 14:51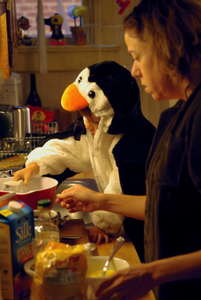 We're starting to get a feel for what Robert will be for Halloween this year (as this photo of Robert helping Sarah make pancakes this morning shows). We've talked about Lighting McQueen and a robot (and a Lighting McQueen robot), but we found this penguin costume at the Burgundy Farm Fall Festival yesterday. Robert is very happy to dress up as Tux (the Linux penguin). If you scroll down a ways in this page from Linux Journal (or search for Robert in the page), you'll see he has a long standing affinity with Linux.
(0) Comments -- permanent link
Edit this (owner only)
Oct 13, 2008
Cox Farms
last update: 10/13 @ 17:31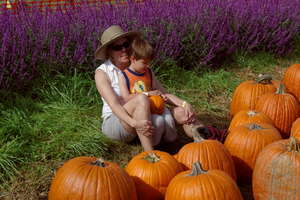 We took advantage of an extra day this weekend to head over to Cox Farms for the slides and pumpkins (well, really for the slides). There are a couple more photos (of slides) in Robert's section.
(1) Comments -- permanent link
Edit this (owner only)
Oct 12, 2008
Happy Birthday!
last update: 10/12 @ 22:26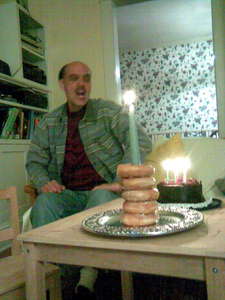 Loren was in town so he and Hank and Sally came by for dinner. We didn't realize that Sally was using the occasion for an impromptu pre-birthday party for Hank. He was properly surprised and we all enjoyed the cake and doughnuts. (Robert was already asleep by then, which is just as well since we know he still has his dairy allergy and we know there is milk in the glaze.)
(0) Comments -- permanent link
Edit this (owner only)
Upstream
last update: 10/12 @ 22:19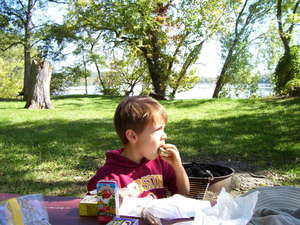 This time we headed up the river from Violette's Lock and found Riley's lock with a bridge (and partial aqueduct) over I believe Seneca Creek. We found a nice picnic table at the creek for our lunch and I talked Robert into trying to make a cheese, cracker, cheese, cracker, cheese sandwich on pretzels — which he did. Then we paddled down and enjoyed the riffles and rocks and playing Pooh sticks.
(0) Comments -- permanent link
Edit this (owner only)
Oct 11, 2008
End of an Era
last update: 10/11 @ 16:24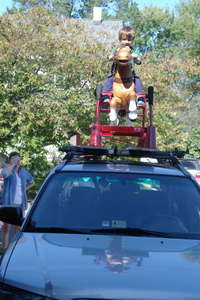 Robert has decided he prefers trains and racetracks and cars and trucks rather than riding his horse — he has grown a bit since February 2006. So, we loaded "Old Joe" on top of the car (we don't have a horse trailer), took one last ride (oh, we should have thought of the last ride before loading on top of the car…) and dropped "old Joe" off for auction at Robert's new school. (I like Sarah's expression.)
(2) Comments -- permanent link
Edit this (owner only)
Oct 05, 2008
Violette's Lock
last update: 10/05 @ 16:35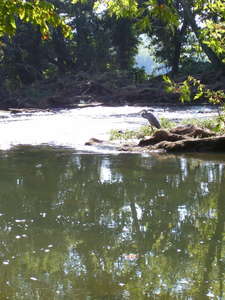 We headed back to Violette's Lock on the Potomac today. The weather was great and this time we gave Ken a call to see what he was up to. Since we gave him no warning, we got there a few minutes before Ken and Wyatt so I had a chance to sneak up (sort of) on this Heron while Robert and Sarah were "working" on the dirt pile.
Then we got into the boats and paddled down through a couple little rapids before a snack break (and chance to throw rocks and sticks into the water). Robert and Wyatt seemed to both have a good time (and Sarah, Ken and I clearly did).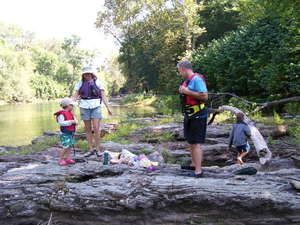 Wyatt decided to take a page from Robert's Book and ride on his dad's kayak — for a little while. The water was a bit cold when he fell in.
After we got back to the cars, Robert went back to work on his dirt pile while Wyatt, looked for the keys to the bulldozer. I know Robert likes being on the river in the canoe, but he also knows which stretch of river has which dirt or gravel pile he can work on as the boating stuff get set up or put away.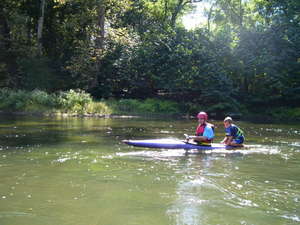 (0) Comments -- permanent link
Edit this (owner only)
Oct 02, 2008
Intrepid
last update: 10/02 @ 21:25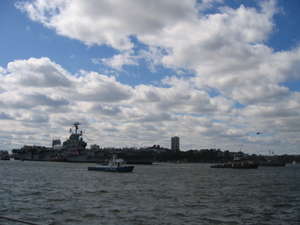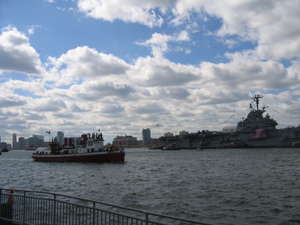 "How cool is THAT!?" I said, interrupting my table mates at a business lunch on the Chelsea Piers in NYC. Looked up and happened to see the aircraft carrier museum churn by up the river with full escorts and honors to retake its place at the seaport museum.
http:cityroom.blogs.nytimes.com/2008/10/02/the-return-of-the-intrepid/index.html
(0) Comments -- permanent link
Edit this (owner only)
---
Add new entry (owner only)