---
Other parts of the site:
Search the blog:
Archive:
Pick a Random Month
Full Blog Archive
(This is all the blog posts in cronological order, rebuilt every night so may be up to 24 hours out of date. It's also a big file with lots of graphics; please be patient.)
May 31, 2010
Memorial Day Recovery
last update: 05/31 @ 12:15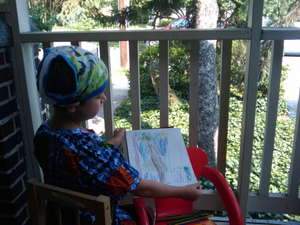 We're all getting over junky chests or sore throats. Robert has been off steriods for a few days now and is doing much better. I've pretty much lost my voice but my throat is not as raw as it was yesterday and Sarah seems to be in between Robert and me. So it was a great day for him to sit on the porch and sketch the scene.
(0) Comments -- permanent link
Edit this (owner only)
May 15, 2010
More T-Ball
last update: 05/15 @ 22:25

Robert had another t-ball game today. The weather could not have been better. Everyone had a great time. Many more photos of Robert (in the all black shorts) and his teammates.
(0) Comments -- permanent link
Edit this (owner only)
May 10, 2010
Quick New York Trip
last update: 05/10 @ 22:40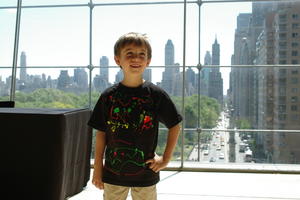 We took a quick trip up to New York for Mother's Day to see Harry and Elle, penguins and Ian Z. playing at Lincoln Center. It was a fun trip all around and there are a few more photos in Robert's section.
(0) Comments -- permanent link
Edit this (owner only)
May 05, 2010
Play Ball!!!
last update: 05/05 @ 21:12

It's T-ball season and Robert had a game tonight. I put up a bunch of photos to share with this teammates — they are the transfer section of the site (use your back button to get back here). Maybe I'll collect the best Robert action photos later in the season…
(0) Comments -- permanent link
Edit this (owner only)
May 02, 2010
Monster Scooter
last update: 05/02 @ 11:57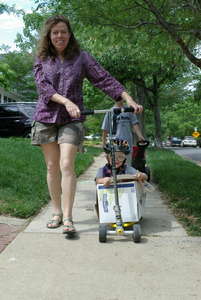 Robert scratched his eye just a bit yesterday. So we took him in to have it looked at. Dr. Fissel said it wasn't bad but he should take it easy for a day or so. No T-ball game; instead Robert got to watch a History Channel show on monster trucks.
And today? Well…
He's driving his monster truck (with a little help). Note the accuracy in the placement of the motor — behind the driver, just like in the real trucks. And just like in the real trucks, his steering wheel sometimes gomes off.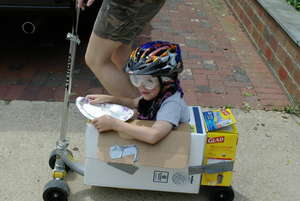 (0) Comments -- permanent link
Edit this (owner only)
---
Add new entry (owner only)
The posts on this page will slowly roll off as new ones are added to the top. The "permanent link&quot links above will take you to one post's permanent address; that should not change or disappear. You can also build up a link to see any month's postings by adding the four digit year, a slash, the two digit month and a trailing slash to the the main www.kayakero.net/news/blosxom URL. Like this:
/news/blosxom/2004/08/. (You can go down to the day level if you like.)
Only the site owners can edit this page (and all attempts to do so are logged); however anyone is welcome to add a comment using the "comments" link below each posting.