Sep 30, 2007
Back from the beach…
last update: 09/30 @ 15:34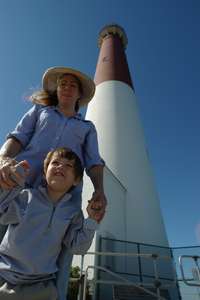 We had a great trip to the Jersey shore to visit with Sarah's family and enjoy the sea, sand and sun. This is from our trip back yesterday: we stopped off at Barnegat Lighthouse on our way south. A few more photos in Robert's section.
(0) Comments -- permanent link
Edit this (owner only)
Sep 25, 2007
Sarah's class night…
last update: 09/25 @ 23:18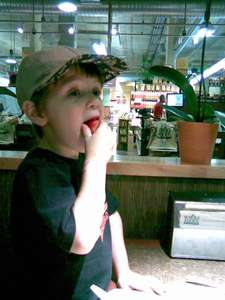 So Robert and I treated ourselves to dinner out. Whole Foods has a nice hot and cold buffet bar. So we had a good dinner there and Robert had the added bonus of being able to see the construction crew setting up for night paving outside the window.
We had some fried rice, beef, broccoli (OK,he had the broccoli) and General Tso's Chicken as our main course. We cleansed our palates with fruit and finished with a nice cookie.
That was followed by a short visit to the fountain between Whole Foods and home. It's looking pretty spiff after all the work they did over the summer. The cool lighting doesn't hurt either.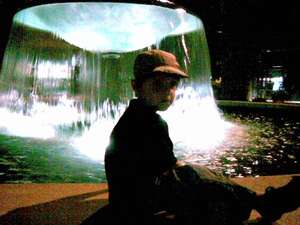 And the full moon was a nice finishing touch for the evening. After a long day at day care, he was out almost before we finished our very short story.
(0) Comments -- permanent link
Edit this (owner only)
Sep 20, 2007
Cutie
last update: 09/20 @ 14:15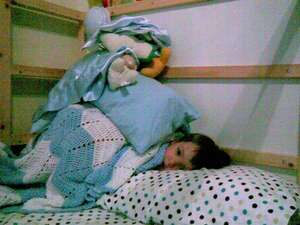 For our trip to NC last weekend, Robert got a set of construction vehicles to play with on the trip. After all that construction-themed fun, he insisted on being buried in "rocks" after his nap on Tuesday.
(0) Comments -- permanent link
Edit this (owner only)
Quick trip to Seven Devils
last update: 09/20 @ 12:32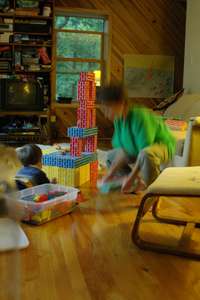 We took a three day weekend and headed down to Seven Devils, Boone and Deep Gap. There was about as much tower-building and other fun as you can pack into 72 hours (if you allow 15 hours for driving). This is Aaron in mid-jump during one of the tower construction phases (there were just as many destruction phases). I've added more photos to Robert's September page.
(0) Comments -- permanent link
Edit this (owner only)
Sep 11, 2007
September 11
last update: 09/11 @ 21:26

Sarah was not able to make her usual walk recreating our walk home on 9/11/01. She started a new class at JHU tonight; interestingly, she was to have started her program 6 year ago, but classes were canceled that day.
I thought about Robert and I making an abbreviated version of the walk on our way home this evening. But I know the first question he would ask is "Why" and I just don't want to go there with a 3 year old if I don't have to.
He was too young to remember much of Max (our other cat who died not long after Robert was born), so we've not had to talk about death with him yet. And I really think 3 is too young so I'm happy to put it off for a while. We'll see how the coming year goes. I hope that we can avoid that subject for another year.
(0) Comments -- permanent link
Edit this (owner only)
Gym Class
last update: 09/11 @ 14:29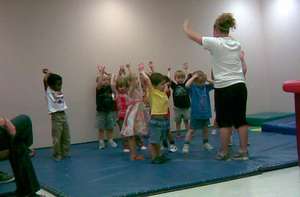 I took advantage of a chance to observe Robert's gymnastics class today. They start with these stretches and then do some tumbling. I've added a few more photos to the September page in his section (along with a photo of Robert's introduction to computer games)
(0) Comments -- permanent link
Edit this (owner only)
Sep 03, 2007
Ah……. a beautiful day….
last update: 09/03 @ 20:30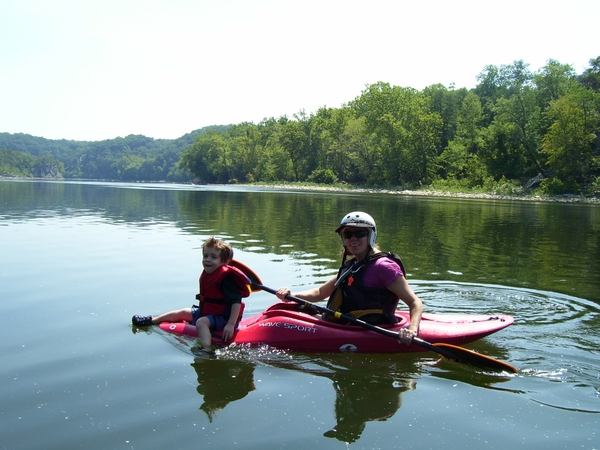 It was a great Labor Day, warm (well, hot, really, but not on the river) with blue sky. We trundled off to river. There are a few more photos in Robert's section
(2) Comments -- permanent link
Edit this (owner only)
Sep 01, 2007
Could anything be better?
last update: 09/01 @ 20:48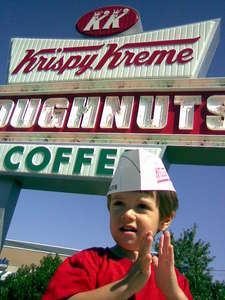 Better for you perhaps, but better tasting than an original glazed coming hot out of the cooker? I don't think so…
(1) Comments -- permanent link
Edit this (owner only)
---
Add new entry (owner only)