---
Other parts of the site:
Search the blog:
Archive:
Pick a Random Month
Full Blog Archive
(This is all the blog posts in cronological order, rebuilt every night so may be up to 24 hours out of date. It's also a big file with lots of graphics; please be patient.)
Nov 27, 2005
Thanksgiving in New Jersey
last update: 11/27 @ 13:24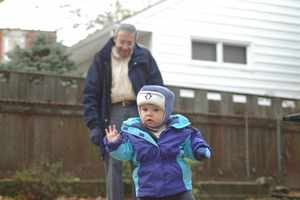 We had lots of fun on our Thanksgiving trip to Highland Park. In addition to a fabulous meal, Robert enjoyed a visit to Johnson Park (to share leftovers with the roosters and goats) and playing in the back yard (even if it was chilly…)
More photos (in case you need a Robert fix) in his (rapidly growing) section of the web site.
(2) Comments -- permanent link
Edit this (owner only)
Nov 09, 2005
A more open box..
last update: 11/09 @ 19:30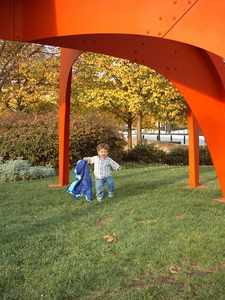 Robert enjoying the National Gallery of Art's sculpture garden. Here he is inside Calder's Cheval Rouge.
(0) Comments -- permanent link
Edit this (owner only)
What's more fun than a box?
last update: 11/09 @ 12:54

What could possibly be more fun than a cardboard box? A box you can see through, with a door, and a friend to share it with. Robert and his new buddy Evan play -of their own volition- with a large cage. A good time was had by all.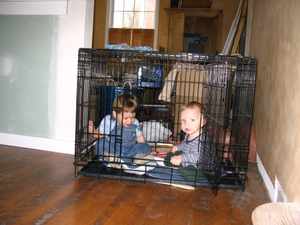 (1) Comments -- permanent link
Edit this (owner only)
To continue the theme
last update: 11/09 @ 11:09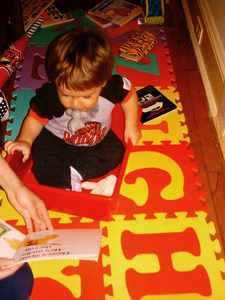 Here's Robert after he decided one of his toy boxes would make a good kayak and that reading in a kayak would be fun. (Uncle Hank did us the great service of watching Robert while Sarah and I got to paddle a bit on the Potomac last Saturday. Robert seemed really intrigued with the boats and hopped in one at the put in — but we didn't have a camera. And he seemed intrigued to see his parents come paddling up to him at the take out. That evening, he took one of his toy boxes off the shelf to turn it into a kayak — at least that's what his parents think. And he just likes to read.)
(1) Comments -- permanent link
Edit this (owner only)
---
Add new entry (owner only)
The posts on this page will slowly roll off as new ones are added to the top. The "permanent link&quot links above will take you to one post's permanent address; that should not change or disappear. You can also build up a link to see any month's postings by adding the four digit year, a slash, the two digit month and a trailing slash to the the main www.kayakero.net/news/blosxom URL. Like this:
/news/blosxom/2004/08/. (You can go down to the day level if you like.)
Only the site owners can edit this page (and all attempts to do so are logged); however anyone is welcome to add a comment using the "comments" link below each posting.