---
Other parts of the site:
Search the blog:
Archive:
Pick a Random Month
Full Blog Archive
(This is all the blog posts in cronological order, rebuilt every night so may be up to 24 hours out of date. It's also a big file with lots of graphics; please be patient.)
Jan 19, 2015
The Met
last update: 01/19 @ 21:25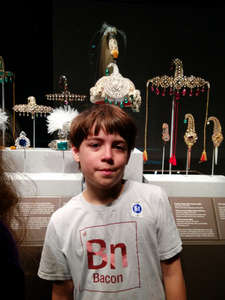 We just got back from a trip up to NJ to visit with Harry and Elle. On Sunday, we took Robert to the Met. We went to see the Arms and Armor. But they also have some Mayan artifacts and Robert's class is about to take a deep dive into Mayan culture.
And Sarah enjoyed Death Becomes Her: A Century of Mourning Attire. I thought it rather dark.
Anyway, we stopped by the Jewels of India and I got Robert to pose with this splendid crown.
(0) Comments -- permanent link
Edit this (owner only)
Jan 07, 2015
Frist Snow, second sledding
last update: 01/07 @ 16:38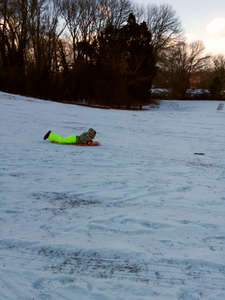 Sarah got to take the day off yesterday while Robert's school was closed due to snow. She and he went sledding at Castle Roberto (the Masonic Temple). Today, I had the day off to shuttle us to and from Dr. Hank's office and so I got to do some sledding at school when I picked him up!
The only reason I can think that we were the only ones out: it was 23 degrees and blustery…
(0) Comments -- permanent link
Edit this (owner only)
Sentry
last update: 01/07 @ 13:56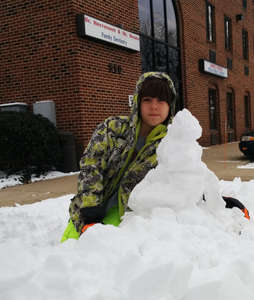 It's so cold the snow doesn't pack very well, but Robert did his best to leave a guard outside Uncle-Doctor Hank's office after we had our teeth cleaned today.
(0) Comments -- permanent link
Edit this (owner only)
Jan 06, 2015
Back to the office
last update: 01/06 @ 21:33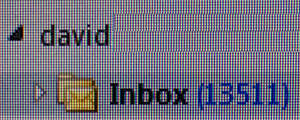 And greeted by ~13,000 unread emails. By the end of the day, I'd gotten it down to just over 10,000. I'm shooting to be under 5 digits by the end of the week…
(1) Comments -- permanent link
Edit this (owner only)
---
Add new entry (owner only)
The posts on this page will slowly roll off as new ones are added to the top. The "permanent link&quot links above will take you to one post's permanent address; that should not change or disappear. You can also build up a link to see any month's postings by adding the four digit year, a slash, the two digit month and a trailing slash to the the main www.kayakero.net/news/blosxom URL. Like this:
/news/blosxom/2004/08/. (You can go down to the day level if you like.)
Only the site owners can edit this page (and all attempts to do so are logged); however anyone is welcome to add a comment using the "comments" link below each posting.