---
Other parts of the site:
Search the blog:
Archive:
Pick a Random Month
Full Blog Archive
(This is all the blog posts in cronological order, rebuilt every night so may be up to 24 hours out of date. It's also a big file with lots of graphics; please be patient.)
Apr 27, 2014
Meeting an idol
last update: 04/27 @ 20:37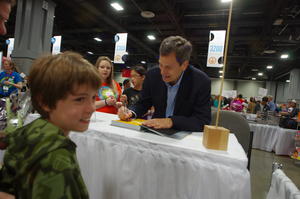 Robert meets David Pogue at a book signing during the USA Science and Engineering Fesitival. More photos (boats, lasers, Konnex, welding and more) in Robert's section.
(0) Comments -- permanent link
Edit this (owner only)
Apr 20, 2014
Carnage
last update: 04/20 @ 09:51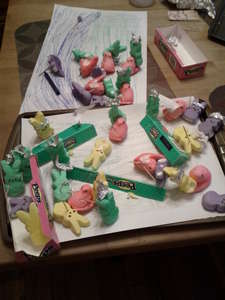 It's like this….
Sarah made a Peepscape of a medieval times jousting tournament. Robert was building a Viking army out of peeps.
And then… They clashed.
The Vikings were victorious, though at great cost; killing the purple king and queen and the yellow king. Many valiant Vikings gave their lives in battle.
The yellow queen was captured after one of the Viking ships, rowing so hard and fast, jumped over her head and landed on the field of jousting (think James Bond's jet boat).
I'm afraid to say that some peeps were harmed in the making of this adventure.
(0) Comments -- permanent link
Edit this (owner only)
Apr 19, 2014
Easter
last update: 04/19 @ 18:39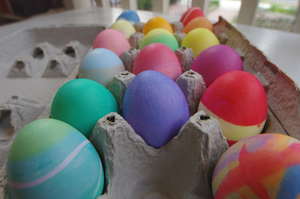 It's taken a while for the weather to catch up to the season.
While it was toasty warm when we were in West Virginia, the temperatures took a nose dive with a new record low two nights ago.
Today was sunny and nicely warm — not hot but plenty warm for barefeet and short sleeves.
So perfect for spring that we took the eggs out to the front porch to dye them.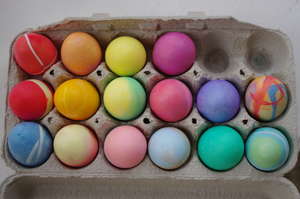 Now that they're dry, we're hoping the Easter Bunny will come and hide them around the house tonight.

It should be another beautiful day tomorrow as well.

We'll just have to see what the day will bring…

…I expect it's possible there could be candy involved.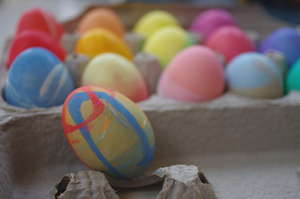 Yes, sadly, we did lose two eggs in the boiling; yum :)
(1) Comments -- permanent link
Edit this (owner only)
Apr 14, 2014
50 minutes early…
last update: 04/14 @ 23:11

Taxday will be here sooner than you know. Our Taxday letter will be in tomorrow's mail. You can also read it on-line — if you want to print your own copy, try the PDF version. And if you'd like a paper copy in the mail and don't get one, please let us know and we'll gladly add you to the snail mail list.
For those who want to look futher back than last year, the archive is also available (this is the 19th Taxday letter).
(0) Comments -- permanent link
Edit this (owner only)
Apr 13, 2014
High Tea
last update: 04/13 @ 20:52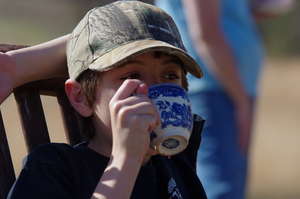 We made a quick trip to open up the West Virginia campus this weekend. Part of the reward for the hard work is high tea on the croquet field overlooking the pond. A first for Robert, he decided it was hot enough he wanted into the pond. He didn't stay in long and came out shivering — but it was 85 in sun so he warmed up quickly.
(0) Comments -- permanent link
Edit this (owner only)
---
Add new entry (owner only)
The posts on this page will slowly roll off as new ones are added to the top. The "permanent link&quot links above will take you to one post's permanent address; that should not change or disappear. You can also build up a link to see any month's postings by adding the four digit year, a slash, the two digit month and a trailing slash to the the main www.kayakero.net/news/blosxom URL. Like this:
/news/blosxom/2004/08/. (You can go down to the day level if you like.)
Only the site owners can edit this page (and all attempts to do so are logged); however anyone is welcome to add a comment using the "comments" link below each posting.