Apr 26, 2009
Shepherdstown
last update: 04/26 @ 21:42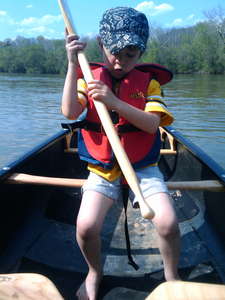 While Sarah is off cheering on Ian, Robert and I took the canoe and headed west — not as far as Lake Tahoe though. We went to check out a C&O canal campground at Antietam Creek as a possible spot for a canoe camping trip.
(2) Comments -- permanent link
Edit this (owner only)
Antietam Creek
last update: 04/26 @ 21:42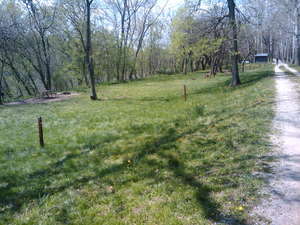 At the Antietam Creek campground on the C & O canal, there are about 10 - 12 sites in a line between the canal towpath and the Potomac river. One of the folks staying at site number 6 says there's water there — I didn't confirm, but it only makes sense. Several of the spots have trails to the river — the canal is dry there (unless it's been raining). Seems like it could be a nice, easy place for a canoe / camping trip only about 2 hours from home.
(0) Comments -- permanent link
Edit this (owner only)
Lake Tahoe
last update: 04/26 @ 21:30

Lake Tahoe and the foot that will soon be hoofing it back east as fast as she can to catch up on hugs.
(3) Comments -- permanent link
Edit this (owner only)
Apr 25, 2009
Farmer's Market
last update: 04/25 @ 11:47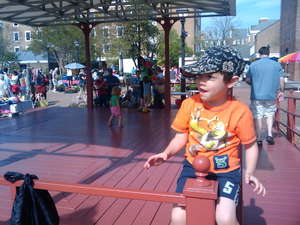 The weather is fantastic for a walk to the farmer's market. But it sounds like it going to get hot this afternoon.
Sarah is cheering Ian on at a Jazz competition in Reno this weekend. It's a lot cooler there so she gets a bit more spring.
(0) Comments -- permanent link
Edit this (owner only)
Apr 19, 2009
Ah…..
last update: 04/19 @ 15:25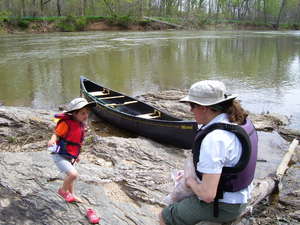 We took advantage of the nice weather before the expected rains this afternoon to put the canoe in the river for the first time this spring. The weather was just about perfect — too cool to want to get wet, but plenty warm for shorts and t-shirts.
(1) Comments -- permanent link
Edit this (owner only)
Apr 17, 2009
Easter Egg Hunt
last update: 04/17 @ 22:09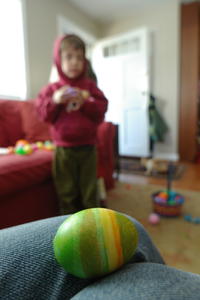 We all had lots of fun at Caroline's house for Easter this year. The kids had a great hunt and I continued to play with Sarah's gift to me: the nifty Pentax 35mm lens. I think this photo warrants a link to Wikipedia's explanation of Bokeh. There are, of course, a few more photos in Robert's section.
(0) Comments -- permanent link
Edit this (owner only)
Spring has sprung
last update: 04/17 @ 21:13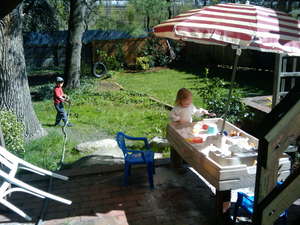 Robert was watering the grass he planted while sharing his sand table with our neighbor on a lovely spring afternoon today. Tomorrow promises more of the same weather.
(0) Comments -- permanent link
Edit this (owner only)
Apr 16, 2009
Taxday plus one
last update: 04/16 @ 22:02

We put the taxday letter in the mail yesterday. And now there's a version on the web site. The PDF version is huge because I embedded the full size photos in the original file; the HTML version seems fine to me, but the PDF should print to match the paper copy, if you're interested.
(0) Comments -- permanent link
Edit this (owner only)
Apr 05, 2009
Tower Building
last update: 04/05 @ 10:47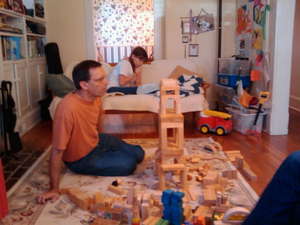 Further proof that tower building runs in Robert's blood.
The Atlanta crew, Loren, Susan and Sally stopped by on their way up the northeast seaboard on Sally's college tour. Unfortunately for us, they mostly stopped off for a quick visit to and pick up a borrowed car before heading off. But we still got some nice time together.
While Robert and Sarah were at a birthday party for a classmate yesterday, Loren (with a bit of final flourish help from Susan and myself) built this using all of Robert's wooden blocks.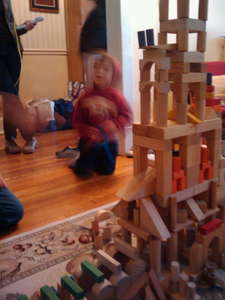 He was enough in awe that we managed to keep the tower standing while we metroed to the mall for lunch and an attempt to track down cherry trees. (The crowds were too much and we managed lunch and the National Gallery Sculpture Garden before some of us headed back home.
Of course back home there was our own sculpture which Robert was allowed to touch — and knock down.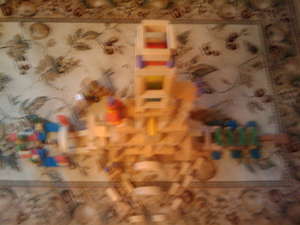 These photos are from my new cell phone. As USPTO cuts back to compensate for a lack of new patent filings and maintenance fees, it's clear I won't be getting a government issued blackberry any time soon so I broke down and purchased a smart phone to replace the basic Nokia I've had since leaving AARP. I didn't want to join the crackberry or iPhone camps so I picked up a G1 (T-Mobile's site); 3 days into it, I'm still happy with the choice (a flash for the builtin camera would be nice, but is is a phone after all…).
(0) Comments -- permanent link
Edit this (owner only)
---
Add new entry (owner only)