Feb 26, 2008
Guess who wants to be an astronaut…
last update: 02/26 @ 12:32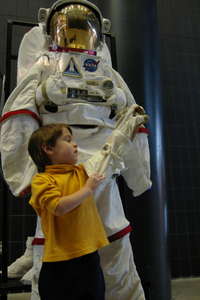 OK, that shouldn't be too hard to do. There are a couple more photos from our trip to the Udvar-Hazy Center in Robert's Section.
(0) Comments -- permanent link
Edit this (owner only)
Feb 24, 2008
Mmmmm….
last update: 02/24 @ 20:10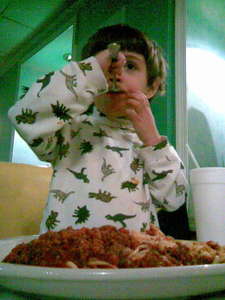 Sarah is off in Long Island visiting Michelle and family — she, Michelle, was going to come down the her 4 kids last weekend but Justin had a nasty fever. Now all but Tessa are under the weather. Since Michelle really wanted a chance to just chat with Sarah over a glass (or two) of wine and was willing to drive down with the kids to do some museum touring in order to put them to bed and talk a bit, and since Sarah really wanted a chance to catch up with Michelle, the train trip up for dinner made some sense.
So while Sarah and Michelle went out after feeding Michelle's kids, Robert and I walked down to the river and then stopped off at Pines of Florence for dinner on the way home. This was a chance for Robert to compare the spaghetti with meat sauce at the "Pines" with the spaghetti at the Robin Inn in Richmond (where we stopped off last weekend on our way home from a visit with Martha).
After eating about half of a very large adult portion of spaghetti tonight, Robert pronounced the spaghetti at the Robin Inn better. I'm not really sure why and while I'd like him to be more supportive of our local spaghetti house, I really have a very warm spot in my heart for the Robin Inn where I went with my folks some 30 years ago.
(1) Comments -- permanent link
Edit this (owner only)
Feb 22, 2008
One more time…
last update: 02/22 @ 10:44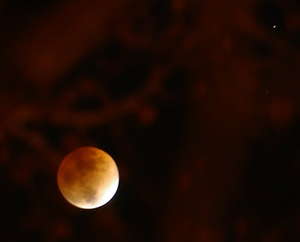 …this is the same photo but cropped rather than resized to fit better. You can see a bit of blur in the star and moon because of the 3 second exposure time.
(0) Comments -- permanent link
Edit this (owner only)
Feb 20, 2008
And after the snow…
last update: 02/20 @ 23:00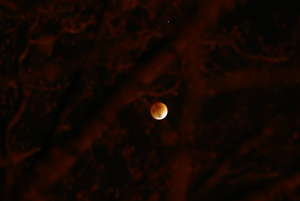 …the eerie glow of the eclipse. Well, not so eerie really, especially seen out the back door with all the street lights shining on the trees. But cool, anyway. I tried to explain it to Robert before he went to sleep — I'm guessing the idea is still pretty hazy in his head — but at least I have a photo now.
(0) Comments -- permanent link
Edit this (owner only)
Back to Normal
last update: 02/20 @ 18:15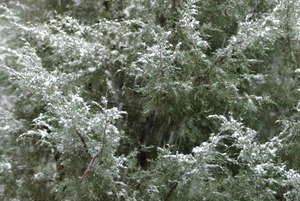 Two days ago it was sunny and 72, today it's 35 and snowing. While it's nice to have a little variety in the weather, I generally prefer more dependability. I'm going to bet there will be a few more colds this week as folks try to figure out if it's spring or winter…
(0) Comments -- permanent link
Edit this (owner only)
Feb 18, 2008
More Weekend Pictures
last update: 02/18 @ 20:05

Just a few more random pics from the weekend. One -a fun box at GrandMartha's in Richmond and the other - more Zoo. -Z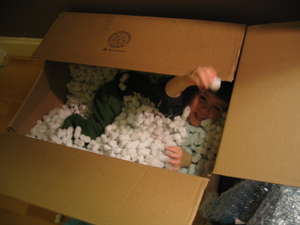 (0) Comments -- permanent link
Edit this (owner only)

72 and sunny…
last update: 02/18 @ 16:31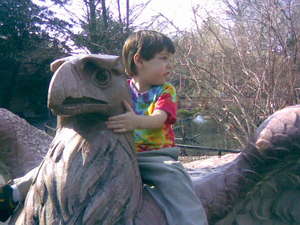 …that's not what you expect in February. OK, we should know that Mid-Atlantic weather is not predictable this time of year — but 70+ degrees is really not very common (the record is 76 from 1981, but the "normal daily max" is 47).
We took advantage of the weather and the holiday to check out the zoo. And Robert decided to ride the eagle sculpture. We had not visited the Amazonia exhibit before; it was pretty impressive: they have some huge fish there. And, of course there was some playing in the pizza garden both coming and going. It really was amazing to have the weather on a holiday so we could all enjoy it.
(0) Comments -- permanent link
Edit this (owner only)
Feb 04, 2008
Serendipity and the Web
last update: 02/04 @ 13:54

I've always appreciated the amount of useful information available on the web and have often been amazed at how that information is discovered. I started reading Tim Brays's Ongoing blog a while back because of his take on Internet application development and technology. I was surprised to discover via one of his blog entries, that he also has a Pentax digital SLR (they are not that common).
His recent On Pentax posting was really interesting to me primarily because he linked to this review of new Pentax gadgets coming out. I'm not that interested in the new toys at the moment but it's nice to see that Pentax is still in the digital SLR business. The really interesting thing for me was comment way down the page from Xebast Yan about split screen viewfinders for my model of Pentax camera.
The only thing I don't like about my *istD is the viewfinder. It is clearly designed for auto focus lenses. I much prefer to focus myself, but the standard viewfinder makes that almost impossible and has led to lots of frustration on my part. Happening across that comment about Pentax cameras, pointed to by an Internet application/technology guy solved my dilemma nicely. I now have a split screen focusing screen from Katz Eye Optics that makes it as easy to focus my *istD as my ME Super Program (old film Pentax).
I hadn't heard of Katz Eye before and I kept waiting for Pentax to offer a similar focusing screen — that was one benefit to the *istD: changable focusing screens. So Pentax lost the sale of focusing screen, but keeps me as a happy customer…
(0) Comments -- permanent link
Edit this (owner only)
Feb 01, 2008
Artificial sunlight…
last update: 02/01 @ 11:33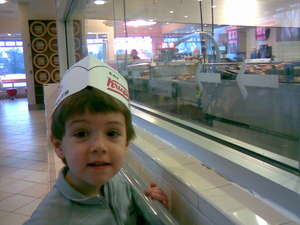 …Krispy Kreme style. Robert and I made a quick run to Lowes to pick up a strainer and look for light timers. Of course the big red, Hot Doughnuts Now! sign was glowing through the rain; we took a brief detour.
(1) Comments -- permanent link
Edit this (owner only)
---
Add new entry (owner only)