Dec 27, 2013
Wipeout …
last update: 12/27 @ 22:23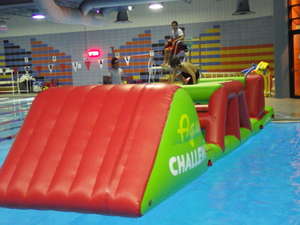 … at the Chinquapin pool. This was a first for Alexandria and I hope not the last. We were there early and managed to be the first on the obstacle course.
Even when it was "crowded" the line was not too long and moved pretty quickly.
We had a blast, as is evident in the photos.
There might be a minor injury or two if there were older kids there — but the adults were mostly well behaved.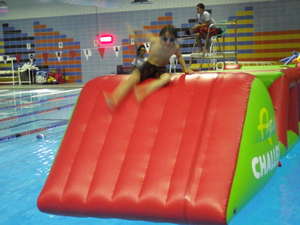 Robert tried several techniques — first we went under the "barrel" obstacle by swimming across the opening — while that may be technically illegal, it was fun and effecient.

The traditional approach was over the "barrels" in the middle of course.

Robert tried going around the side on his final, final, final, final run and said that was actually faster. At least as long as no one else was on the course at the same time to bounce him off.

Adults clearly had an advantage in the bouncing off department, but the "barrels" didn't really support full adult weight very well, which made them a little harder for adults to get across.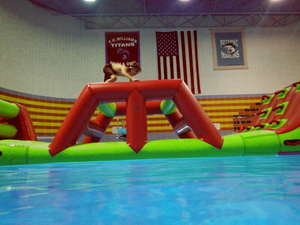 If they do this again, we'll be there to enjoy the fun. It was well worth it and a great way to work off some of the excess, but tasty, holiday treats.
(0) Comments -- permanent link
Edit this (owner only)
Dec 25, 2013
New Bike!
last update: 12/25 @ 16:16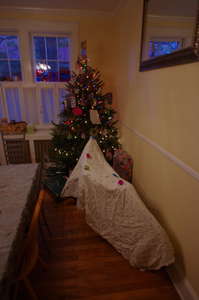 Santa left a big package next to the tree this year — too big to fit under the tree. It turned out, after Robert pulled the cover off, to be a very fancy mountain bike in Robert's size.
21 speeds seems like a big jump from a single speed bike, but Santa must know what he's doing. We had lots of other fun gifts: Legos, Telescope, books, even a small TV.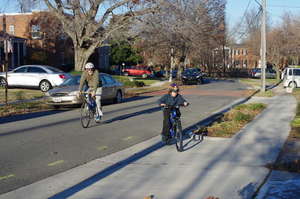 Even though it was really cold, about 34 degrees, we took the new bike out for a spin. Robert seems to have picked the gears pretty quickly. A couple more bike hikes when it's a bit warmer, and I think he'll have it down pat.

Then it's only a matter of time before he leaves us in the dust.
(0) Comments -- permanent link
Edit this (owner only)
Chistmas Eve / Birthday Dinner
last update: 12/25 @ 16:09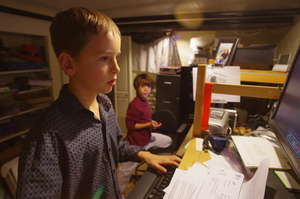 Ian was not the only one to join Robert playing Minecraft — Sam jumped on using my account as well. He and Robert were have a great time while the last of the dinner was being cooked.
Once the geese came out of the oven and had a bit to rest, David Z. generously agreed to slice them up. Sarah's geese were even better this year than last.
As you can see, there were many smiling faces at dinner.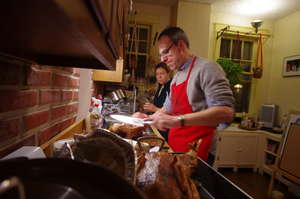 Happy Birthday, Harry!!! It was great to have a full table. (From left to right: David Z., Kelly, Lynn, Sam, Ian, Robert, Harry, Sarah, Elle — missing while taking pictures and me (also missing while taking pictures.))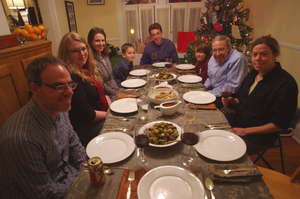 (0) Comments -- permanent link
Edit this (owner only)
Dec 24, 2013
Holiday Festivies Starting
last update: 12/24 @ 14:02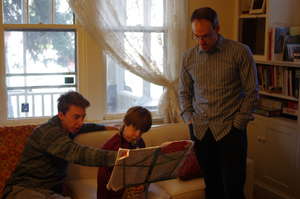 Well, actually this could happen anytime Ian and David Z. are around. Robert showing off his mad sax skills. The Seattlites were impressed and Ian says Robert is doing better than he did on the sax. Ian has moved to the piano where he really shines. (See this note and scroll about halfway down.)
And then Robert introduced Ian to our minecraft server; Ian used my account so he was reveling in the power of the "op" (operator).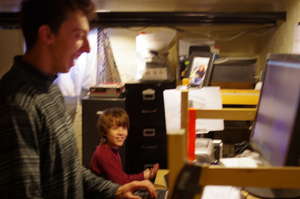 We're (actually Sarah) working on a goose dinner for Harry's birthday tonight. And then looking forward to unwrapping presents tomorrow morning!
(0) Comments -- permanent link
Edit this (owner only)
Dec 23, 2013
National Portrait Gallery
last update: 12/23 @ 23:38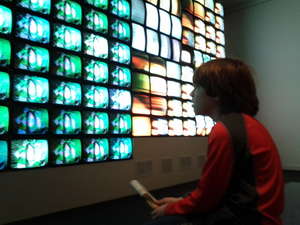 The Seattle and New Jersey family wings are in town and that was an excellent reason for a trip to the Smithsonian — we met up with them at the National Portrait Gallery. Robert, who was recently there with his class, took me up to the contemporary exhibit where we found lots of very cool things.
Like this huge wall of monitors. It really was mesmerizing to watch. My three screen project at Evergreen was clearly completely eclipsed by this installation.
And this wooden sculpture seems to have something in it for everyone. Gears and wheels and chairs and railing posts — or maybe those are bedposts….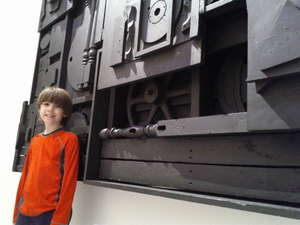 The younger crowd went to the Spy Museum afterwards and then we all met up at Rasika for dinner. It was great fun and made more so with the rest of the Grand Canyon trip extended family. The hockey fans continued on to see the Caps play.
(0) Comments -- permanent link
Edit this (owner only)
Dec 21, 2013
Happy Anniversary
last update: 12/21 @ 20:49

Our anniversary couch showed up yesterday; Friday was such a busy day that we didn't really get our first good test drive until today. It's a perfect fit for the space and quite comfy, as Robert's sleepy eyes can attest.
(0) Comments -- permanent link
Edit this (owner only)
All Right with the World
last update: 12/21 @ 20:15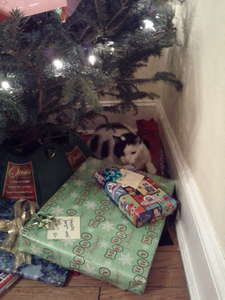 At least according to Zip Drive Williams — Panzer was napping in his basket, leaving Zip Drive to take the place of honor under the Christmas tree. It does seem very odd for the first day of winter to have the door open to let the 70 degree air in, but no compliants from us.
(0) Comments -- permanent link
Edit this (owner only)
New Milestone
last update: 12/21 @ 12:20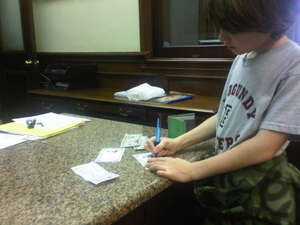 Robert signing up for his first bank account. Thank you Grand Martha!
If you look carefully, you can see he has a duct tape wallet for his cash and checks :)
(0) Comments -- permanent link
Edit this (owner only)
Dec 14, 2013
Decorating the tree
last update: 12/14 @ 16:35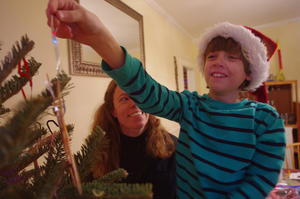 Robert and Sarah putting the final touches on our tree. We managed to get it trimmed and into the house before it really started to rain. (Of course, we're hoping for more snow this year.) A couple more photos in Robert's section.
(0) Comments -- permanent link
Edit this (owner only)
Dec 10, 2013
Sledding!!!
last update: 12/10 @ 17:35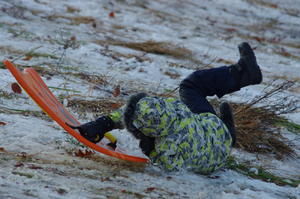 Taking full advantage of the snow day, even if there was not as much snow as expected, we headed to the hill at Robert's school. More photos in Robert's section.
(0) Comments -- permanent link
Edit this (owner only)
Cool Birthday Pressie…
last update: 12/10 @ 10:01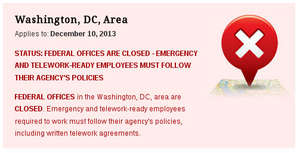 Thank you OPM; I don't think the federal government in DC has ever closed down in celebration of my birthday before :)
Unfortunately, it's looking like the snow is changing to rain around here and so the sledding is not looking too good.
(0) Comments -- permanent link
Edit this (owner only)
Dec 02, 2013
Thanksgiving in Atlanta
last update: 12/02 @ 13:41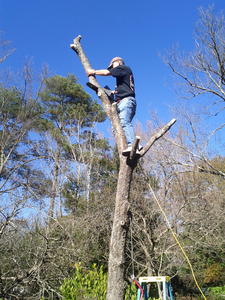 We had work to do for our supper in Atlanta: Loren and Susan had a dead dogwood that needed to come down. More traditional Thanksgiving photos in the vacation section.
(0) Comments -- permanent link
Edit this (owner only)
Jingle Bells
last update: 12/02 @ 12:46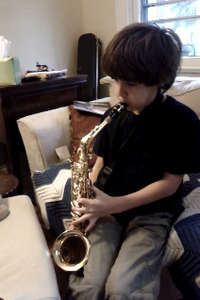 Robert practicing Jingle Bells on his sax. Let's see how this sideways video works…
(0) Comments -- permanent link
Edit this (owner only)
---
Add new entry (owner only)