---
Other parts of the site:
Search the blog:
Archive:
Pick a Random Month
Full Blog Archive
(This is all the blog posts in cronological order, rebuilt every night so may be up to 24 hours out of date. It's also a big file with lots of graphics; please be patient.)
Sep 19, 2016
Passing of a Giant
last update: 09/19 @ 20:36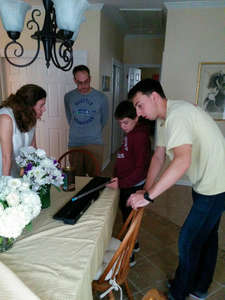 Robert's maternal grandfather passed away last week. It was sudden but not unexpected as his health had been getting rocky.

Fortunately for him Sarah was there to keep the doctors following his wishes when they were starting to stray.

Robert and I headed up Friday evening and there was a lovely open house Saturday for local friends. The memorial will come in a few weeks.

One unexpected moment was when the Zapolskys decided Robert should get Harry's pool cue. There was a bit of an introduction and expectation setting and then later, Robert had a chance to try it out, with lots of help and good advice from his uncle and cousin.

Now we're charged with finding a local pool hall for him to practice in. The Zapolsky are serious about their pool.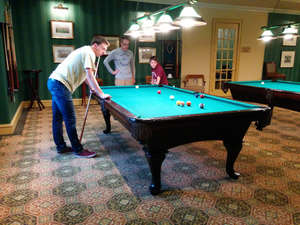 I don't think will find a place as nice as the community pool room in New Jersey.
(0) Comments -- permanent link
Edit this (owner only)
Sep 10, 2016
Boom!
last update: 09/10 @ 16:06

It was a hot day but there were canons involved…

We drove up Braddock Road to Fort Ward for their artillery demonstration. The discussion of the different kinds of projectiles — and the fuses used on them — was interesting.

But the highlight was firing the canon!

The canon did not disappoint. We were a little further away than at Petersburg, and so it was loud but not as bad this time around.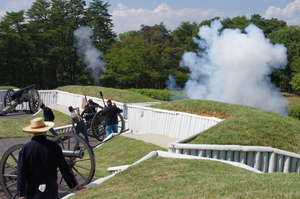 (0) Comments -- permanent link
Edit this (owner only)
Sep 07, 2016
Seventh Grade
last update: 09/07 @ 22:55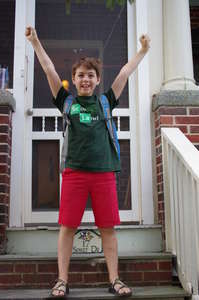 First day of school photo! Robert is starting 7th grade in fine form this morning. Last year, starting Middle School, he seemed a bit nervous. He seems really ready to go for 7th grade.
Clearly he's ready for the what did you do on summer break with his Scotland shirt :)
Here's a look back:
(0) Comments -- permanent link
Edit this (owner only)
Sep 04, 2016
The Dream Comes True
last update: 09/04 @ 20:29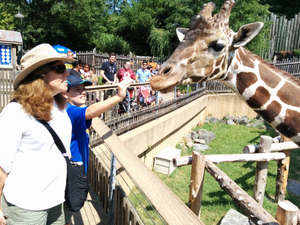 We headed up to the Maryland Zoo in Baltimore on a beautiful day to check out the giraffes (Sarah's favorite animals). This time when we got there, one was still a little bit peckish and happy to nibble some leaves from visitors hands.

(They have very long tongues.)

(Fortunately, cell phones don't taste like leaves.)
(0) Comments -- permanent link
Edit this (owner only)
Sep 02, 2016
Two Ghostbusters
last update: 09/02 @ 23:23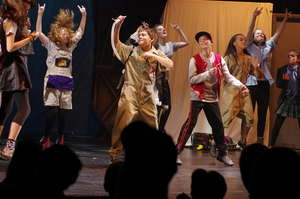 You really had to be there…

Synetic Theater's A Tale of Two Ghostbusters, was a great show put on by the summer theater folks at Synetic. Robert had a staring role as Chuck Dickens, Ghostbuster.

A musical cross between Dickens and Ghostbusters; it was great fun. And made more so as Steve, Helen and Aaron were in town and we even arranged for Sally to join us.

Once again, the way the kids came together to put on a show in two weeks, with lots of dialog, dance, singing and coming and going was amazing. And, while I may be biased, I was really impressed with Robert's abilities on stage.

This marks our traditional end of summer; School starts next week.
(0) Comments -- permanent link
Edit this (owner only)
---
Add new entry (owner only)
The posts on this page will slowly roll off as new ones are added to the top. The "permanent link&quot links above will take you to one post's permanent address; that should not change or disappear. You can also build up a link to see any month's postings by adding the four digit year, a slash, the two digit month and a trailing slash to the the main www.kayakero.net/news/blosxom URL. Like this:
/news/blosxom/2004/08/. (You can go down to the day level if you like.)
Only the site owners can edit this page (and all attempts to do so are logged); however anyone is welcome to add a comment using the "comments" link below each posting.