May 28, 2012
Memorial Day on the Potomac
last update: 05/28 @ 16:50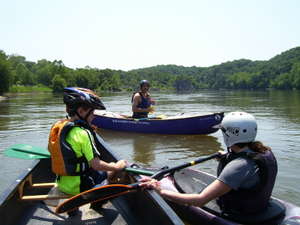 we lucked out with the weather — well OK, it's a little hot. But blue skies and the Potomac is still cool. So it was a good day for quick trip. We met Hank (and Sally, but she was just shuttling) at lock ten, dropped a car — good job Sarah on the parking place — and headed up to Angler's End.
Somehow we managed to get a parking spot there as well; I think I get the credit for that. After a quick bit of organizing — including remembering keys to Sarah's car — we got the boats in the water.
Not too long after the boats were in the water, Robert was in the water. Did I mention it was still cool? I expect by August it will have warmed up to bath water temperature.

We found a wave to two to surf at Offet Island (not big waves, but surfable). Yellow falls had some nice little surfing waves; so did Stubblefield falls. Robert really enjoyed the surfing this time and the chance to help sharpen up our eddy turns. We just had a lot of fun.
After a while, I couldn't stand it and I hopped in two. Discovering that while I could climb up the back of my Mirage — huge boat that it now seems — I can't really do that with the canoe. Or I need more practice. It was a short swim to the shore where I could get back into the boat.
(0) Comments -- permanent link
Edit this (owner only)
May 27, 2012
A little late…
last update: 05/27 @ 17:50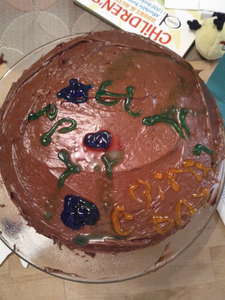 … Robert pointed out that while he got his whole class to sing Happy Birthday to Sarah while they were on their cove trip, she didn't get a proper birthday cake. So I baked a cake (well, really two) and Robert decorated. He has discovered that it's hard to write on cake with icing. And maybe harder to draw lego pieces, which he did here.
Sarah's favorite is yellow cake with chocolate frosting, as seen here. She's willing to entertain that carrot cake might be OK, so I have one of those also — still cooling. Good thing we're going to Hank and Sally's for dinner tomorrow, we can bring cake. And maybe take some in to the various offices… We have a lot of cake at the moment.
(0) Comments -- permanent link
Edit this (owner only)
May 21, 2012
Delayed Baseball Photo
last update: 05/21 @ 22:13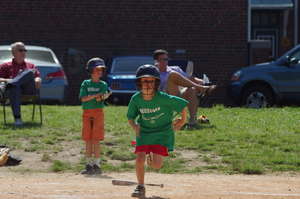 We had such a busy weekend, I just got around to looking at the photos from Robert's game Saturday. Here he is taking off after a hit. The Hillcats were looking good Saturday (better than the Nats started out looking Sunday) and had a great game.
Sarah and Robert are off at the Cove with Robert's class. Sarah brought cupcakes to celebrate her birthday there. We'll do something later this week when she gets back and is recovered.
(0) Comments -- permanent link
Edit this (owner only)
May 20, 2012
Fun Day
last update: 05/20 @ 22:14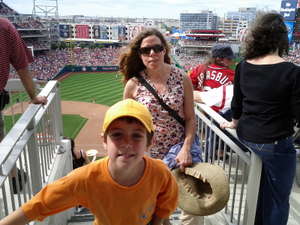 Pre-birthday celebration for Sarah, we took the water taxi to the Nationals stadium to see them beat the Os. Admittedly bitter sweet, but fun none the less.
Unfortunately, Robert and I were hunting funnel cake when the Nationals scored two back-to-back home runs. The start of the game looked pretty bad with a couple plays which should have been easy being botched by the Nats. But they got it together by the third inning.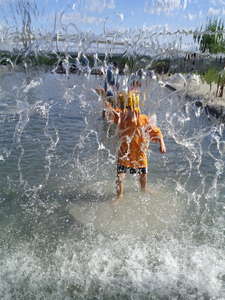 On the way home, we discovered a very nice water park DC has opened a couple blocks from the National's stadium. A nice big wading pool (water running field, if you're Robert) with a waterfall you can get behind at one end.

I can see us coming back; that was a lot of fun!
(0) Comments -- permanent link
Edit this (owner only)
May 13, 2012
The Cruisers
last update: 05/13 @ 21:06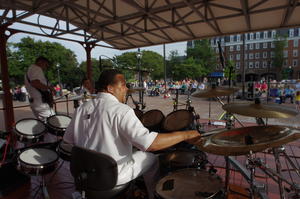 Robert and I headed down to Market Square yesterday, after his game, to catch the Navy Band Cruisers. It was a fun concert and great weather. A few more photos in Robert's section.
(0) Comments -- permanent link
Edit this (owner only)
Mother's Day
last update: 05/13 @ 20:20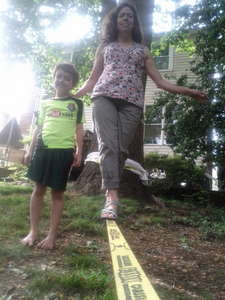 Last Christmas we ran into a Slackline when we visited with David Z.'s new family in Springfield. There were several teenage boys and the Slackline was clearly one of the choice gifts. Pretty much everyone gave it a shot — and, as no one was hurt that afternoon, Sarah thought it would be good fun in the backyard.
It being Mother's Day and all, Robert and I teamed up to get one for Sarah. She was up in NJ this weekend but came him in plenty of time to unwrap her presents and set this up for a trial run.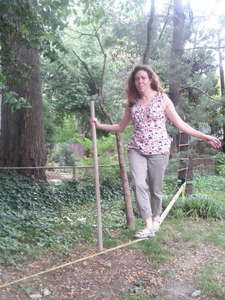 I think it was all it was expected to be: a great way to work on your balance and lots of fun while working some muscles you might not expect it to — it's hard not falling off, even with help. We started with human assistance and "graduated?" to just using a stick for assistance.

It really is fun and gives you much more of an understanding of what the high wire walkers at the circus are doing.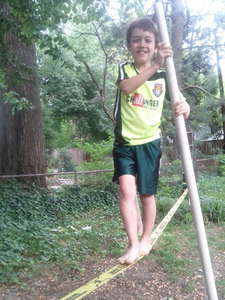 At three inches wide and flat, you'd think it wouldn't be that hard to balance on… But you'd be wrong. It's springy and swings and sways and is really hard to stay on without help.

We'll see if any of us can get more than a step without a crutch in a couple weeks… (And no, I don't mean that kind of crutch — we'll keep it low to the ground.
(0) Comments -- permanent link
Edit this (owner only)
May 12, 2012
The games are coming fast and furiously
last update: 05/12 @ 23:17

Robert has been talking about wanting to play catcher since the season started (and he liked it a lot last year as well). Now that the ball is off the tee, the catchers get full regalia. And it was all Robert wanted it to be.
Of course, he's got to get a little better at catching the pitches, but that will come with time and practice.
It was more great weather for being outside and all the Hillcats had a great time.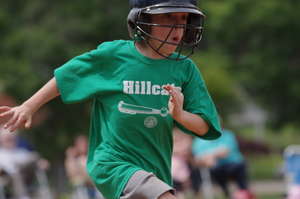 Robert sprinting for first in tonight's game against the Silver Hawks.
(0) Comments -- permanent link
Edit this (owner only)
May 10, 2012
Pretty Evening
last update: 05/10 @ 22:08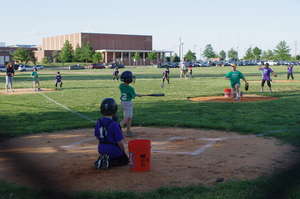 The weather was impressively nice for an evening baseball game tonight. This time the Hillcats played the Thunder. This is Robert getting a hit on the coaches pitch.
(0) Comments -- permanent link
Edit this (owner only)
May 09, 2012
Quick Visit
last update: 05/09 @ 22:44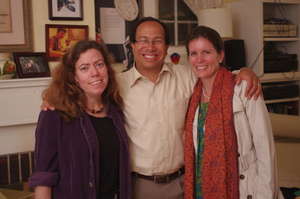 Peter and Maureen stopped by for dinner. It was a too quick visit but fun to see them. Next time Robert and girls should get to meet each other (they stayed home on this quick trip).
(0) Comments -- permanent link
Edit this (owner only)
May 06, 2012
Safe Data Disposal
last update: 05/06 @ 20:54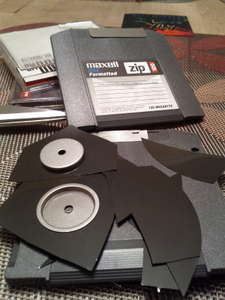 I was running out of shelf space and found these two zip disks taking up room. Since the only zip drive left in the house is black and white and purrs on occasion, I couldn't cleanly delete the contents of the disks (or even be sure what was on them).
I'm pretty sure in this condition, it will be way more difficult to recover any data than the data might be worth.
(0) Comments -- permanent link
Edit this (owner only)
Team Photo
last update: 05/06 @ 20:44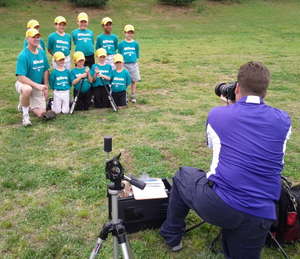 It was team picture day today. The forecast was iffy but it turned out to be a nice afternoon. Robert and I got there early and it looked like there were only going to be three players in the team picture. But just as they were getting set up, several other folks showed up.
We're still going for the trading card look so we did both team and individual photos. I guess to really get the look we need to go in for the official baseball pants. And actually, seeing one slide and one traffic accident at third base in the most recent game, it makes sense to have long pants even if it is hot.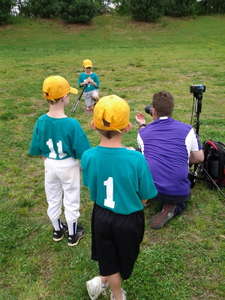 I bet we'll get the real photo in a couple weeks; I'll try to pop it up here. I expect the shirts will look more green than the teal my cell phone makes them look.

That's coach Young on the left, he's done a great job getting the kids jazzed to play. And Robert is on the right in back row.
(0) Comments -- permanent link
Edit this (owner only)
May 05, 2012
Game Day (for the Hillcats)
last update: 05/05 @ 17:57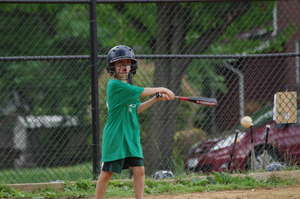 Today they played the Grizzlies and did a very good job. Robert had some good hits and fielding today despite the rainy weather — it was a warm rain now that summer weather seems to be here in earnest.
(0) Comments -- permanent link
Edit this (owner only)
---
Add new entry (owner only)