---
Other parts of the site:
Search the blog:
Archive:
Pick a Random Month
Full Blog Archive
(This is all the blog posts in cronological order, rebuilt every night so may be up to 24 hours out of date. It's also a big file with lots of graphics; please be patient.)
Jul 22, 2012
Eight Years Old
last update: 07/22 @ 22:00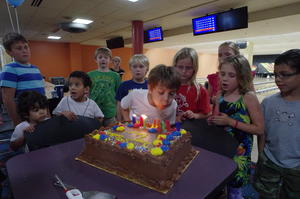 Robert's Eighth birthday bash at the bowling alley was boisterous and whole barrel of fun… It was air conditioned as well. More photos in his section.
(0) Comments -- permanent link
Edit this (owner only)
Jul 15, 2012
Hoopin' on the beach
last update: 07/15 @ 20:13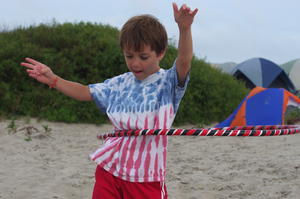 Robert showing off his latest skill picked on the beach at Assateague during what's become our annual July trip there. This year was too quick… More photos in the vacation section.
(0) Comments -- permanent link
Edit this (owner only)
Jul 07, 2012
Good Radio Station…
last update: 07/07 @ 18:39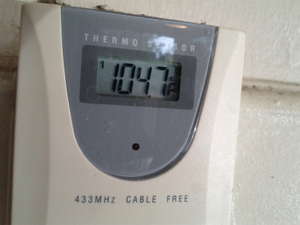 …Bad temperature.
It's a hot one out there. Robert and Sarah were back at the building musuem for most of the day while I did a few chores including testing our new generator. Is it Amazon Prime abuse to have them ship a generator in two days for free? (Free shipping, the generator was not free…)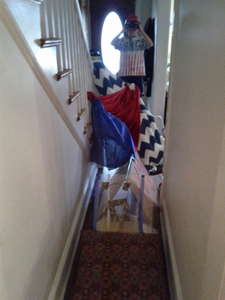 While it was not a great day to be out, when Robert and Evan came back, they had a good time turning the hallway into a fort.

I'm sure we'll be able to get through the hallway again at some point…
(0) Comments -- permanent link
Edit this (owner only)
Jul 01, 2012
Power Outage
last update: 07/01 @ 22:03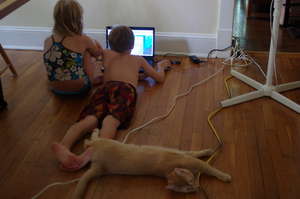 The power went out in the big storm "Derecho" Friday night about 11pm and was out until about 7pm Sunday night. Temps in the low triple digits was not the best time to be without power. Sunday morning we dragged a really long extension cord several houses down to Steve and Rachel's — they have a generator. And Julia came by for a visit (until she got bored watching Robert play computer games).
The power got us fans and a working fridge — too late to save the contents — that was enough to keep our spirits up and determination to camp out one more night to see if the power would make it back on.
And it did :)
Of course, the DSL is still out — we'll work on that tomorrow…
(0) Comments -- permanent link
Edit this (owner only)
---
Add new entry (owner only)
The posts on this page will slowly roll off as new ones are added to the top. The "permanent link&quot links above will take you to one post's permanent address; that should not change or disappear. You can also build up a link to see any month's postings by adding the four digit year, a slash, the two digit month and a trailing slash to the the main www.kayakero.net/news/blosxom URL. Like this:
/news/blosxom/2004/08/. (You can go down to the day level if you like.)
Only the site owners can edit this page (and all attempts to do so are logged); however anyone is welcome to add a comment using the "comments" link below each posting.