---
Other parts of the site:
Search the blog:
Archive:
Pick a Random Month
Full Blog Archive
(This is all the blog posts in cronological order, rebuilt every night so may be up to 24 hours out of date. It's also a big file with lots of graphics; please be patient.)
Feb 12, 2010
Progress?
last update: 02/12 @ 22:59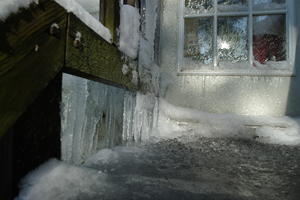 The snow is starting to melt; at least on the roof. Clearly there is some ice in the gutter… A few more photos of life returning to normal in Robert's section.
(0) Comments -- permanent link
Edit this (owner only)
Feb 10, 2010
A little more snow…
last update: 02/10 @ 22:13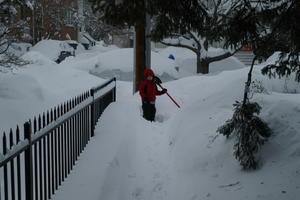 Our next storm was last night and most of today. It pushed this winter into first place for snow in the DC area. A few more photos in Robert's section.
(1) Comments -- permanent link
Edit this (owner only)
Feb 09, 2010
The "hope to buy a snow shovel" line
last update: 02/09 @ 20:48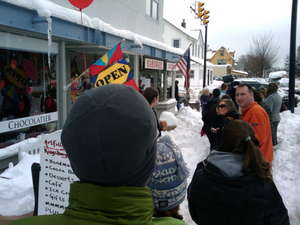 Our snow shovel is starting to show wear and tear after the last two big storms. In fact it has a screw loose — well, two actually. And one of those is lost in the snow. Fortunately, there was no run on sheet metal screws at the local hardware store. And they said they had a load of snow shovels due in around noon today. So I bought my screws and hung out until they announced the delivery wouldn't show up for at least another hour. We're on the "list" we'll see how that goes. One of the replacement screws worked, so we don't really need a new shovel, but I'd be happy to have a spare, just in case.
Update: they called at about 6:15 saying our shovel was in. Executive Lock and Key wins for forethought, follow through and customer service.
(0) Comments -- permanent link
Edit this (owner only)
Feb 07, 2010
A Snowboarder is born
last update: 02/07 @ 21:08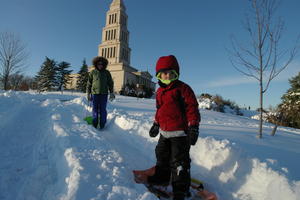 Robert showing off his new found form snowboarding on the grounds of Castle Roberto (the Masonic Memorial). We ended up with 17.8 official inches, making this the fourth largest snowstorm in DC history (and December's was also in the top 10). More photos in Robert's section.
(0) Comments -- permanent link
Edit this (owner only)
Feb 06, 2010
Robert on the snow bank
last update: 02/06 @ 18:04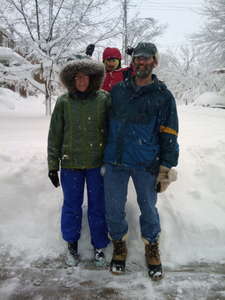 We got another serious snow storm this weekend. It snowed from Friday afternoon, all night and it's still going as it's approaching 6pm Saturday. Unfortunately, this snow fall was much wetter and heavier than December's big dump. We have several big branches down in the back yard, and I'm really impressed none of them took out the phone line (yet).
It's starting to taper off now after an official 17 inches at National Airport — that makes it number five in all time snow fall here, if we get another two tenth's of an inch there, it will be number four.
(Photo Credit: Laura Norman)
(0) Comments -- permanent link
Edit this (owner only)
Feb 03, 2010
Snow again…
last update: 02/03 @ 10:33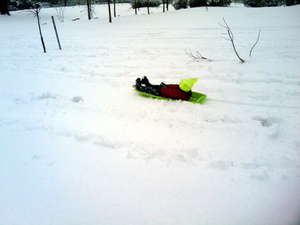 I missed last weekend's snow because of a nastly cold; I spent most of the weekend zoning out while Sarah and Robert went sledding and snow man building. Today I took a few hours to sled while Sarah gathered materials for a job interview tomorrow.
Go Sarah!!!
(0) Comments -- permanent link
Edit this (owner only)
---
Add new entry (owner only)
The posts on this page will slowly roll off as new ones are added to the top. The "permanent link&quot links above will take you to one post's permanent address; that should not change or disappear. You can also build up a link to see any month's postings by adding the four digit year, a slash, the two digit month and a trailing slash to the the main www.kayakero.net/news/blosxom URL. Like this:
/news/blosxom/2004/08/. (You can go down to the day level if you like.)
Only the site owners can edit this page (and all attempts to do so are logged); however anyone is welcome to add a comment using the "comments" link below each posting.