May 31, 2021
Smoking in the backyard
last update: 05/31 @ 10:42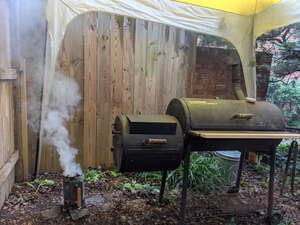 Robert and I got out the smoker for the first time in a couple years. The weather was a little damp so our beach sun shade will remind us of this day :)
With the 7 day moving average of new Covid cases in it's longest streak of single digits ever, we enjoyed spending time with some Burgundy friends and some of the Medical Reserve Corps folks Sarah has been volunteering with.
It's starting to feel like things are beginning to think about possibly getting back to normal.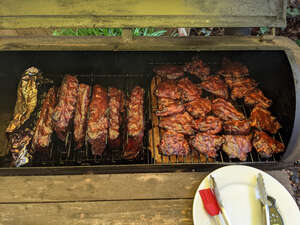 And it's about time.
(0) Comments -- permanent link
Edit this (owner only)
May 23, 2021
Hagerstown Speedway
last update: 05/23 @ 14:44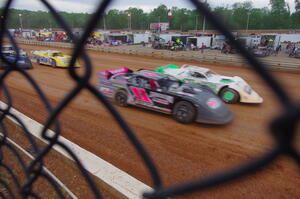 Dirt track racing is pretty crazy.
I'm still missing my NASCAR race: we had tickets for Dover but they oversold the stands and cancelled. Sarah and Robert had such a good time in Richmond they convinced to go to a race.
Not the same but, Robert and I took Will up to Hagerstown on Saturday night for the race and it lived up to it's reputation: a fun, loud evening.
There were several kinds of cars racing, all blasting around the dirt.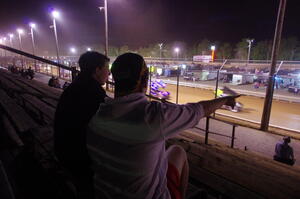 Robert took a lot of photos and videos. I took just this short video of the crazy sprint cars.
There are lots more photos (but not much narration) in the vacation section.
We have to convince Sarah to check out a dirt track, and I am still interested in seeing a NASCAR race — but the small, down-home feel of dirt track may be more my style.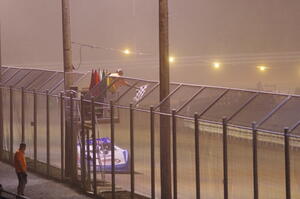 (As much as racing is my style.)
(0) Comments -- permanent link
Edit this (owner only)
Vroom, Vroom
last update: 05/23 @ 12:22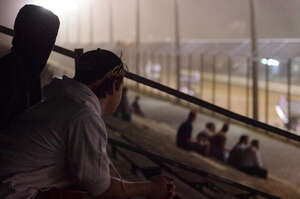 More to come in a bit…
Robert wanted to check out dirt racing so we took Will to Hagerstown Speedway last night.
It was wild. The blurs are the sprint cars racing by.
I took a lot of (bad) pictures and need to sort through them.
(0) Comments -- permanent link
Edit this (owner only)
May 22, 2021
Aliens have arrived
last update: 05/22 @ 16:27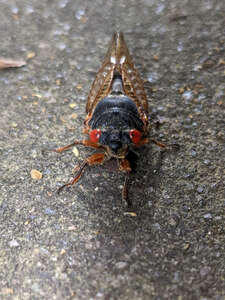 We're just starting to hear them around our neighborhood.
And this is one of the few I've seen so far in our yard. But down the street the shells are starting to sprout on their white fence.
And I've heard stories of hoards descending a bit further out from DC.
It will be interesting to see if the kitties will go on porch if they really start showing up in mass.
(0) Comments -- permanent link
Edit this (owner only)
Happy Birthay!!!
last update: 05/22 @ 16:27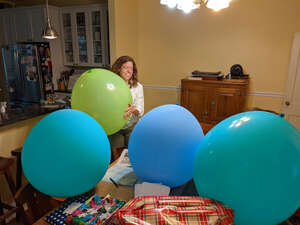 We're liking the crazy big balloons for celebrating.
Yesterday for Sarah's birthday!!!
And, in a nod to getting a bit back to normal, we had birthday dinner inside at Los Tios.
We even had a guest, Seileen joined us to help celebrate.
The sombrero tradition continues…
Next year, bigger, more normal party.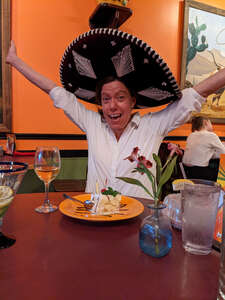 But still at Los Tios, of course. Because, the sombrero, right?
(0) Comments -- permanent link
Edit this (owner only)
May 16, 2021
Rainy river
last update: 05/16 @ 23:47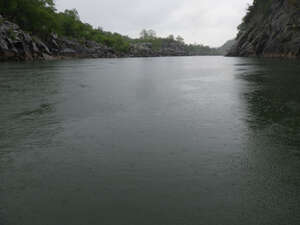 A little rainy this afternoon on the river.
But I went up the gorge to Wet Bottom Chute were I ran into the Fauquier County swift water rescue team practicing.
Interesting to me, should not be a surprise though, that Virginia county enters the river on the Virginia side. I'm used to the Cabin John Volunteers and Montgomery County fire departments entering at Angler's Inn on the Maryland side.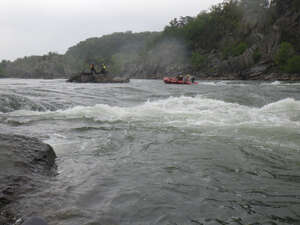 While it was a little gray and rainy; it's still a very pretty spot. And especially so for a spot that close to home and DC.
(0) Comments -- permanent link
Edit this (owner only)
May 14, 2021
Finally…
last update: 05/14 @ 23:27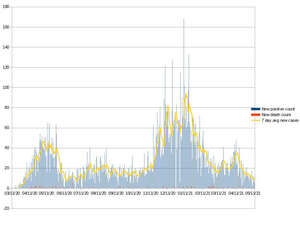 I spent a lot of time last summer and fall waiting for the seven day moving average to drop into single digits. I thought that would be a sign of things getting better.
It's not been this low since July Fourth, and that was a tiny blip. I really hope this trend holds.
And, after a year, it's really odd to walk around without a mask. The CDC said fully vaccinated don't need to mask up in most cases. I walked to work today with a mask in my pocket, and it felt really strange.
Here's to continuing that downward trend and getting back to normal.
(0) Comments -- permanent link
Edit this (owner only)
May 02, 2021
Quick trip to Richmond
last update: 05/02 @ 20:49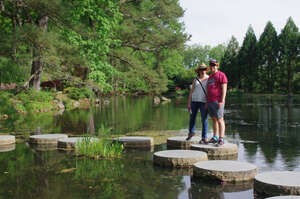 We told Robert we were heading down to Richmond to see a flower show. And then he and Sarah thought it might be good to show me the track they visited a couple weeks ago.
I think this was about the expectation we set: the Japanese garden in Maymont. Sarah said this was going to be our birthday present for her.
But actually this was the second part of our quick Richmond trip…
(0) Comments -- permanent link
Edit this (owner only)
Psych!!!
last update: 05/02 @ 20:49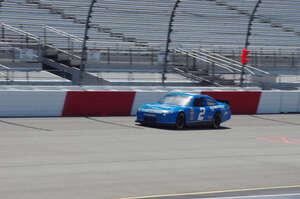 Robert thought we were just going to look around and he could show me the racetrack that he and Sarah went to a couple weeks ago. (I turned down the offer to join them and took the canoe out on the river instead; I'll join them on the next NASCAR trip.)
Robert started to suspect when Sarah and I pointed out the Rusty Wallace signs to follow.
We ended up in the infield and went to go get our jumpsuits and helmets!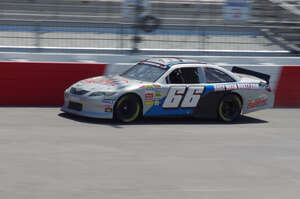 Five laps at 130-140 miles per hour is both quick and slow.
The wall is really flying by when you're going that fast, that close to it.
But you (well, at least me) are also wondering what happens if you touch the wall or a tire blows out, or one of the amateur drivers gets in the way…
Of course, none of those things happened. You're just going really fast around the track.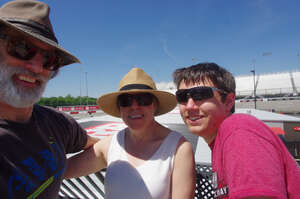 You can tell by our smiles that it was a lot of fun — and a lot of adrenaline.
(0) Comments -- permanent link
Edit this (owner only)
Richmond Raceway
last update: 05/02 @ 20:48

Part of the package was a photo.
Actually, a photo plaque ready to hang on the wall.
Fortunately, the photos can be slipped out for easy scanning.
So, of course, I did.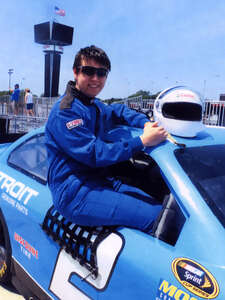 It truly was a blast; fastest ever in a car for any of us.
And, really, faster than you ever need to go in a car.
The trip back up 95 was a sad return to reality; there was a lot of stop and go traffic.
And hungry kitties to feed when we returned.
That's a memory that will stick around for a long time…
And a great early birthday present for Sarah.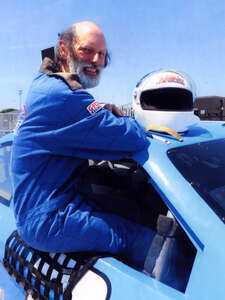 (0) Comments -- permanent link
Edit this (owner only)
---
Add new entry (owner only)