---
Other parts of the site:
Search the blog:
Archive:
Pick a Random Month
Full Blog Archive
(This is all the blog posts in cronological order, rebuilt every night so may be up to 24 hours out of date. It's also a big file with lots of graphics; please be patient.)
Nov 28, 2016
Happy 18th!!!
last update: 11/28 @ 22:39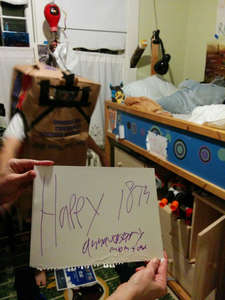 Eighteen years ago today, Sarah and I were married. Tonight we celebrated with a nice evening out (the whole family), and, as he was getting ready for bed, Costco Man wished us a Happy Anniversary — complete with soundtrack.

It was great. We have a special family and I'm so glad we do.

PS: Sarah's facebook page has Costco Man helping to rake the leaves — the complete video. Go check it out.
(0) Comments -- permanent link
Edit this (owner only)
Nov 25, 2016
Turkey Trot
last update: 11/25 @ 10:46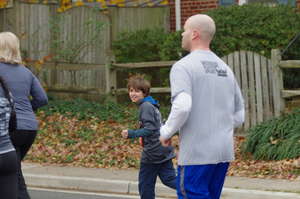 Robert and Sarah ran the Turkey Trot yesterday. Actually Robert started (even though he was not feeling well) and turned the 5 mile race into a 5K. He met us at the finish line after removing his number and taking a walking short cut.

After showers and bit of a break, we had a great Thanksgiving dinner at the Hubbards with their family.

A good time was had by all (and Robert enjoyed the cousin time almost as much as Sarah and I enjoyed the in-law time).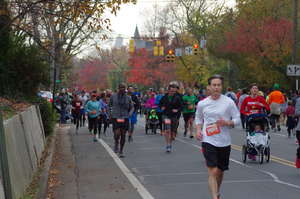 It was a beautiful fall day (after a couple sprinkles in the morning). Perfect weather for a race — and very well attended (thousands — not sure if it made it to 5000 but well over 2000 racers).
(0) Comments -- permanent link
Edit this (owner only)
Nov 19, 2016
Last Warm Day For a While
last update: 11/19 @ 18:53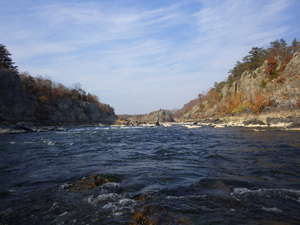 With play over, we all slept in.

Then I took my new toy to the river before the cold front blew in. Another very pretty day :)
(0) Comments -- permanent link
Edit this (owner only)
The Big Play
last update: 11/19 @ 18:50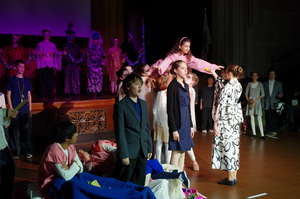 With the school's theater being rebuilt (they promise to start real soon now on that project), the productions have moved to the Masonic Memorial's theater. Super convenient to us.

The Seventh Grade did 1000 Cranes this year with performances last Thursday and Friday. The bigger theater, closer to home is great. But it is a lot more work to rent lights and set everything up for a two day production then take it all down again.

Here is Robert leading the closing of the play, "This is our cry. This is our prayer. Peace on Earth."
(0) Comments -- permanent link
Edit this (owner only)
Nov 09, 2016
Missing my dad
last update: 11/09 @ 20:13

I'm really missing my dad's perspective today (and likely will be for the next four years). He would have some wise things to say about this divisive period in our country. I could use some bucking up at the moment.
(0) Comments -- permanent link
Edit this (owner only)
---
Add new entry (owner only)
The posts on this page will slowly roll off as new ones are added to the top. The "permanent link&quot links above will take you to one post's permanent address; that should not change or disappear. You can also build up a link to see any month's postings by adding the four digit year, a slash, the two digit month and a trailing slash to the the main www.kayakero.net/news/blosxom URL. Like this:
/news/blosxom/2004/08/. (You can go down to the day level if you like.)
Only the site owners can edit this page (and all attempts to do so are logged); however anyone is welcome to add a comment using the "comments" link below each posting.