Rope swing!!!
last update: 10/11 @ 13:32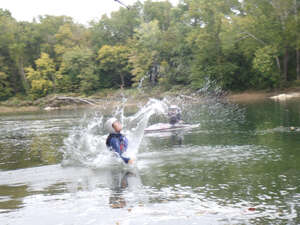 The weather, ahead of Hurricane Delta, was cloudy but pleasant yesterday. We took the boats to the Potomac. And with the help of a rental car for shuttle, paddled Angler's to Lock 10.
It may be the last time for the season when the rope swings seem inviting.
On this trip we passed three: The first had a big tree just underwater, close to the landing zone.
The second, seen here, was just about perfect.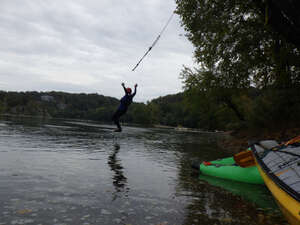 By the time we got to the third, we were getting comfortable again and decided to just keep paddling.
That's Robert's splashdown above.
David on the left.
Sarah below.
All in all, a great way to spend an October afternoon. Good leaf watching from the river, no crowds — but there were folks on the shore and even a few other boats on that stretch.