Another pretty day on the river
last update: 08/20 @ 18:44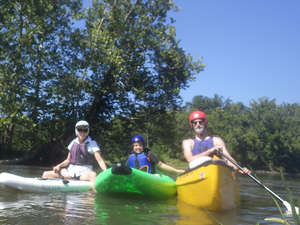 Today we decided to actually go downstream.
So we put in at Angler's Inn and headed down to Lock 10.
I swear there have been way more open boats on the river since we got back from Idaho. We saw two in parking lot.
There was a handy rock for the camera and it's timer just past Offet Island. I've Got to remember to bring a dry towel to wipe the lens with :)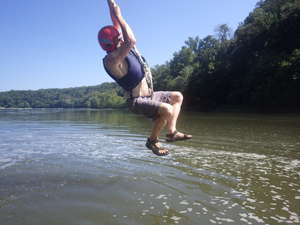 We found the rope swing again. This time, the water was a much better temperature and so we all took several swings.
I'm biased, but I think I got the most distance.
Robert got the most splash.
And with our new addition to the fleet, we all paddled back into Yellow (or is it Stubblefield) Falls a couple times.
It really was a beautiful day on river. And a great way to spend a Sunday afternoon.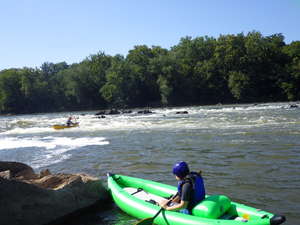 I'm sure we'll do it again soon.