---
Other parts of the site:
Search the blog:
Archive:
Pick a Random Month
Full Blog Archive
(This is all the blog posts in cronological order, rebuilt every night so may be up to 24 hours out of date. It's also a big file with lots of graphics; please be patient.)
Nov 27, 2015
Rocket
last update: 11/27 @ 19:55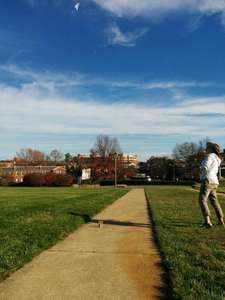 One of the many cool things Robert has courtesy of Sarah is a Tinker Kit subscription. He built most of the rocket a while back but today we took it out to actually use it.

The kit came with baking powder and citric acid; mix them, pour into the rocket preloaded with water, and pop it quickly onto the base. Sarah was the fastest assembler of the family. This was our highest shot. that's the rocket in the top of the picture (with some fuel droplets below it)
(0) Comments -- permanent link
Edit this (owner only)
Nov 26, 2015
Alexandria Turkey Trot
last update: 11/26 @ 11:16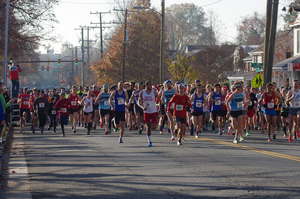 Robert and Sarah ran the 5 Mile (not K) race this morning. Up until they picked up their bibs last night, they were assuming it was a 5K.

Both did great, Robert beat Sarah by just about two minutes.

His time was 1:00:27 and hers was 1:02:24.

The weather was, obviously, perfect for a turkey trot.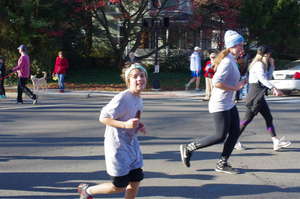 I'm guessing they both did so well, had such a good time and the school/neighborhood group so nice that this will not be the only Alexandria Turkey Trot for the Williams/Zapolskys.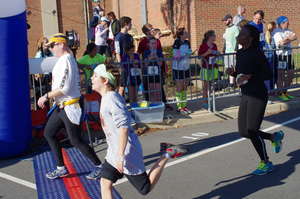 (0) Comments -- permanent link
Edit this (owner only)
Nov 22, 2015
Aquarium Sleepover
last update: 11/22 @ 14:36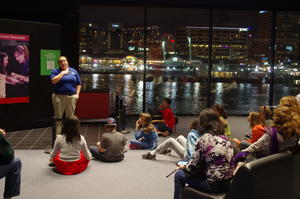 We had fun at Baltimore's National Aquarium last night: a sleepover with the fishes. And with the program from Johns Hopkins and the Aquarium staff, we learned some cool things while we were allowed behind the scenes. More photos in the travel section.
(0) Comments -- permanent link
Edit this (owner only)
Nov 08, 2015
Back from West Virginia
last update: 11/08 @ 22:58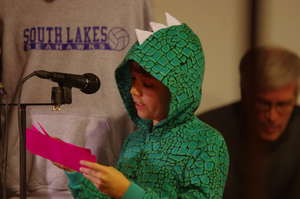 It's a long story see…

As we helped close down the WV campus, the younger kids put on a Haunted House in one of the bunk houses. Robert thought he should join in wearing this PJs (which was his dragon costume from Halloween).

Then he was invited to play the part of Kurt in the Mad Libs presentation of Challenge of the Yukon.

As for why the after dinner entertainment was an old time radio show, I'm less clear. But it was fun, the kids and adults enjoyed it — the kids a bit too much as they supplied many of the Mad Lib moments and Robert was not the only 4th - 6th grade boy…
(0) Comments -- permanent link
Edit this (owner only)
Nov 04, 2015
Cross Country Championship
last update: 11/04 @ 18:56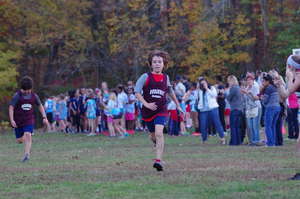 I guess the cool kids says XCountry.

Robert's school team came in first for girls and second for Boys. I know there is no way I could run as far as fast as he did.
(0) Comments -- permanent link
Edit this (owner only)
---
Add new entry (owner only)
The posts on this page will slowly roll off as new ones are added to the top. The "permanent link&quot links above will take you to one post's permanent address; that should not change or disappear. You can also build up a link to see any month's postings by adding the four digit year, a slash, the two digit month and a trailing slash to the the main www.kayakero.net/news/blosxom URL. Like this:
/news/blosxom/2004/08/. (You can go down to the day level if you like.)
Only the site owners can edit this page (and all attempts to do so are logged); however anyone is welcome to add a comment using the "comments" link below each posting.