---
Other parts of the site:
Search the blog:
Archive:
Pick a Random Month
Full Blog Archive
(This is all the blog posts in cronological order, rebuilt every night so may be up to 24 hours out of date. It's also a big file with lots of graphics; please be patient.)
Mar 24, 2012
MythBusters
last update: 03/24 @ 20:32

You meet the best folks at a MythBusters event. We ran into former co-worker @BethMazur in line for the Behind the Myths tour show. Robert talked Sarah into getting him a tee shirt during the intermission. It was a lot of fun even if we were up high in the stands.
(2) Comments -- permanent link
Edit this (owner only)
Mar 22, 2012
Lego Spring Break
last update: 03/22 @ 17:42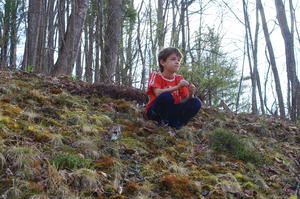 Along with the canoeing and camping, there was a lot of Lego playing going on. Including an outdoor installation. More photos in the vacation section.
(0) Comments -- permanent link
Edit this (owner only)
Mar 19, 2012
Before Lunch…
last update: 03/19 @ 22:58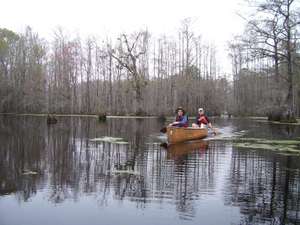 We joined Steve, Helen and Aaron for trip around Merchant's Millpond. They had taken a guided tour the day before and served as excellent guides. There was a really big pine tree out there somewhere with an eagle's nest in it. We manged to find it pretty directly — which astounded me as it was very hard to keep a straight line with all the cypress trees.
When we realized we were actually trying to get somewhere rather than just paddling around, Steve jumped ship to come and paddle in our canoe as Robert is still a bit small to be really effective. (And not, yet, very interested in being an effective paddler.)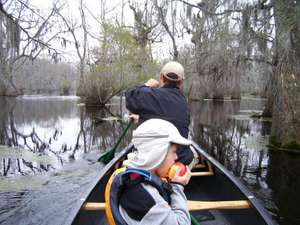 We found the tree and the nest was empty. But we saw the eagle a little ways further on as we were heading back towards the car. Fortunately it's not huge and there are some canoe trails marked out with buoys. Of course, we were off those trails most of the time. Keeping the shore on our left helped to make sure we had a vague clue where we were.
(1) Comments -- permanent link
Edit this (owner only)
Lunch Dessert
last update: 03/19 @ 08:56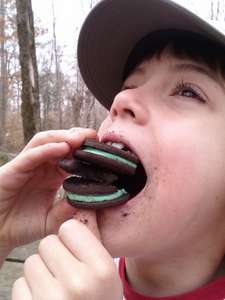 While Sarah is slaving away at her job, Robert and I headed down to a state park in NC to meet up with Steven, Helen and Aaron. In addition to enjoying the camping (and some of the canoing), Robert really enjoyed the lunch dessert: dark chocolate covered orange peel sandwiched between mint Oreos…
(0) Comments -- permanent link
Edit this (owner only)
---
Add new entry (owner only)
The posts on this page will slowly roll off as new ones are added to the top. The "permanent link&quot links above will take you to one post's permanent address; that should not change or disappear. You can also build up a link to see any month's postings by adding the four digit year, a slash, the two digit month and a trailing slash to the the main www.kayakero.net/news/blosxom URL. Like this:
/news/blosxom/2004/08/. (You can go down to the day level if you like.)
Only the site owners can edit this page (and all attempts to do so are logged); however anyone is welcome to add a comment using the "comments" link below each posting.