May 30, 2007
Finally…
last update: 05/30 @ 20:19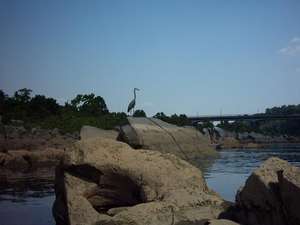 I'm starting to lose hope for getting my old PC back into service. But in the meantime, I did get back on the Potomac. It's sad that this is the first time I've been out this year… But I did see a couple geese, a couple goslings and several herons.
(1) Comments -- permanent link
Edit this (owner only)
May 27, 2007
Another warm day…
last update: 05/27 @ 21:23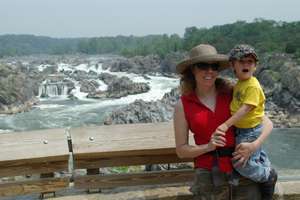 We went to Great Falls this morning before it got too hot. Robert enjoyed looking at the river and climbing on the rocks. But he asked why we didn't kayak around in the river this time… More pictures with the rest of the Memorial Day photos in his section.
(0) Comments -- permanent link
Edit this (owner only)
May 26, 2007
Whoa Nellie!!!
last update: 05/26 @ 15:17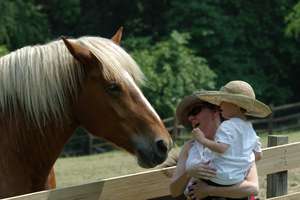 We went back to Oxon Hill Farm this morning to visit with the animals. I think this horse was in a snuffling mood. More photos in Robert's Section — including a couple from yesterday's walk-about.
(1) Comments -- permanent link
Edit this (owner only)
May 21, 2007
Well, not so much goodness it turns out…
last update: 05/21 @ 11:48

So while I have two pipes to the Internet now, there is some deeply buried magic in the kernel that is not happy about two default routes to the rest of the world. So I'm scaling back my plans at the moment.
I've dropped the Covad connection for now and will try to bring it back up once I replace the hard drive controller that I believe to be at fault in my oldest of machines. Once I have effectively a spare machine to play with, I may try again. It looks like I may need to track down an actual router daemon rather than relying on the kernel to keep track of what's what. Unfortunately, it looks like Red Hat moved that to their cluster suite (I've not spent too much time looking for it yet).
I'll update later when I know more. At the moment, I have 4 of my 5 IPs from Verizon seeming to work as promised and Covad says they have fixed their connection — but I need less confusing networking to verify that or prove them wrong.
(4) Comments -- permanent link
Edit this (owner only)
May 17, 2007
Geeky Goodness
last update: 05/17 @ 12:37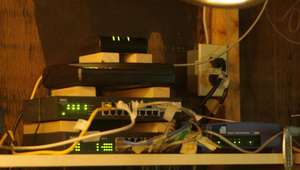 As I mentioned earlier, Covad has been having trouble keeping my DSL working. Here is kayakero.net's network center: the top modem is Verizon's Westel 6110 dumb bridge, below is Covad's Efficient Networks 5851 router; the top Dell switch is the Internet on Verizon's server, the bottom switch is my internal network. The print server is off to the right.
I have outbound traffic working fine on both connections now. I need to set up the server services to be happy on both networks then I'll be Internet connection redundent. Of course, that assumes Covad can make their connection work again, it went down in the storm last night…
(1) Comments -- permanent link
Edit this (owner only)
May 15, 2007
What is that?
last update: 05/15 @ 15:36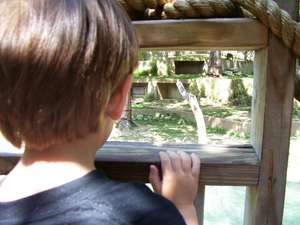 You have to click through to Robert's section, scroll down, click the photo and do the "big_" trick[1] to see the two tigers Robert is watching from our zoo trip today. Or you can trust me that we saw tigers there today.
[1] The "big_" trick is to add "big_" to the file name of the photo. Change the URL from …07_05_08.jpg to big_07_05_08.jpg.
(0) Comments -- permanent link
Edit this (owner only)
May 13, 2007
Oops….
last update: 05/13 @ 22:01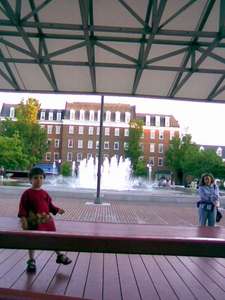 So it turns out, when you buy a cell phone with a camera built it, they have a clear plastic cover over the lens to keep it all shiny. Taking that off helps the quality of the photos some - but I still think I'll keep my other cameras. I probably should be more embarrassed about this than I am, but none of the other camera or lenses I've bought came with plastic covering the lens. Anyway, here's a photo from our way home after Mother's Day dinner at Thai Old Town (where we held our wedding rehearsal dinner).
(0) Comments -- permanent link
Edit this (owner only)
May 12, 2007
To be fair…
last update: 05/12 @ 20:18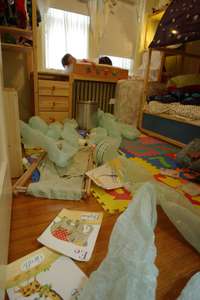 …Robert is not always perfect (as he may come across here). He was too tired and hopped up on allergy medicine to sleep for his nap this afternoon and this was the result.
There are also some photos of Robert and classmates in a Friday Trike-a-Thon in his section.
(0) Comments -- permanent link
Edit this (owner only)
Cookin' up a storm
last update: 05/12 @ 12:34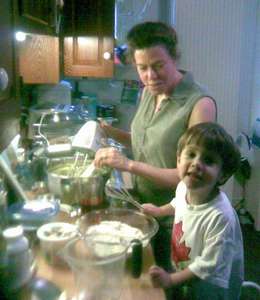 Robert and I came back from a stroll to catch Sarah working in the kitchen. Robert loves to help out in the kitchen; they were making banana bread.
And as part of my separation from my prior job, I've had to find a replacement for my corporate-provided crackberry. I wasn't willing to spend for a direct replacement, but I did get a cell phone with the now ubiquitous camera in it. Not the highest quality, but it works. And the theory (perhaps I'll test it out today) is that I can use it via bluetooth as a modem for my internet tablet.
While I'm on the subject of geeking out: Covad has had some serious service problems lately (enough that I have two free months of service from them), so I'm migrating to Verizon. The cool part is Covad's SDSL used the second line to the house while Verizon's ADSL piggybacks on the voice line. So for the moment we have redundent internet access here :)
(0) Comments -- permanent link
Edit this (owner only)
May 11, 2007
Ahh…
last update: 05/11 @ 21:08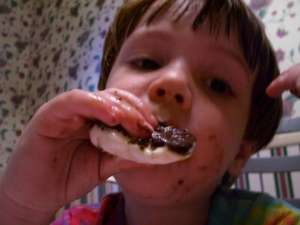 …the simple joys of an ice cream sandwich.
Or Tofutti non-dairy ice cream. And yes, Robert does eat more than ice cream and cup cakes — but he does really like those.
(0) Comments -- permanent link
Edit this (owner only)
May 06, 2007
And Ella has a sandbox…
last update: 05/06 @ 15:10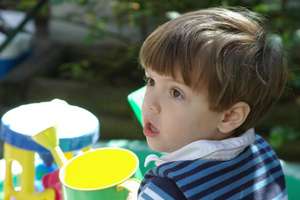 Robert was right at home playing with Ella's sandbox. He really does love shoveling sand up into a bucket or watering can to dump out, or driving construction vehicles around in the sand. But for a birthday party, sometimes you need to listen carefully — it might be time for cupcakes…
(1) Comments -- permanent link
Edit this (owner only)
More birthday fun…
last update: 05/06 @ 14:04

Robert (lower left) at Ella's (standing on the pink stripe of the parachute) third birthday party. The weather was perfect for playing in the backyard and all the kids (and adults) had a great time. We're taking notes on what is the most fun for Robert's upcoming birthday party. The parachutes are becoming a common theme…
(0) Comments -- permanent link
Edit this (owner only)
May 04, 2007
End of an Era
last update: 05/04 @ 22:15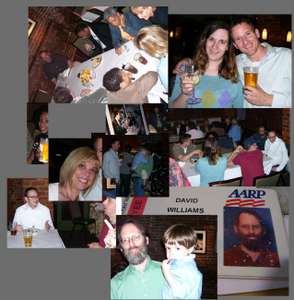 My last day with AARP was today. I've been there 13 years, met my wonderful wife there, made lots of friends and learned about everything from natural lighting for video production, to the need to avoid self-selection in survey respondents, to the perils of cross domain AJAX calls. I will really miss my friends there but it was time to move on.
I started in '94 in the Broadcast Department (thank you Bob) as a photographer, and did some database work for that group when I wasn't lugging a video camera around. I also started to dabble in web pages and audio and video presentations delivered on the web. I was slowly sucked into software programming for the web by the renegade team that was forcing AARP into creating a web site and joined the Research Group doing early web development for AARP (thank you Robin and Joel). That led me to helping build research.aarp.org (greatly changed now as http://www.aarp.org/research/), which got me noticed by AARP's IT folks who brought me into an official role supporting http://www.aarp.org/. And I was moved into AARP Services when the unified Web Strategy and Operations group was founded (thank you Mark).
Some of what I've learned in my last position with AARP
(nothing new, but these I've learned by experience rather than book):

Hire good people, give them the tools they need and stay out of their way.
Criticize as little as possible — making it unusual makes it more effective.
Be honest with yourself and those you work with.
It's better to be the bearer of bad news than the person who finds out last.
Sweat the small stuff enough to be sure it doesn't grow into big stuff.
Describe your job in one short sentence and refer to that when things get ambiguous.
If you can't find something fun in your work, look for other work.



I really want to thank you guys for making this the most special place to work:

Jake
Chris
Kathy
Josh
Gina
Joseph
Justin
Classic John
New John

And, of course, to everyone else who helped build and run AARP.org — thanks very much. Thanks Chris for the photos (don't blame him for any shortcomings, I forced him to use my disposable camera). Mike posted some of his surreal cell phone photos on his blog as well.
(0) Comments -- permanent link
Edit this (owner only)
Who is the coolest?
last update: 05/04 @ 22:00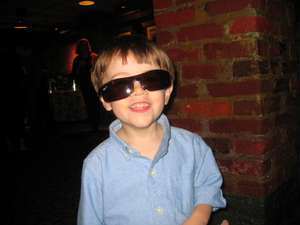 Robert was well behaved at Daddy's Farewell party, given by his tremendous group of Co-workers from AARP. So technically, while Daddy was the coolest - it being his party and all, Robert was definately vying for most popular, gaining special favors from Ms. Gina with games of chase and Ms. Kathy with games of 'puppet." Thank you all.
(0) Comments -- permanent link
Edit this (owner only)
May 01, 2007
More Birthday photos…
last update: 05/01 @ 21:59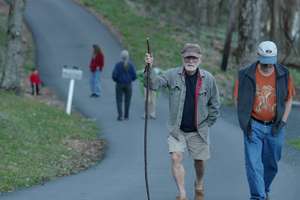 There are more photos from the trip to North Carolina for my dad's birthday party in the vacations section.
(0) Comments -- permanent link
Edit this (owner only)
Happy Birthday!!!
last update: 05/01 @ 16:57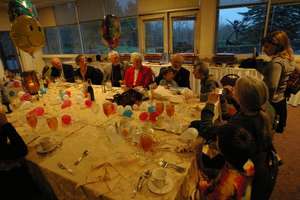 While Robert's paternal grandfather's 80th birthday is May 5th, we celebrated this past weekend. We had a great time and I hope everyone else did as well. I expect there will be more photos a bit later….
(0) Comments -- permanent link
Edit this (owner only)
---
Add new entry (owner only)