Nov 29, 2008

last update: 11/29 @ 11:05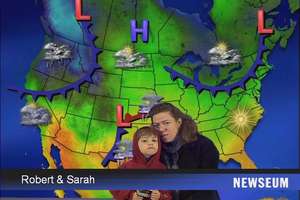 While I went to work on Friday, Sarah and Robert took the rest of the folks to the Newseum. Robert decided he really wanted to be a TV reporter and he choose to be the weather forecaster. He needed some help from Sarah because of all those pesky words on the teleprompter. The photo should link to a short video clip — which may take a little while to download.
(1) Comments -- permanent link
Edit this (owner only)
Thanksgiving Football… Sort of…
last update: 11/29 @ 11:04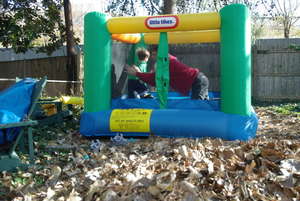 We enjoyed a very Zapolsky Thanksgiving this year with David and Ian coming from Seattle and Harry and Elle coming from New Jersey. Robert is having a really hard time not spending all his time with Ian and Ian is being a great older cousin. Here they are playing a Robert special version of football in the moon bounce.
The rules were not especially clear to me. It went something like, take the football (actually a soft baseball), tell your opponent (Robert was the the Redskins and Ian was the Seahawks) which way you are going to run, then run the other way across the moon bounce. If you get to the other side, you score.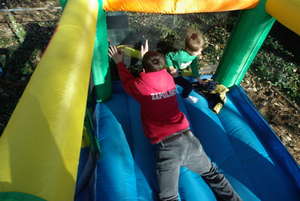 The game became a little more odd when Robert started to announce he was going to go "cat" or "dog." Then it turned into, "look at that cat…" while he ran past the other team.
Somehow, I think Robert managed to win that game…
(0) Comments -- permanent link
Edit this (owner only)
Nov 21, 2008
Tree all finished now…
last update: 11/21 @ 22:12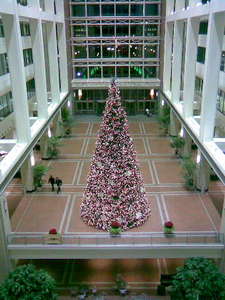 Here's the tree after the construction crew left. It's almost up to the 4th floor windows — definitely too big for our house. (And, yes, it does seem a bit early to me.)
(0) Comments -- permanent link
Edit this (owner only)
Nov 14, 2008
Hard Work
last update: 11/14 @ 20:55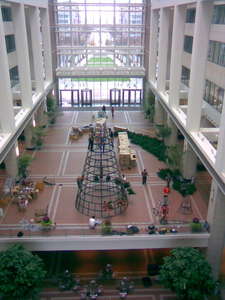 It takes a lot of hard work to put the winter holiday decorations when you have a really big atrium. Or as I mentioned to Sarah, it must be a big tree if 6 or 8 construction guys in climbing harnesses show up to put on the lights (and tree branches).
You may need to look at the larger version to be able to make out the 5 guys working on the base of the tree…
(1) Comments -- permanent link
Edit this (owner only)
Problems of a Four Year Old
last update: 11/14 @ 20:32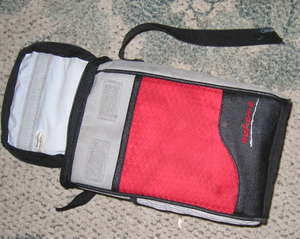 This is subtitled: Owed to a Jr. Kindergarten teacher. Apparently, and we only have Robert's side of the story, Robert decided he should wear his lunchbox handle over his head. His teacher thought having a strap around his neck was a BAD idea. Unfortunately, when they tried to remove it, Robert was stuck. Ms. Kamilah saved the day by cutting the strap. Stuff happens when you're four I guess.
(0) Comments -- permanent link
Edit this (owner only)
Our Seattle Trip
last update: 11/14 @ 09:23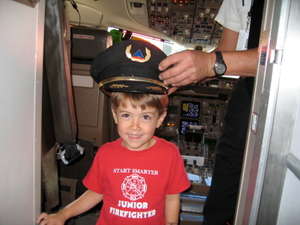 While the reason for the trip to Seattle was very sad, we did have enough time to take in a few sites and Robert met lots of family he had not met before.
And the nice folks from Delta invited Robert to take a look around the cockpit as we boarded in Atlanta — that was pretty cool. There are many more photos from Robert's first trip to Seattle.
(4) Comments -- permanent link
Edit this (owner only)
Nov 11, 2008
Memorial Gathering
last update: 11/11 @ 13:32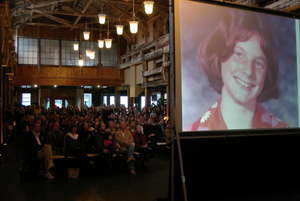 We just came back from a quick trip to Seattle for Lindsay's memorial. It was a lovely event for a very sad occasion. Lots of her friends had a chance to remember what all she meant to them and how she had impacted their lives. Some stories were shared by her family and friends; there was a very nice slide show that spanned her (too short) life, and there was time for people to reconnect and reminisce. We will all miss her.
(0) Comments -- permanent link
Edit this (owner only)
Nov 05, 2008
Ahhh…
last update: 11/05 @ 09:15

Somehow I just feel better working for the Federal Government today.
(2) Comments -- permanent link
Edit this (owner only)
Nov 01, 2008
Let the stomach ache begin…
last update: 11/01 @ 09:05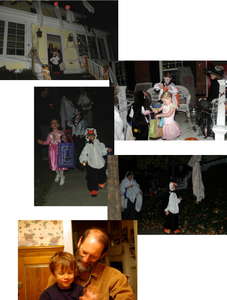 Robert really had a good time tonight Trick or Treating with Megan and Johnathan from across the street and Julia and her baby sister from down the street. It's interesting to me that at this age, he has more restraint over the urge to eat all the candy in sight than I do.
He got lots of nice, "Look at that penguin," comments. And his friend Rowan from school gets big points for giving him the flashlight — the downside to a penguin costume: it's very black (at least from the back).
(0) Comments -- permanent link
Edit this (owner only)
---
Add new entry (owner only)