Early Rafting Pictures…
last update: 07/24 @ 23:41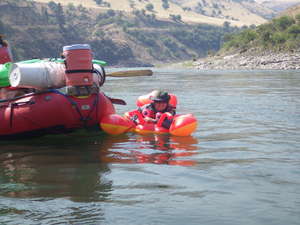 … Or the most unexpected pictures…

Someone will have to correct my spelling (and I'll update this post) — thank you Robert.

Sarah and I were talked into buying an inflatable alligator (later named Gary) to take on the trip. But Robert decided klawboautoman the lobster was more stable.

Sarah preferred Felecia the Flamingo (there may be stories about her flight and recovery when the main posting goes up).

And Annie managed to tame Gary the Gator (mostly).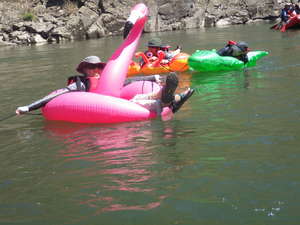 Which was good because they all were towed through some fun rapids on the Lower Salmon last week.
All the inflatable critter riders reported having a good time. Robert, perhaps, the best time if for no other reason than he was mostly able to stay out of water. It was "refreshing."
But an excellent counter to the hot air.
Everyone (rafters, hard boaters, IK1ers and inflatable critter riders) had a great time. While the weather was hot, it could have been hotter; the water was cool and high — but not too high.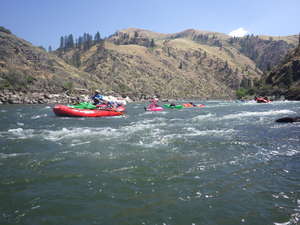 Of course, for the bigger rapids, the pool toys (inflatable critters) were strapped to the rafts (which made the rafts extra fun to look at).
More later when I join Robert and Sarah who are already back in Alexandria.