Now you see it …
last update: 03/11 @ 11:29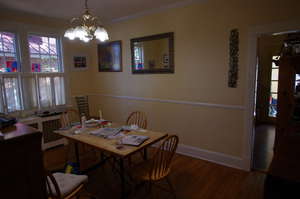 … Now you don't.

They took down the wall between dining room and kitchen, the original back wall and the downstairs back wall of the 1976 addition. That really opens it up.

It also really creates a lot of dust. I was less aware of the dust when we did work on our house in Richmond when I was growing up. I remember my mom complaining about how it got everywhere. I completely get it now.

The general plan is to add a counter between dining room and kitchen, open on the right and keep the kitchen open to the expanded addition in the back.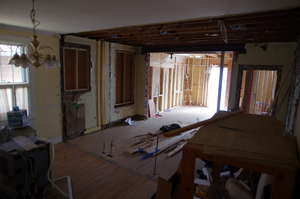 The stove will go along the exterior wall between where the windows used to be (topped with an exhaust fan).
The windows have been roughed into the addition but are still covered. The skylights in the addition have been cut out, but the roof is still tarp covered.
And on the right, you can see the framing for the new, downstairs powder room.