Conway River
last update: 03/14 @ 21:59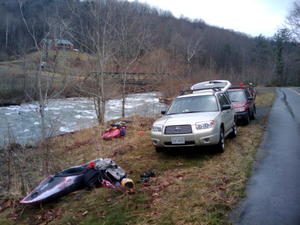 Sarah and Robert had an appointment with a mouse (a birthday party at Chuckie Cheese's). But I was happy to go boating when Hank called. After all the rain, we had an idea where we were going to head.
And a morning review of the gauges looked good for the Conway River, a tributary to the Rapidan, which we'd not been on before. Mark and Mark had exchanged email with Hank earlier and they were up for the trip.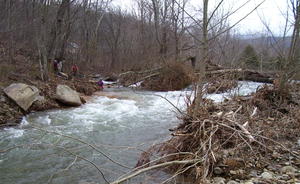 While it rained most of yesterday (it would have to in order to bring the river up) and it rained a good part of the way there, the rains lifted while we were on the river and the sun even broke through for a while.
It was a great trip, lots of fun class II with some IIIs thrown in (one good sized double drop. And luckily for us, no barbed wire fences across the river. There were several trees though (note the canoes portaging above — the river wide strainer is on the right).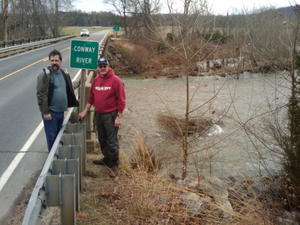 This was a really fun trip; the river was bank full but not overflowing. The current was pushy and there weren't many eddies, but the couple times we needed them, there they were. We did have to get out three or four times for trees across the river.
I thought it was more fun than the Covington, but maybe that's just because the Conway is fresh in my memory and the last Covington run was years ago. An excellent reason to return.