Jun 29, 2014
Feeling small…
last update: 06/29 @ 15:34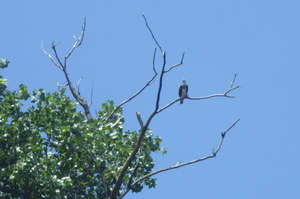 With Sarah up in New Jersey, Robert and I took the canoe out today. We headed back to Jones Point and decided to scout out options for tying up the canoe on the Maryland side so we could visit National Harbor by canoe.
They are not very friendly to small watercraft at the commercial dock.
We were feeling a little small to have this eagle eyeing us as we paddled along…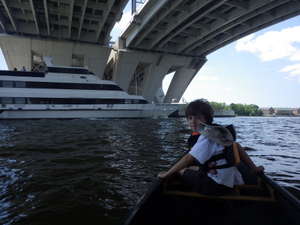 … then we saw the Spirit of Mount Vernon coming upstream ahead of us. We decided not to race to cross in front of it (Robert still has Tom Sawyer to look forward to).
(0) Comments -- permanent link
Edit this (owner only)
Jun 28, 2014
Kitty Portraits
last update: 06/28 @ 19:38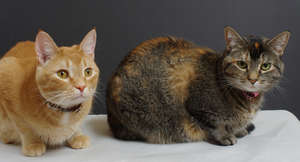 Since I had the lights and camera out for Robert's school art, it only made sense to try to entice the kitties into portraits.
They put up with it well. Panzer even jumped up to join Pinker in her session. The two-shot turned out better than either of the individual photos.
It may have helped that they had been fed dinner by this time.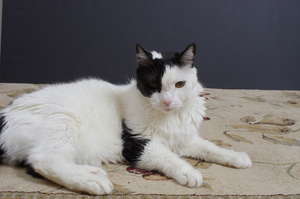 Zip Drive, of course, was less into it. He was having nothing of the table but did settle down for a few minutes on the rug — as long as Panzer would leave him alone
(1) Comments -- permanent link
Edit this (owner only)
Annual Art Shoot
last update: 06/28 @ 19:35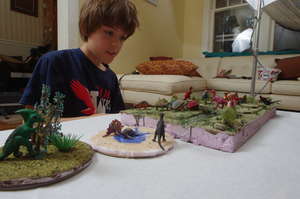 It's time for the annual school art pictures. This year we're adding a couple items from summer camp. This is Robert's Dinosaur and Diorama camp diorama.
He really enjoyed the Smithsonian camp and the extra bonus of getting to ride the train in with Sarah — they mostly took the VRE, occasionally the metro. I don't know if Robert realizes how good he has it to have some many transportation options at his fingertips.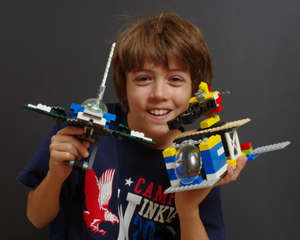 Not part of the school or camp art fest, but with the camera and lights out, it only made sense for Robert to show off some Lego creations.
(0) Comments -- permanent link
Edit this (owner only)
Jun 15, 2014
Father's Day BLAM!
last update: 06/15 @ 19:49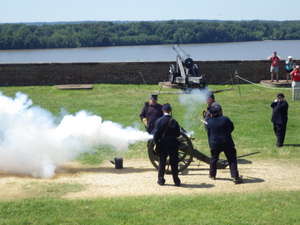 Sarah was keeping track of when Fort Washington would be firing their canons, and today was the day.
We paddled across the Potomac from the Virginia side (dodging motor boats, jet skis and small cruise ships) and arrived in time for a quick lunch before we climbed up to see what was happening in the fort.
There was a BLAM as we cleaned up our lunch.
Clearly our timing was Excellent!

We arrived just as they were preparing the second shot from the 2pm blast.

It was every bit as loud as it looks.

And they told us that they were using about 8 ounces of black powder — with an actual canon ball, they would be using more like a pound.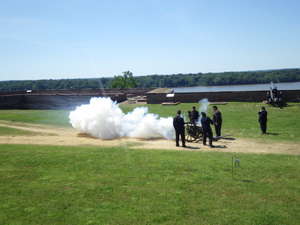 It was plenty loud enough to get your attention.

We staying for the final two shots of the day just because it's so impressive.
(0) Comments -- permanent link
Edit this (owner only)
Father's Day to and from the Blam
last update: 06/15 @ 19:48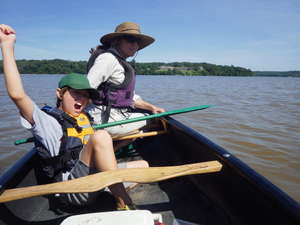 It was pretty windy as we paddled north to the fort and a bit choppy. But the wind helped keep it cool.
And we really weren't threatened much by the power boat crowd, though we did keep an eye out just to be sure.
Yesterday was lovely and cool; today lovely and warm. Being on the river was a fine way to spend the afternoon.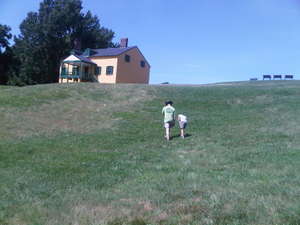 We were not the only folks enjoying the day and entertainment. Someone was nice enough to offer to take our picture (I guess they felt pity on us as we futzed with the timer settings).

Even with the cannons blasting and great weather, there were really very few folks. It's great (from our perspective) that Fort Washington is so little known.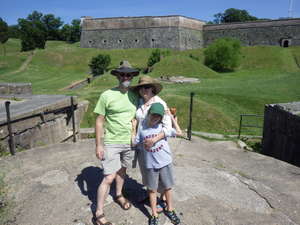 (0) Comments -- permanent link
Edit this (owner only)
Jun 08, 2014
Start of Summer
last update: 06/08 @ 15:49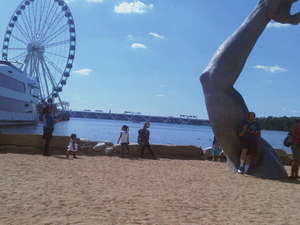 Yesterday, with the beautiful weather and Robert recently out of school, we decided to bike across the bridge and check out the new Capital Wheel.
The bike ride was great; Robert's new bike seemed to treat him really well and we made the full trip there without incident or need to walk. We did stop to take in the view from the bridge — the telescope and binoculars in the overlooks are free, a very nice bonus.
And the circular ride down from bridge to ground level was lots of fun.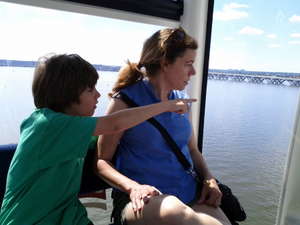 The wheel was fun and the view was nice. But National Harbor is really too far from DC to say the view of the capital was great. It was nice; we really appreciated that the cars had air conditioning as it was about 85 outside.

It provided a great view of how much the area around National Harbor has been built up. It's impressive considering there was nothing when we moved into our house.

Too bad the line for the wheel was outside; fortunately, mostly in the shade. We did see one patron ahead of us who fainted in the heat. Sarah predicts they will install misters before the summer is out.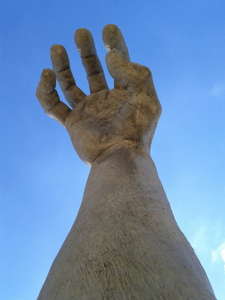 And, of course, while there, we had to spend some time with The Awakening, the cool sculpture that was moved down from Hain's Point when National Harbor was built.

And we stopped in at the Peep store to get a little extra energy (and cold water) for the trip back home.

All-in-all, a very pleasant outing.
(0) Comments -- permanent link
Edit this (owner only)
Jun 07, 2014
Life of a Fifth Grader…
last update: 06/07 @ 00:16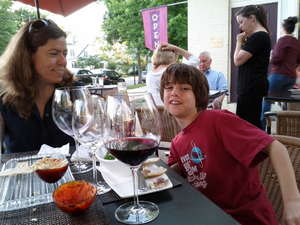 … we celebrated the end of 4th grade at the latest local hip spot, Grape and Bean. Robert announced he is now a 5th grader, having ended his fourth grade career on a series of parties.
Now summer really begins!
(0) Comments -- permanent link
Edit this (owner only)
Jun 01, 2014
Golf Ball Island…
last update: 06/01 @ 16:53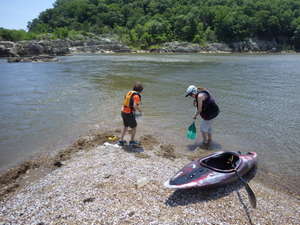 …at least temporarily renamed Goose Poop Island. I'm sure you can guess why.
The river level dropped enough that Robert was able to build some harbors there this afternoon. And Sarah was able to park the kayak in the harbor — sort of (after the construction, of course).
(0) Comments -- permanent link
Edit this (owner only)
---
Add new entry (owner only)