---
Other parts of the site:
Search the blog:
Archive:
Pick a Random Month
Full Blog Archive
(This is all the blog posts in cronological order, rebuilt every night so may be up to 24 hours out of date. It's also a big file with lots of graphics; please be patient.)
Mar 31, 2022
Latest NHS member…
last update: 03/31 @ 22:23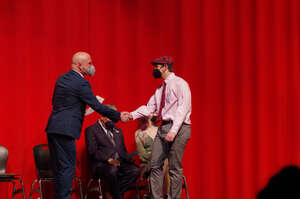 …Well, not quite.
There were two people behind Robert at the induction ceremony for the National Honor Society tonight. (Pesky alphabetical by last name)
We're very proud of Robert for this recognition.
And it looks like he's in good company.
Maybe the planet will be OK after all.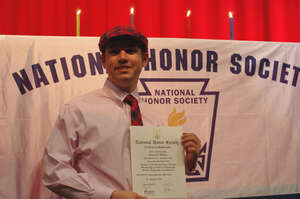 (Gotta love the stylin' MacNaughton wear!)
(0) Comments -- permanent link
Edit this (owner only)
Mar 27, 2022
Robert's new sport
last update: 03/27 @ 18:59

Robert has taken up Ultimate Frisbee for the spring. It was barely feeling like spring today (just a few flakes of snow) as the Titans won their third game to remain undefeated.
Robert scored this point for the team!
(0) Comments -- permanent link
Edit this (owner only)
Mar 19, 2022
First 2022 Potomac trip
last update: 03/19 @ 22:54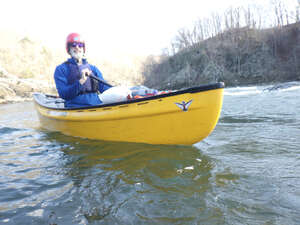 It was a perfect day to take advantage of Daylight Saving Time and get out on the river in the evening. The water was still cold, but the air was about 77 and a lovely blue sky (completely over exposed in this photo, sorry).
And an excellent way to welcome Spring!
(0) Comments -- permanent link
Edit this (owner only)
Mar 14, 2022
We have a Winner!!!
last update: 03/14 @ 23:08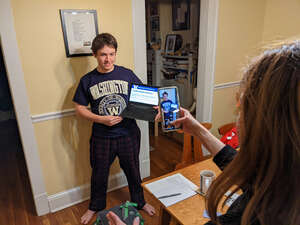 Robert accepted the admission offer for University of Washington!!!
Now we have a Huskey in the family!
CONGRATULATIONS ROBERT!
(0) Comments -- permanent link
Edit this (owner only)
Mar 06, 2022
Fun game
last update: 03/06 @ 11:38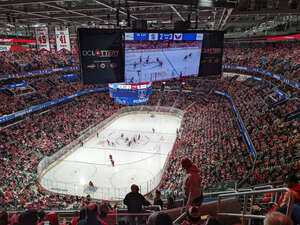 We went to go see the Caps vs. the Kraken last night. It was a fun game.
But, as Robert tweeted to his friends, especially cool to see the Seattle Kraken play on the same day he heard he was accepted into UW!!!
He's really happy about that and likely to be a Kraken fan (unless they are playing the Caps).
And, for the record, the Caps won 5 - 2 last night.
(0) Comments -- permanent link
Edit this (owner only)
---
Add new entry (owner only)
The posts on this page will slowly roll off as new ones are added to the top. The "permanent link&quot links above will take you to one post's permanent address; that should not change or disappear. You can also build up a link to see any month's postings by adding the four digit year, a slash, the two digit month and a trailing slash to the the main www.kayakero.net/news/blosxom URL. Like this:
/news/blosxom/2004/08/. (You can go down to the day level if you like.)
Only the site owners can edit this page (and all attempts to do so are logged); however anyone is welcome to add a comment using the "comments" link below each posting.