---
Other parts of the site:
Search the blog:
Archive:
Pick a Random Month
Full Blog Archive
(This is all the blog posts in cronological order, rebuilt every night so may be up to 24 hours out of date. It's also a big file with lots of graphics; please be patient.)
May 24, 2019
Honor Roll again
last update: 05/24 @ 21:54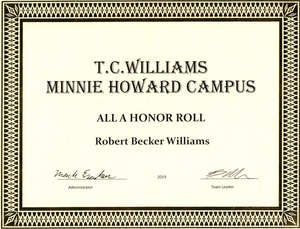 Robert has been keeping his grades up and made all A honor roll again for the quarter. He's starting to look forward to school winding down and summer travel (and work at the Smithsonian) picking up.
(0) Comments -- permanent link
Edit this (owner only)
May 21, 2019
Happy Birthday, SZap!!!
last update: 05/21 @ 21:03

We started celebrating Sarah's birthday this morning with some fun presents.
The new tub made for an extra layer of wrapping.
And the cards came with glitter, as requested :)
Of course, there were Legos involved.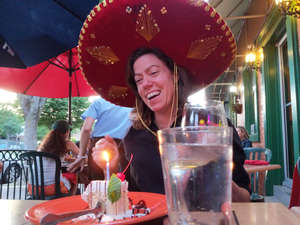 And this evening we met up with Seileen and Mary at Los Tios for the ritual wearing of the silly hat.
I thought it was nice birthday, and Sarah's smile makes me think she did too.
(0) Comments -- permanent link
Edit this (owner only)
May 11, 2019
Terry is in the House!!!
last update: 05/11 @ 11:11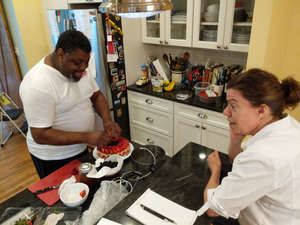 And he brought desert!!!
One of Sarah's college friends is visiting from Boston.
Life could be lots worse than having pastry chef friends :)
We had a great dinner at Kith/Kin last night and it looks like we'll have a fabulous desert tonight!
Dinner should start to smell really good shortly as the pork shoulder starts to heat up…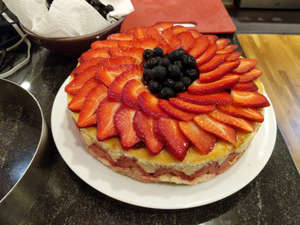 (0) Comments -- permanent link
Edit this (owner only)
May 08, 2019
Wedding Finery
last update: 05/08 @ 20:00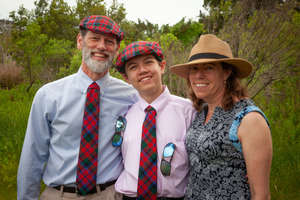 Craig Leathers was one of the photographers for the wedding (Loren called him the unofficial-official photographer) and he took some excellent photos.

Including these of us. I think this is when Carolee got her shot of us rocking our hats.

And this one of Robert and me is excellent.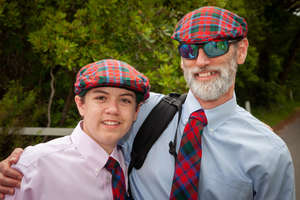 Steve and I coordinated which worked well as MacNaughton became the dress code for parking assistance. He and I had directions on where cars could park — Loren and Susan don't really have parking at their house for 100 guests.
But by being on a small island, getting the word out that parking was tight, and having a church around the corner and one othe beach house down the street rented, there was plenty of space.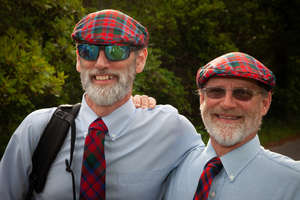 The MacNaugton parking team's job was easy.
(0) Comments -- permanent link
Edit this (owner only)
May 07, 2019
Family hats…
last update: 05/07 @ 17:23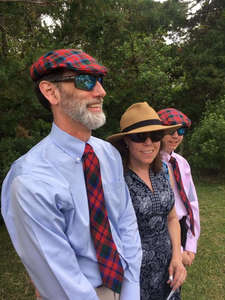 Carolee snuck this picture of us at the wedding.

Robert and I decided to represent the MacNaughton clan for the festivities.

Thank you for the picture Carolee!
(0) Comments -- permanent link
Edit this (owner only)
May 06, 2019
Beach Wedding photos
last update: 05/06 @ 20:42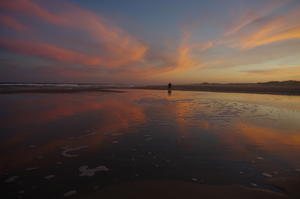 Our trip down to Ocracoke was a fine one. Clearly, the weather cooperated. And the wedding was both lovely and flawless. More photos in the vacations section.
(0) Comments -- permanent link
Edit this (owner only)
May 04, 2019
Beach Wedding
last update: 05/04 @ 11:04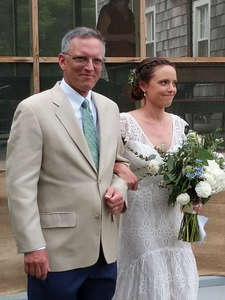 Perfect day for a beach wedding yesterday. And everything was great! Kate and Sean are now legally married (the most important part). And Loren is down to only one daughter engaged :)
And family and friends are enjoying the company on Ocracoke.
(0) Comments -- permanent link
Edit this (owner only)
---
Add new entry (owner only)
The posts on this page will slowly roll off as new ones are added to the top. The "permanent link&quot links above will take you to one post's permanent address; that should not change or disappear. You can also build up a link to see any month's postings by adding the four digit year, a slash, the two digit month and a trailing slash to the the main www.kayakero.net/news/blosxom URL. Like this:
/news/blosxom/2004/08/. (You can go down to the day level if you like.)
Only the site owners can edit this page (and all attempts to do so are logged); however anyone is welcome to add a comment using the "comments" link below each posting.