---
Other parts of the site:
Search the blog:
Archive:
Pick a Random Month
Full Blog Archive
(This is all the blog posts in cronological order, rebuilt every night so may be up to 24 hours out of date. It's also a big file with lots of graphics; please be patient.)
Dec 29, 2012
Satay
last update: 12/29 @ 14:49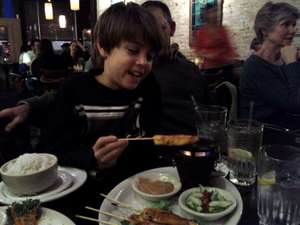 Robert enjoyed cooking (well, heating) his own satay while we were out with the Williams' clan at Siam in Decatur. We're having a great time catching up with everyone and Robert and I have come to really like Settlers of Catan after a couple games here. Well … I just won so maybe I'm liking it more than Robert.
(0) Comments -- permanent link
Edit this (owner only)
Dec 23, 2012
Ice
last update: 12/23 @ 15:51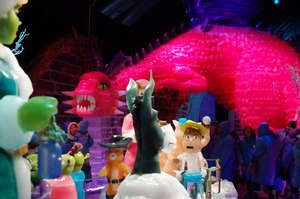 We had very nice lasagne dinner last night with Ian, Harry and Elle. They came down and David Z., Lynn and Sam flew in (after dinner) for the holidays.
This morning was a relaxing morning and the Ice show at National Harbor seemed like it would be fun.
We joined a bunch of Lynn's family for the show and had lots of cold (9 degree) fun.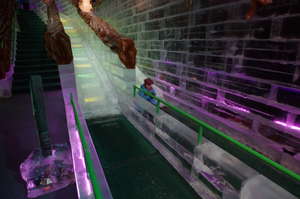 I think Robert would agree that the slides were the highlight. There were several and the lines were not long, so it was easy to go a bunch of times.

For the record, I won the race with Robert — I think he may have been a bit slow to start. The ice carving was pretty spectacular and lots of fun, but it would have been nice to see more free-form sculpting rather than all the Shrek characters — fun though they were.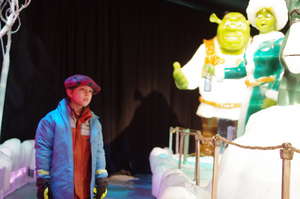 I'm glad they gave out the extra coats — 9 degrees really is pretty cold. We didn't spend too much in the ice room and enjoyed a nice (hot) lunch afterwards.
(0) Comments -- permanent link
Edit this (owner only)
Dec 20, 2012
Festival of Lights
last update: 12/20 @ 18:07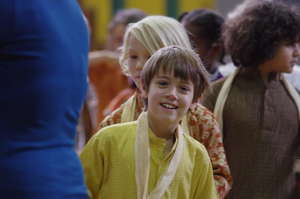 Robert in costume for the school's Festival of Lights presentation. He, and the rest of the kids, did a great job and deserve a few weeks off. It's beginning to feel a lot like Christmas!
(0) Comments -- permanent link
Edit this (owner only)
Dec 09, 2012
Christmas Tree!!!
last update: 12/09 @ 15:56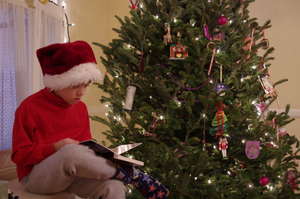 We walked over to the Christmas tree lot and picked out a good one this afternoon. As usual, there was a lot of sniffing from the kitties when we brought the tree inside.
Then we settled into decorating it — trying to keep the glass ornaments out of paw reach. With the ornaments came the Christmas books — and Robert can't pass up a book…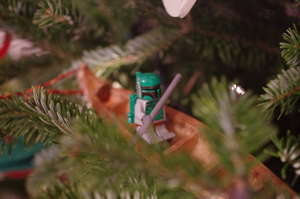 We decided on a new rule this year: One Lego guy and no weapons on the tree. I'm not quite sure this qualifies: Boba Fett in a canoe. But I'm sure that's a paddle not a lightsaber … of course it is, Boba doesn't have a lightsaber.
(0) Comments -- permanent link
Edit this (owner only)
Dec 01, 2012
Scottish Walk I
last update: 12/01 @ 15:07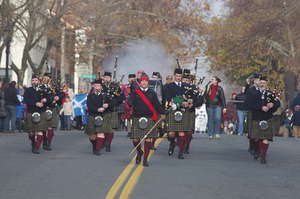 Today was the annual Scottish Christmas Walk in Alexandria. Always a fun time with lots of bagpipes and marching. Every year, we think about joining the clan and marching.
This was not the year. Maybe we'll add a reminder to the calendar to get in touch with MacNaughtons next year. Their presence seems to be growing a little bit every year.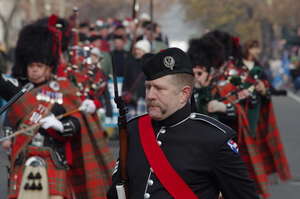 Sarah is fighting a wicked cold and it was blustery and breezy this morning. Robert, who was getting excited yesterday, was less so by this morning.

I almost decided to miss my best chance at hearing the pipes and drums (I'm fighting a sore throat), but I decided to head on down King St. at the last minute.
I was impressed at the crowds for a blustery morning. And I got one of the last front row spots — fortunately, in a great position. I don't think three photos will do it justice so I'll pop up another post…
(0) Comments -- permanent link
Edit this (owner only)
Scottish Walk II
last update: 12/01 @ 15:06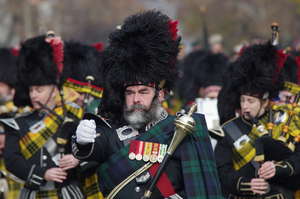 Some people really look the part. like this drum major. The pipes and drums lived up to expectations and there were even a few musket volleys in the distance.
I'm sorry that Sarah and Robert missed it, and the clouds did break up after a while turning into a very nice day. (They are getting to spend some time outside touring folks around Robert's school this afternoon.)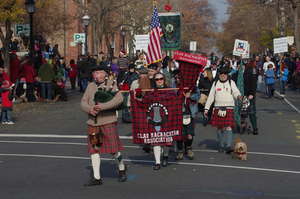 Note the size of the family clan: there have to be at least six or eight MacNaughton's (or MacNachton).

Next year… (maybe)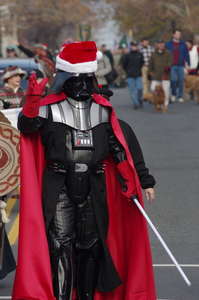 I'm not quite sure what the Scottish connection is with Darth Santa, but there he was, mixed right in with the rest of the paraders.
(0) Comments -- permanent link
Edit this (owner only)
---
Add new entry (owner only)
The posts on this page will slowly roll off as new ones are added to the top. The "permanent link&quot links above will take you to one post's permanent address; that should not change or disappear. You can also build up a link to see any month's postings by adding the four digit year, a slash, the two digit month and a trailing slash to the the main www.kayakero.net/news/blosxom URL. Like this:
/news/blosxom/2004/08/. (You can go down to the day level if you like.)
Only the site owners can edit this page (and all attempts to do so are logged); however anyone is welcome to add a comment using the "comments" link below each posting.