Dec 28, 2016
Cayman Trip!!!
last update: 12/28 @ 22:07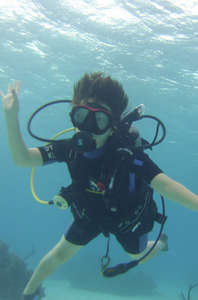 We ran away from DC for a week and introduced Robert to diving (some of the pictures are here on the blog). If you want the full story (and many more photos) check out the trips section.
(0) Comments -- permanent link
Edit this (owner only)
Harddrives and Hammers
last update: 12/28 @ 14:48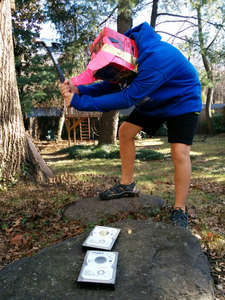 Time to clear some space on the shelves in the basement.
These two harddrives have been around for awhile. At 120GB each, they're not really big enough to be useful these days. And I had a note about them being bad. I had some drives go south several years ago, these may be the very ones.
Note the eye protection Robert is sporting as he helps to make it really hard to recover any data from these.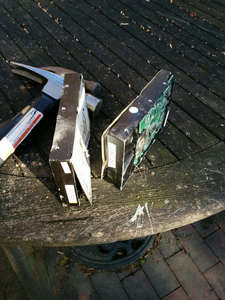 After we were through, both cases were broken in addtion to being severely dented.
And the electronics were well shattered.
We didn't remove the platters, but I'm pretty sure they were dented in our efforts. And I'm sure there is nothing on these drives worth the effort of trying to recover it.
(0) Comments -- permanent link
Edit this (owner only)
Dec 26, 2016
Christmas Presents!!!
last update: 12/26 @ 16:52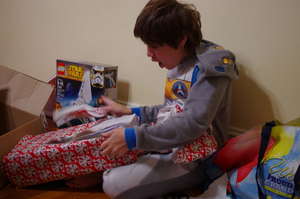 Really, our Christmas present was the trip to Cayman — more photos a bit later.

But there were some nice things under the tree as well.

I have an etched MacNaughton crest for my office courtesy of Robert's Tech Shop camp last summer.

Sarah got a cool game from Robert (courtesy of the game club at school).

And Robert got a cool Lego set (thank you Santa) and Xbox (which is even now downloading games).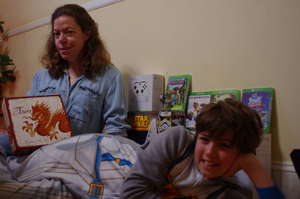 His expression opening the Xbox was well worth the extra packaging and wrapping to make it harder to guess (he actually bought half of it with his saved up allowance — so it might have been only a partial surprise).
And the Lego set called to him strongly after we cleaned up the wrapping paper. (Note the Star Wars PJs that he opened on Christmas eve.)
Sarah's game, Tsuro, is recommended for a fun quick strategy game.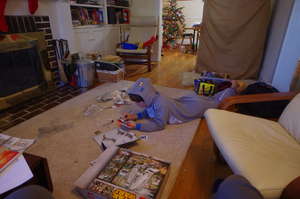 (0) Comments -- permanent link
Edit this (owner only)
Dec 23, 2016
The SCUBA Dab
last update: 12/23 @ 21:32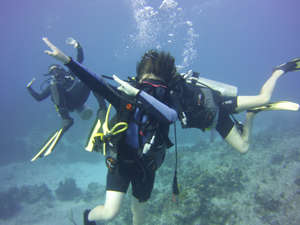 I don't make any claim to understand where The Dab comes from, but Robert (and apparently others of his generation) are very into it.

I'm sure Wikipedia has lots to say, I'll leave the explanation and background to them.

Robert's SCUBA dab was so spot on and fantastic, it blew Amy away — see her falling over there in the background?

Sarah knew what was coming and got into the scene while she and I waited for Robert and Amy to drop down to our level.

Will there be (or is there already) a Wikipedia article on underwater dabs? Our collection is now complete with both snorkel and SCUBA dabs.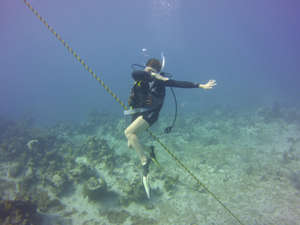 (0) Comments -- permanent link
Edit this (owner only)
Friday wound down with this…
last update: 12/23 @ 21:23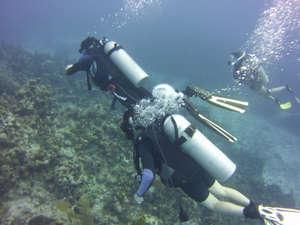 …a nice shallow-ish boat dive off of Seven Mile Beach. Red Sail Sports connected us with a dive at Hammerhead Hole.

And Amy, our dive instructor, was happy to take Robert along even though he's not (yet) certified.

That's Amy leading Robert with Sarah trailing along behind.

It was great fun. Again, Robert had a great time (and had no issues with equalizing the pressure in his ears).

Amy later apologized about the visibility — which seemed great to us but was apparently more limited than is often the case around here.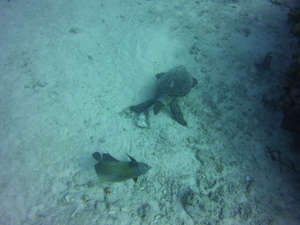 Seeing a turtle and a friend working on finding something to munch on was way cool!!!
I was having too much fun taking pictures and was going through my air faster than Robert and Sarah so I missed the nurse shark they saw just after I started back up.
But I still enjoyed myself a lot and I'm very happy we got to enjoy the dive.
Amy even indulged us with this shot of the three of us (it may make a reprise appearence in the Tax Day Letter).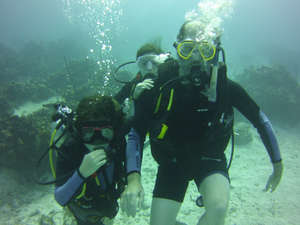 (0) Comments -- permanent link
Edit this (owner only)
We started Friday with this…
last update: 12/23 @ 21:10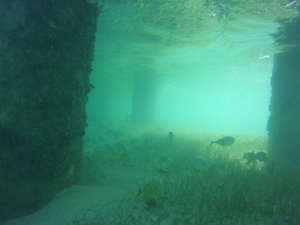 …a trip across Grand Cayman to Rum Point.
Rum Point is a sheltered spot on the north east side of the bay. The water was calm at the beach (and there were lots of beach chairs). Getting a little bit out from the shore, and out of the shelter of the point, and the wind driven current picked up.
Robert had noted in the Explore Cayman magazine that the fish liked to congregate under the dock. So we got our snorkels out to go look for ourselves.
There were serveral schools of fish (and they didn't seem to mind us swimming by at all).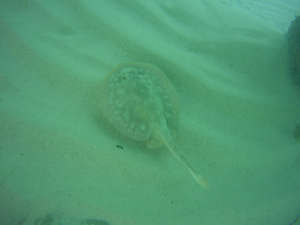 There were even a couple small (we learned yesterday, male, stingrays).
And even a trumpet fish under the dock.
(0) Comments -- permanent link
Edit this (owner only)
Dec 22, 2016
Stingray Sandbar
last update: 12/22 @ 20:04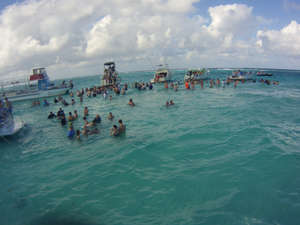 Stingray sandbar is very popular.
Almost, maybe too popular.
Given a choice, we'd rather have had it just for our our boat of 50 folks (or all to ourselves).
But if we had to choose between sharing it with a lot of folks or not going, we are happy to share.
All that sun and excitement can wear you out…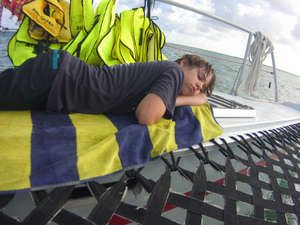 (0) Comments -- permanent link
Edit this (owner only)
Stingrays!!!
last update: 12/22 @ 20:00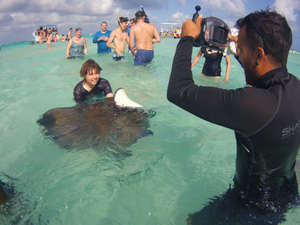 Today we took a short boat trip to Stingray Sandbar. This is not the same spot Sarah and I visited 15 years ago — that was Stingray City, 12 feet deep, a really shallow dive. This was the sandbar, about 2 feet deep.
Too shallow really to snorkel, but we tried; actually it was possible but it was easier to spot the rays standing and looking into the water, then ducking down to see them swimming around.
It was pretty popular, even on a day with a good breeze and more waves and current than normal for this spot.
It lived up to the reputation:
We saw stingrays.
We swam with stingrays (they can swim really fast).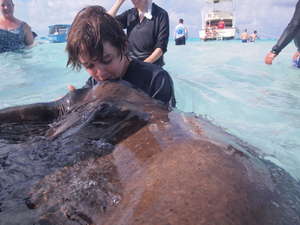 Robert got to hold a stingray.
And Robert got seven years of good luck by kissing a stingray.
It is really cool to be underwater with stingrays (or similarly sized fishes). Robert and I both tried to get pictures of the rays as they swam by us.
His pictures are a bit harder to get so those will come after we get back home (too soon, I'm afraid).
(Yes, we did buy the photo of the stingray kiss.)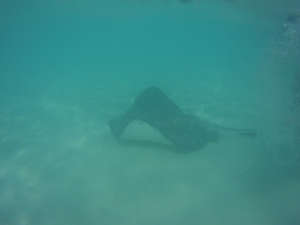 (0) Comments -- permanent link
Edit this (owner only)
Dec 21, 2016
Today, snorkling
last update: 12/21 @ 17:04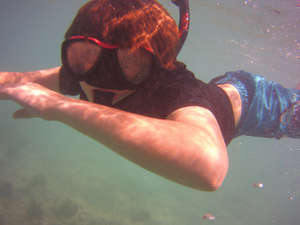 We had a mellow start to the day and then headed to Smith Cove — down on the southern end of the west coast.
That was a very cool beach: sand, rocks, coral, ironshore. It had it all. We got out the masks, fins and snorkles to check out the coral.
The visibility was not good right at the beach, but after a short swim, we were past the sand churn and the visibility got a lot better.
This is Robert doing his underwater Dab.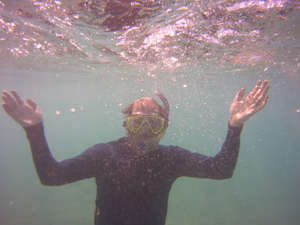 And this is me doing my underwater shrug.
After a lot of swimming around, some laying in the sun to warm up and dry off, we headed to Sunset House for lunch.
While we munched, we watched the cruise ships load and unload. I guess the docks in George Town are not big enough: the ships anchored and ferried folks back and forth to shore.
There was some coral for snorkling, but it was depressing to see folks coming out of the water with fan coral in their hands.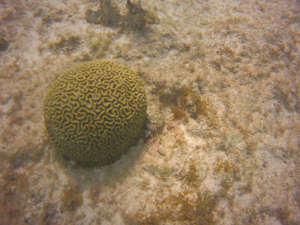 (0) Comments -- permanent link
Edit this (owner only)
Dec 20, 2016
Diving!!!
last update: 12/20 @ 18:28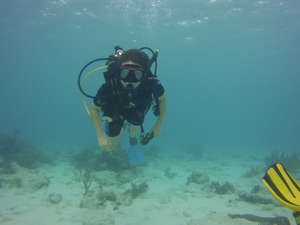 While Robert didn't get through the pool classes while we were in Alexandria due to congestion limiting his ability to clear his ears, Sarah arranged a Discover Scuba class that got us all into the ocean.

Robert's online classes and first round of pool work showed off and he was ready for the ocean after just a few minutes in the pool. Sarah and I recalled enough of what we used to know to convince Glen, our guide to let us out in the ocean as well.

Robert, clearly, had a blast!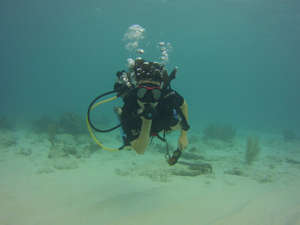 It was a shore dive, we we walked down the beach in our gear, waded in, popped on our fins and disappeared. At least in theory. We had a little walk to the beach and it's hard to put on fins with even minimal surf.

And Sarah had to rescue my tank which wanted to stay on the surface.

Once we got underway — which really was not that hard — we saw reefs, cool tropical fish, and even a couple snorkelers who were swimming out from the beach.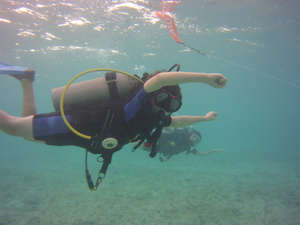 (0) Comments -- permanent link
Edit this (owner only)
Good Morning Cayman
last update: 12/20 @ 08:56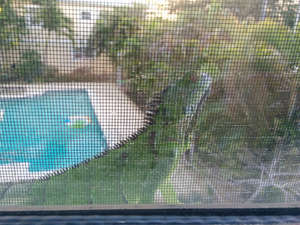 We got in last night after a smooth flight (escaping the icy mess around DC).

And woke up this morning to wildlife staring in our window.

We have the east facing condo (across the road from the dive shop and ocean). Apparently that makes for a nice perch for an iguana first thing in the morning.

Robert named him, Ivan Ivanavitch the Iguana.

He (or she) has been well immortalized.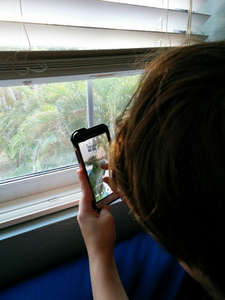 (0) Comments -- permanent link
Edit this (owner only)
Dec 11, 2016
Tree Up
last update: 12/11 @ 21:11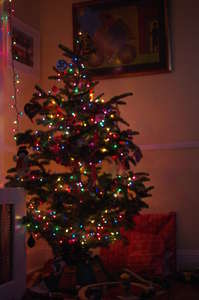 The pickings were slim today, but I don't think we're a lot later than we have been before. This time we have a Noble Fir, it's a bit different look. But we like it.

And, as Robert noted, it's really good for offering spots for Lego guys to hang out in the tree…
(0) Comments -- permanent link
Edit this (owner only)
Ahh….
last update: 12/11 @ 20:36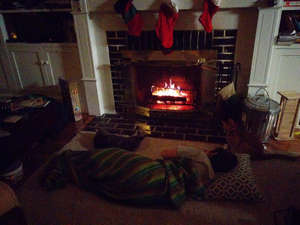 … sometimes a nice warm fire is all a boy or a couple of kitties need…
(0) Comments -- permanent link
Edit this (owner only)
Dec 10, 2016
Happy Birthday!!!
last update: 12/10 @ 23:17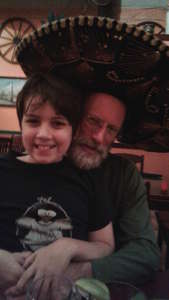 Sarah and Robert took me to our fav… Los Tios for birthday dinner. As is traditional, I got to wear a sombrero while I was serenaded by staff and diners to Happy Birthday.

It was great fun!

The evening relaxing by the fire on the first really cold day of the winter was the perfect way to cap off the day.
(0) Comments -- permanent link
Edit this (owner only)
Dec 05, 2016
It's Beginning to Look a Lot Like…
last update: 12/05 @ 19:48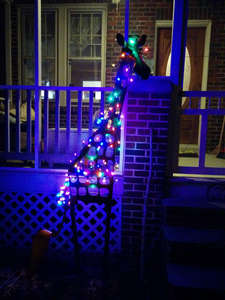 … Christmas!!!

We're going for outside lights; a whole new thing for us. George really does seem to like it :)

Next up, we need a tree…
(0) Comments -- permanent link
Edit this (owner only)
---
Add new entry (owner only)