---
Other parts of the site:
Search the blog:
Archive:
Pick a Random Month
Full Blog Archive
(This is all the blog posts in cronological order, rebuilt every night so may be up to 24 hours out of date. It's also a big file with lots of graphics; please be patient.)
Aug 26, 2005
Not a Bridge too Far, but a Ball too Big
last update: 08/26 @ 20:15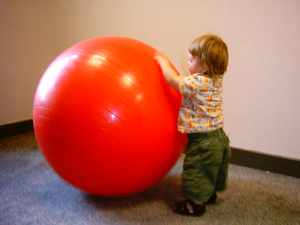 Robert paid a visit to the AARP Services "Hall of Technology" today. He really liked pushing the Pilates ball around the hall. Thanks Jake for the loaner.
(1) Comments -- permanent link
Edit this (owner only)
Aug 23, 2005
Water Baby
last update: 08/23 @ 20:30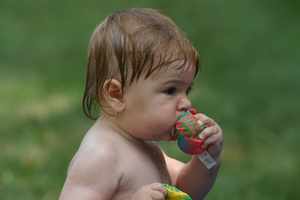 We took a much too short visit up to Long Island to visit with Michelle, Marc and their kids. Everyone seemed to have a great time. Robert clearly enjoyed the backyard wading pool. Too many more photos on the Long Island in August page.
(2) Comments -- permanent link
Edit this (owner only)
Aug 17, 2005
11 Month Old Terror Suspect…
last update: 08/17 @ 12:58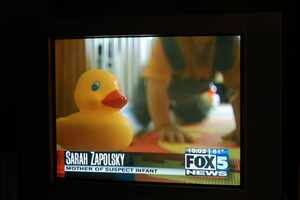 Robert's brush with fame (anonymous, mostly) is documented here. A reporter from the AP happened across Sarah's question to the DC Urban Moms mailing list about getting Robert off the no-fly list. The story ran 8/15 and media mayhem followed…
(For those of you who know the Put Down the Duckie song, our local Fox 5 TV station arranged this photo of duckie and Robert.)
(5) Comments -- permanent link
Edit this (owner only)
Aug 11, 2005
Who's Your Daddy!?
last update: 08/11 @ 21:10

When the commuters get fussy, the fussy play with Mommy's blackberry. We pinned daddy a couple of times with deep meaningful messages along the lines of ewrieryewriiw3264837gdhriuyi. (That's Robert-type-eese for "Hi Daddy -We're on the metro.")
And yes, I did attempt to give my poor boy a haircut, and yes it is painfully obvious that I am right-handed and am a whimp when it comes to my boy squirming with clippers near his face. Don't worry, it will grow out.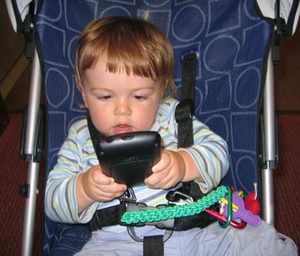 (2) Comments -- permanent link
Edit this (owner only)
Aug 03, 2005
ZOO!!!
last update: 08/03 @ 13:01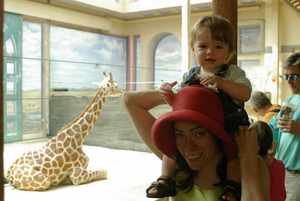 Robert's first trip to the zoo was fun for all. It was still a bit hot (not surprising for DC in August — OK, it was yesterday so late July), and Robert seemed to enjoy the other visitors as much as the residents. I'm sure this is the first of many trips for us to the zoo…
(0) Comments -- permanent link
Edit this (owner only)
---
Add new entry (owner only)
The posts on this page will slowly roll off as new ones are added to the top. The "permanent link&quot links above will take you to one post's permanent address; that should not change or disappear. You can also build up a link to see any month's postings by adding the four digit year, a slash, the two digit month and a trailing slash to the the main www.kayakero.net/news/blosxom URL. Like this:
/news/blosxom/2004/08/. (You can go down to the day level if you like.)
Only the site owners can edit this page (and all attempts to do so are logged); however anyone is welcome to add a comment using the "comments" link below each posting.