---
Other parts of the site:
Search the blog:
Archive:
Pick a Random Month
Full Blog Archive
(This is all the blog posts in cronological order, rebuilt every night so may be up to 24 hours out of date. It's also a big file with lots of graphics; please be patient.)
Aug 26, 2015
Surprise Treat…
last update: 08/26 @ 22:54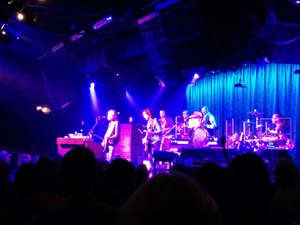 Gregg Allman at the Birchmere. GREAT SHOW! It made us stop and think for a second when he introduced one song as a little something he wrote in 1970….
(0) Comments -- permanent link
Edit this (owner only)
Aug 16, 2015
Summer may be winding down …
last update: 08/16 @ 20:41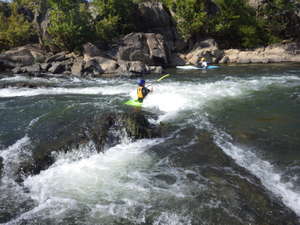 … but we're making the best of the great weather. We went back to Angler's Inn this afternoon for another fun time.

Robert is enjoying his sit-a-top and not having to worry about flipping.

The weather was beautiful.

The water could be higher, but then it would be pushier and less fun.

And finding your own island is always fun.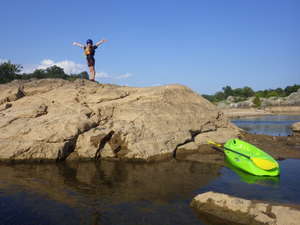 This one was a little less occupied by turkey vultures. It looks a like deer met its demise and the vultures are doing there work to clean it up.

And taking a digestion break now and again on our more familiar islands.

I've been meaning to try to get a shot of one of these snakes that we tend see every so often. I tend to agree with what I've been told: its a northern water snake.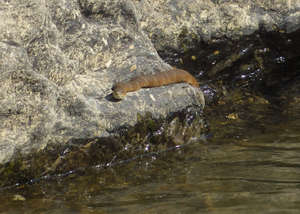 (0) Comments -- permanent link
Edit this (owner only)
Aug 09, 2015
Newest Edition to the Fleet
last update: 08/09 @ 21:36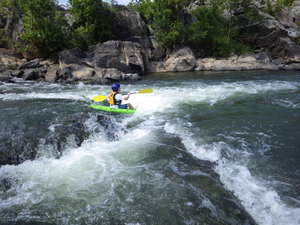 Last weekend we ran into a family headed up from Anglers Inn as we were headed down. And they had the cool, small sit-a-top surf boats that the kids seemed to really like.

Sarah got the skinny and we picked one up yesterday. It's a lot less scary for Robert (at least until he has a little more sprayskirt popping uppper body strength an maybe a roll.

And, it's just plain a lot of fun.

I'm sure we've never before hung around Maryland chute as long as we did today.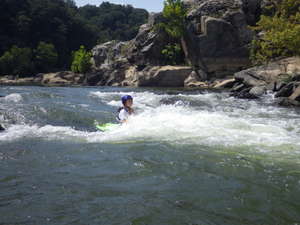 Robert was a little tentative but we ran into another kid his age and pretty soon he was going down the rapid, then running over the rocks to go down again.

It was great fun. Unfortunately, the 130 pound limit seems not too conservative as it sank when I tried it out.

And by the way, it's stable enough to serve as a stand up paddle board — at least for Robert.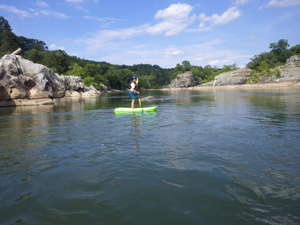 (0) Comments -- permanent link
Edit this (owner only)
Aug 02, 2015
Back to the Potomac
last update: 08/02 @ 22:37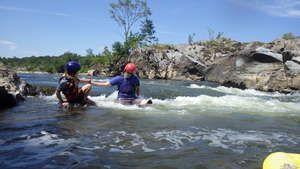 We got back out on the river for what seems like the first time this summer. Not true, but it's been a while. Robert talked me into joining him in swimming at the Virginia Chute. Sarah elected to take pictures…
(0) Comments -- permanent link
Edit this (owner only)
---
Add new entry (owner only)
The posts on this page will slowly roll off as new ones are added to the top. The "permanent link&quot links above will take you to one post's permanent address; that should not change or disappear. You can also build up a link to see any month's postings by adding the four digit year, a slash, the two digit month and a trailing slash to the the main www.kayakero.net/news/blosxom URL. Like this:
/news/blosxom/2004/08/. (You can go down to the day level if you like.)
Only the site owners can edit this page (and all attempts to do so are logged); however anyone is welcome to add a comment using the "comments" link below each posting.