Oct 31, 2014
The Haul…
last update: 10/31 @ 23:18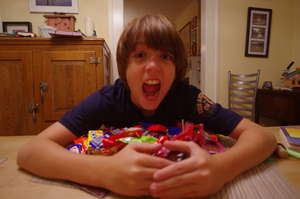 In the end, candy is what really matters.
Robert has plenty (and we have at least that much left over).
Let us know if you need a little sugary pick-me-up…
(My favorite part of his home-made costume: he decided to look up and print out a patch from the USS Antietam, the aircraft carrier his grandfather served on. Looking that up just now I see he found a patch from the current USS Antietam rather than it's predecessor. Still, I appreciate that extra effort and thought.)
(0) Comments -- permanent link
Edit this (owner only)
Halloween
last update: 10/31 @ 23:10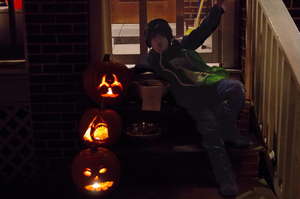 Robert in his Fighter Pilot gear too us Trick or Treating.
We left too much candy on the steps, guarded by Robert's Bio-hazard jack-o-lantern, Sarah's shark and my sharp, pointy teeth.
When we came back; there was still plenty of candy — Robert and I way over bought (or our neighborhood is not trendy enough with the spooky crowd.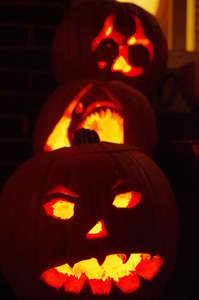 There are folks not too far from our house who take this way too seriously. We ran into this party next to the Blue Park.
Spiders, webs, headstones, witches, skeletons, mummies with glowing eyes. They had it all (along with smoke machines, lights, a fire…)
(0) Comments -- permanent link
Edit this (owner only)
Oct 26, 2014
Halloween Getting Closer…
last update: 10/26 @ 22:03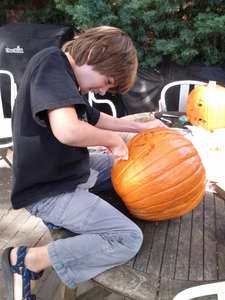 Halloween is just around the corner so we took advantage of the great weather to carve some pumpkins today.
Robert decided he wanted to carve a biohazard symbol. So he looked it up on the web, downloaded a photo, re-sized it (with a little help), transferred it to his pumpkin and cut it out.
(After he cleaned the guts out. Once you're double digits in age, you gotta expect to do that yourself. Plus, he did his own on the field trip a couple weeks ago.)
It turned out really well! I'm looking forward to seeing it lit up on the steps.
I put less thought into mine: a traditional spiky teethed jack-o-lantern. Sarah came back from Boston in time to carve her pumpkin before dinner; she chose a shark — which also turned out really well.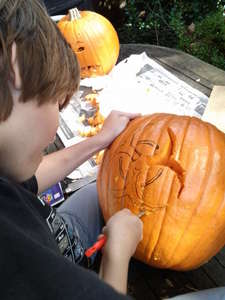 I'm hoping they will help to attract enough trick-or-treaters that we don't have too much of the absurd amount of candy Robert and I bought left over. To be fair to him, he was much more rational on how much we needed — I wanted to get an extra bag or two, just in case.
(0) Comments -- permanent link
Edit this (owner only)
Oct 25, 2014
Gettind ready for Halloween…
last update: 10/25 @ 11:02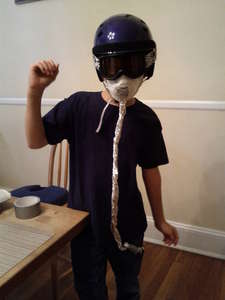 The figher pilot costume is coming together nicely…
(0) Comments -- permanent link
Edit this (owner only)
Oct 24, 2014
JV soccer
last update: 10/24 @ 22:31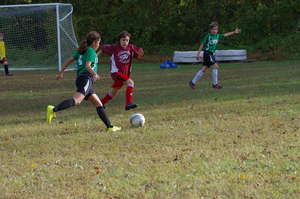 Robert breaking up a pass down by his goal. While the school team lost, they played hard and have one more game — then Robert can outgrow his cleats…
(0) Comments -- permanent link
Edit this (owner only)
Oct 23, 2014
At it again…
last update: 10/23 @ 21:41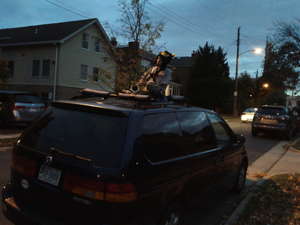 We're loaning Zippy to friends are a car short of their needs at the moment. Robert was just hanging out, practicing his sax as we waited for them to come pick up the car.
I guess at this rate, I need to make sure we have ladder tall enough for Robert to get on the porch roof next…
(Completing Robert's look is the Angry Bomber Bird hat Sarah picked up for him at the fall fair.)
(0) Comments -- permanent link
Edit this (owner only)
Oct 18, 2014
Trademark Expo
last update: 10/18 @ 16:36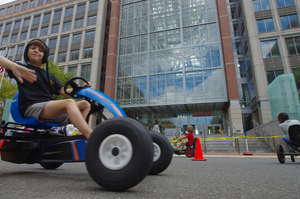 Busy day today, Robert's school had their fall fair and USPTO had their Trademark Expo.
Robert got to try out a Berg peddle car — they had adult sizes too, but I decided I'd rather take his picture (I sense a pattern here). They were cool and the kids all seemed to have a good time.
As you can see, the weather was great!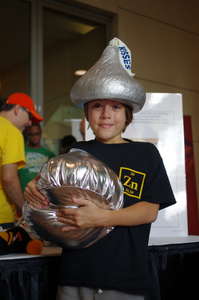 Of course if you have toys (the peddle cars count as big toys). you have to have candy. And show off your trademarked wrapping, colors, and names.

Yes, they gave away samples as well.

Probably the coolest thing aside from the peddle cars, as the Caterpillar simulator. Robert got an excellent ride, learned how to scoop up and dump dirt. And with some encouragement from the crowd, learned not to drive straight down into hole at the construction site — it was cool seeing how much the simulator could shake him up during his crash.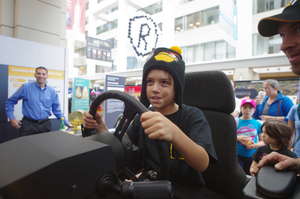 (0) Comments -- permanent link
Edit this (owner only)
Oct 12, 2014
Cooler but still fun
last update: 10/12 @ 21:38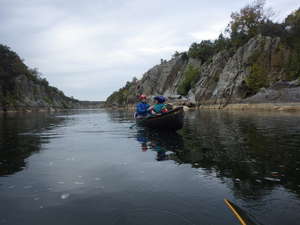 We took advantage of the best weather in the forecast for the three day weekend to head back to the Potomac. This time, Angler's Inn and upstream to Rocky Island.
The leaves are changing and water is cool (as was the air). And the river, despite the recent rainfall, is pretty low.
But there is always something fun to do on the Potomac.
And the gorge is always gorgeous.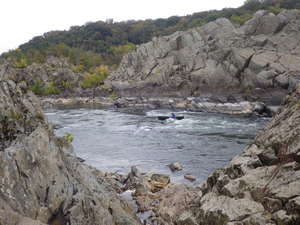 We had to drag the boats around two rapids — there was too much current to attain them. Or at least too much current to attain them without worry of damaging boat, paddle or pride.
But we made it to Rocky Island and had our snack stop there. It really was lovely. Cool, but not cold (and we were well bundled).
Even though the river was low (perhaps because it was low) I was able to get a couple surfs in on the wave — always fun.
There were hikers, boaters and rock climbers, but just a few of each. Never enough to take away from the feeling of being out on the river.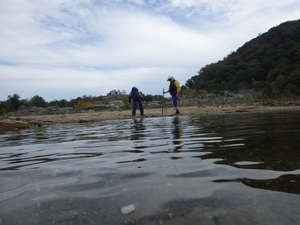 Of course we had to stop at golf-ball island. Robert enlisted Sarah in his canal building feat. And I got the canoe well into the canal they built.
A lovely fall day all the way around.
(0) Comments -- permanent link
Edit this (owner only)
Oct 10, 2014
Apple Butter
last update: 10/10 @ 22:19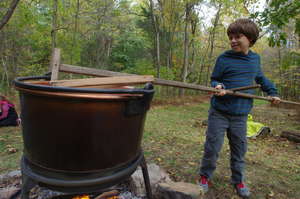 Robert taking his turn stirring the apple butter his class made during their trip to the school's West Virginia campus. This was the best weather of any recent class trips in my book. You only needed a jacket in the morning.
(0) Comments -- permanent link
Edit this (owner only)
Oct 07, 2014
Cavorting with the Enemy
last update: 10/07 @ 22:35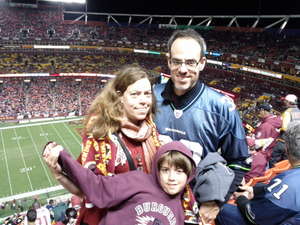 David came to town for a business trip that happened to coincide with a Redskins / Seahawks game. Even though it was a school night and kind of a late game, we took Robert along to his first NFL game (decades younger than my first NFL game).
It was sad to see the Washington Federals lose. But the Seahawks were just a better team than the Washington Contractors. Maybe next year, the Washington Gridlocks will have an uninjured star quarterback.
And maybe next year the name of the Washington, DC football team will be more settled (at least in minds other than Dan Snyder's).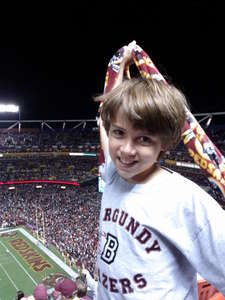 That part is really not important.
We stayed until just before the bitter end — with 21 seconds to go and down by 10, it seemed pretty clearly over. And all of us had a great time (even a tired Robert). It was fun to catch up with David and meet a couple of his co-workers (regardless of the fact that they were fans of that NW team which happens to be a recent Super Bowl Champion and managed to just barely squeak out a victory against a clearly superior squad from DC).
(0) Comments -- permanent link
Edit this (owner only)
Oct 04, 2014
First Fire
last update: 10/04 @ 23:07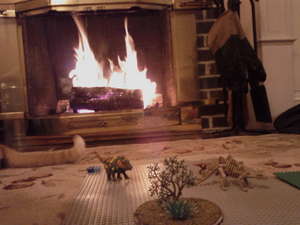 One of the summer camps Robert went to was all about dinosaurs and the kids learned this cool "Dinosaur Survival" game (loosely modeled on D&D). So we were playing a bit of that as soup burbled and the fire crackled. It wasn't really cold out, but it was breezy and cooler than it has been all fall.
(0) Comments -- permanent link
Edit this (owner only)
Like a… a… Fiddler… on the Roof…
last update: 10/04 @ 11:11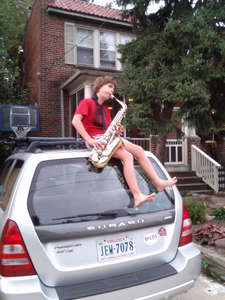 … or maybe Saxophonist? Robert clearly taking his sax practice to new heights.
(0) Comments -- permanent link
Edit this (owner only)
---
Add new entry (owner only)